'Blue's Clues' Has A New Host, But Don't Worry, He's Totally Steve Approved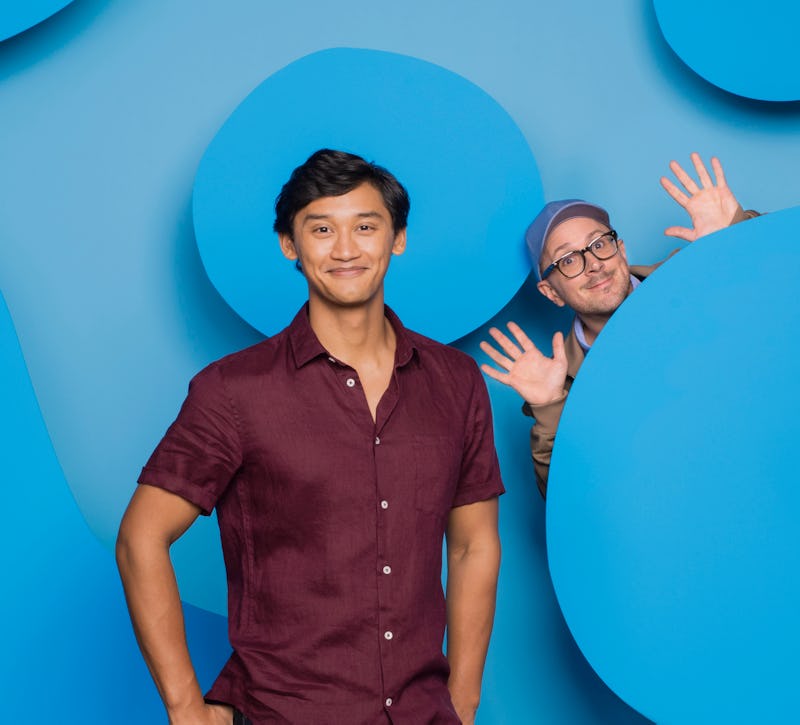 Nickelodeon
Have you seen Blue? Well, her Nick Jr. show is now going to look a bit different. Yes, Blue's Clues is getting a new host and don't worry he's totally Steve approved. Not to mention, the show's getting a brand new title to kick this new version off. It seems that Nickelodeon figured out a way to update Blue's Clues because they're really smart.
The Blue's Clues reboot, Blue's Clues & You, will be hosted by Broadway actor Joshua Dela Cruz, who appeared in Disney's onstage Aladdin musical. Cruz made his television debut last year with a guest spot on CBS'Bull and also appeared in ABC's Time After Time. Blue's Clues & You will mark Dela Cruz's hosting debut, but luckily he's got a veteran partner in crime in Blue, who's been doing this since 1996. So, yeah, she's a pro at solving puzzles.
But to make sure Blue's Clues & You is as good as the original, which ran until 2006, the network got help from original host Steve Burns when it came to casting his replacement. "I had the great honor of being a part of the search for the new host, and I give Josh two thumbs up!" Burns, who hosted the first six seasons of Blue's Clues before actor Donovan Patton took over to play his brother Joe, said in a statement. "He can definitely fill my shoes, and the rugby shirt."
Having Burns' blessing when choosing a new host was important to the network. In a statement, Cathy Galeota, Senior Vice President, Preschool Content, Nickelodeon Group, explained that the right host is what would make or break Blue's Clues & You with its preschool viewers.
"So much of the energy and magic of the show comes from the host's ability to bring preschoolers into the colorfully animated world of Blue and her friends," Galeota explained. "Josh's wonderful theater background and his natural charisma checked all the boxes for us, and of course Steve's stamp of approval only solidified our decision."
The host and the title aren't the only things that are changing in this new reboot, which comes nearly a decade after the first Blue's Clues spin-off Blue's Room. In a March statement announcing the Blue's Clues revival, which has already been picked up for 20 episodes, Nickelodeon announced that the reboot would get a "refreshed signature look." This included a new CGI Blue, who, from the looks of her new photo, is looking fresher than ever.
Before fans start to panic, they should know that Blue's Clues' signature messaging and programming will be sticking around. So yes, this version will still feature those blue paw print clues that kids loved from the original. (Let's hope this also means the the Blue's Clues theme song is sticking around too.)
As for why Nick Jr. is bringing Blue's Clues back now, after 12 years, well, it doesn't hurt that everyone loves a bit of '90s nostalgia. In fact, Burns told TMZ in an interview that nostalgia was the real reason Blue's Clues was returning. "The millennial generation is extra super-duper nostalgic, and to think that they have such warm, fond memories of Blue's Clues — and of me — is truly super cool and wonderful and warm and fuzzy," Burns said.
While this new take on Blue's Clues may look a little different than '90s fans remember, they certainly shouldn't be worried. It's clearly still going to be as cute as ever after all, it's got Steve's approval.