You Definitely Missed Some Of These Hilarious 'BoJack Horseman' Season 4 Cameos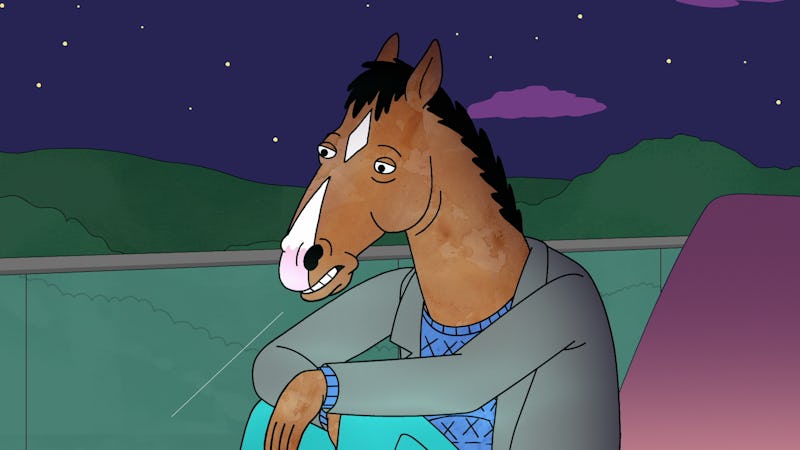 Netflix
Just like the actual Hollywood, BoJack Horseman's fictional Hollywoo industry is filled with many famous actors, musicians, and reality TV personalities. All the famous guest stars on BoJack Horseman Season 4 have definitely taken the series to a new echelon of show business parody. The fourth season of the animated comedy series is currently streaming on Netflix, and expertly balances BoJack's star-studded Hollywoo world with storylines exploring his family's heartbreaking backstory.
BoJack Horseman's regular voice cast is filled with big names, such as Will Arnett (BoJack), Amy Sedaris (Princess Carolyn), Alison Brie (Diane), and Aaron Paul (Todd). Season 4 boasts an impressive roster of celebrity guest stars, including Jessica Biel, Felicity Huffman, Lake Bell, and so many more. They've either lent their voices to fictional characters in Hollywoo (and beyond) or have played themselves as their animated counterparts interact with BoJack and his crew.
Throughout its four seasons, BoJack Horseman's sharp jokes and Hollywoo(d) satire hasn't pulled any punches — but the celebs don't seem to mind, according to a Slashfilm interview with showrunner Raphael Bob-Waksberg. "No one that I know of yet has really been upset by what we've said," he told the publication. "Most celebrities probably have good senses of humor about themselves."
BoJack Horseman Season 4 features a long list of celeb guest stars and cameos, and they're listed below in no particular order. Here's who you heard: