Every 'BoJack Horseman' Character Who Deserves A Final Comeback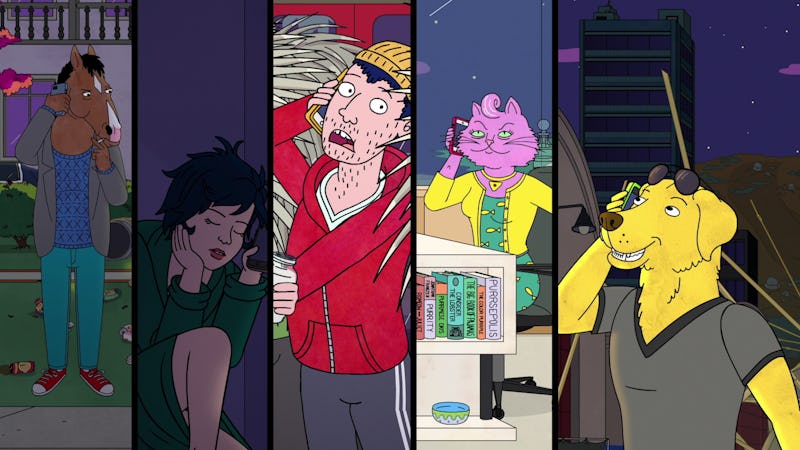 Netflix
Spoilers ahead for BoJack Horseman Season 6 Part 1. The end of BoJack Horseman is nigh (or neigh). But with the final season being split into two parts, Netflix is giving fans time to process their emotions about it all coming to an end given that the BoJack Horseman Season 6 Part 2 premiere date isn't until 2020. Considering the cliffhanger-ish ending of Part 1, that might feel long, but with only three months separating Part 1 from Part 2 (as compared to typically a year between full seasons), the wait shouldn't be as bad as it seems. Plus, besides a reckoning for BoJack, some minor characters may get a proper sendoff when BoJack Horseman returns next year.
On Sept. 27, Netflix revealed that Season 6 would be split into two parts and that it would also be the final season of BoJack Horseman. The Hollywood Reporter noted the show ending was a creative decision, but Looper outlined how there has been speculation that Netflix called for the animated series to end. (Aaron Paul, who voices Todd, added to the cancelation rumors with a tweet.)
But no matter how the decision was made, the show's final chapter is coming with both the BoJack Horseman Twitter account and creator Raphael Bob-Waksberg tweeting that Part 2 of the final season, consisting of episodes 9 through 16, will premiere on Jan. 31, 2020.
Typically, BoJack seasons are 12 episodes long, so the final season will contain more content than usual. These extra episodes will allow for BoJack's story to conclude while also being able to feature some more side characters. Along with the major players of BoJack (Will Arnett), Todd, Princess Carolyn (Amy Sedaris), Diane (Alison Brie), and Mr. Peanutbutter (Paul F. Tompkins) in Part 1, plenty of beloved smaller characters made appearances. Here are some other characters who deserve to say goodbye before BoJack ends in January 2020.