There's A Far-Right Rally In Boston On Saturday & The City Should Be Alarmed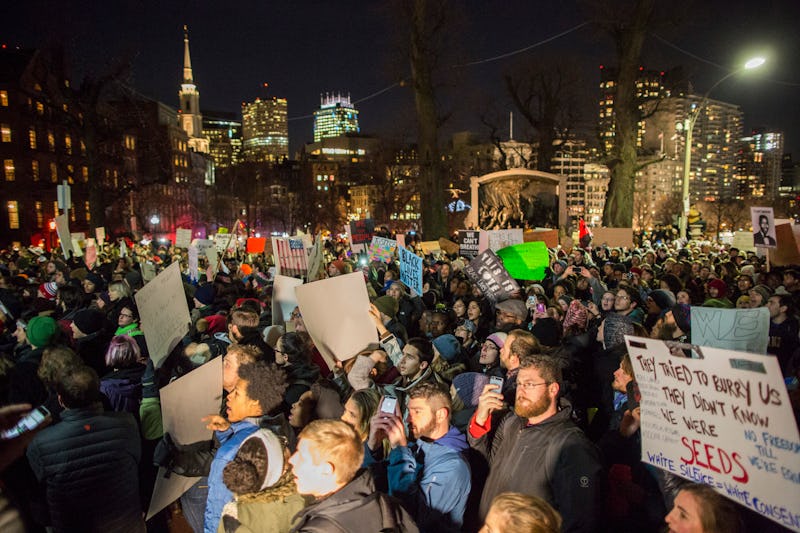 Scott Eisen/Getty Images News/Getty Images
On Saturday, August 19, a rally touted as supporting "free speech" is scheduled to take place on Boston's iconic Common park. Though the rally's organizers, Boston Free Speech Coalition, claim to have no ties to white supremacy or the organizers of last weekend's "Unite the Right" rally — a far-right event that descended into violence and left three dead and dozens injured — many of the Boston rally's themes are eerily reminiscent of those present in Charlottesville.
Boston's rally originally featured speakers including Gavin McInnes, leader of far-right men's organization Proud Boys, who also co-founded Vice Magazine (the Proud Boys were a presence at a right-wing rally held in Boston in May); goat-killing agitator Augustus Invictus (also a speaker at the Charlottesville rally); and social media star Cassandra Fairbanks, a former Bernie Sanders fan who now supports Trump and works at a Russian state-funded news agency. Collectively, these speakers have called for the U.S.'s borders to be closed, stated that feminism leads to death and suffering, and accused Black Lives Matter of being a "hostile, divisive movement." Though some of these speakers have allegedly now pulled out of the event, the fact that their presence was planned is cause for alarm — especially in a city like Boston.
On Monday, after the violent events in Charlottesville (and prior to the rumors that the Boston rally had been cancelled, which organizers have denied), Boston mayor Marty Walsh held a press conference. The mayor spoke about his concerns regarding those heading to Boston for the rally, noting that he and the Boston police department said that they will do what they can to ensure everyone's safety. "So my message is clear to this group," he said. "We don't want you in Boston. We don't want you on Boston Common. We don't want you spewing the hate that we saw yesterday, and the loss of life."
And repudiation by the mayor and others, I believe, is exactly what the organizers, speakers, and attendees of this "free speech rally'' expected. These white supremacists and far-right extremists, along with their supporters, seem to be banking on having their rally engage a juxtaposition that has plagued the city for years — even though it often presents itself to the world as a bastion of all that is good, liberal, and democratic, Boston is also one of the most historically racist towns in the United States.
Few cities embody America's clashing cultural forces in a more storied way than Boston. A key location in the American Revolution, it's often considered the mythical cradle of American democracy, and the birthplace of a resilient, gallant national identity. Walking through the city is a lesson on how America presents its oldest, most celebrated self.
But steer from the cobblestone path of legends, and the city's — and in turn, the nation's — history reveals itself more clearly. Through initiatives such as Mayor Marty Walsh's "Resilient Boston" program, the municipality insists that past issues of systematic racism — like the busing crisis, in which white rage fueled a cruel fight against desegregated schools from 1974 to 1988 — are simply not part of the Boston of today. But 42 percent of Bostonians consider this city, which prides itself on a liberal, enlightened ethos, a racist place. Its revered, progressive academic institutions are situated near neighborhoods that were purposely segregated by past local and federal Housing Authority policies that secluded black residents, leaving long legacies of poverty and violence in their wake. These issues, taken alongside the fact that Red Sox fans shouted racial epitaphs at Baltimore Orioles player Adam Jones this past May, or that the city's Holocaust Memorial has been vandalized twice this summer (once right after Charlottesville), tell a different story: the Boston of today is the same Boston of yesterday.
Looking at national statistics that show 176 hate crimes reported in Massachusetts over a three year period (2013-2016) — compared to 60 in Alabama, 72 in Louisiana, and 128 in Texas over the same period — might be a shock to people from outside the state. But to residents, including myself, it's a daily part of life.
When I first moved to Boston from New York this year, I hoped SNL comedian Michael Che's infamous assertion that it was "the most racist city I've ever been to" would not mirror my experience. But it did.
Despite having read the warnings, nothing prepared me for the onslaught of microaggressions I'd encounter there. During my time in Boston, I've been stopped on the street with my son by a well-meaning white woman for the sole purpose of asking me what kind of Asian I am (I'm Mexican); I've fielded suspicious stares from shop owners; I've seen an older white man, presumably upset he couldn't find a seat, yell at two women of color on the train, "That's what happens when you overpay the help." A woman behind me in line at an ice cream shop seethed about my Black Lives Matter shirt, yelled "I don't want to be anywhere near this scumbag," and pushed past me, to the horrified stares of other patrons and the young black woman working behind the counter. As my exasperation came to a head, the most I could manage was to mumble something about how I'd enjoy my ice cream and she'd enjoy her racism. The woman at the counter apologized and handed over my son's plain vanilla scoop. I left in an adrenaline-filled rush. It's these experiences, and countless others that people live through in Boston every single day, that make this coming Saturday worrisome.
In a city where a visiting baseball team has to worry about Boston fans yelling slurs, a show of solidarity and support in the fight against racism sometimes feels like a shot in the dark. But Boston native Brian Liberge tells me, "Boston has a rich history and it's not always something to be proud of, but we do not like being threatened, told what to do or how to think. I'm no longer surprised when I hear that alt-right groups want to gain traction in a place as liberal as Boston. But I am angry, and I'm far from alone."
Boston's dark, racist history and its prominence as an old, quintessentially American city make it both an attractive target and the most low-hanging-fruit in the North for white supremacist groups — if they can cause a real stir in a historic city that prides itself on liberal ideology but has racist history, it would be an enormous win for the cause of white supremacy. But as Monica Cannon, member of social justice group Violence in Boston and one of the organizers of Saturday's counter-protest, tells Bustle, "White supremacists are targeting Boston, but white supremacy is perpetrated every day in every city, country, and continent in our world. Further, the actions they are taking are not strategic: from the Boston busing crisis to the Charles Stuart case, and from Bo Ramsey[-White] to Terrance Coleman — racism in Boston is only ripening."
"This is the city's chance to prove it can not only own its past, but learn from it."
Overwhelming support for the counter-protest is Boston's opportunity to shift the perception of the city — and this seems likely, considering that the counterprotest has 8,000 confirmed attendees on Facebook, compared to the rally, which has less around 300. Liberge, who plans to attend the counter-protest on Saturday, adds "We saw the Holocaust Memorial vandalized again this week, but we also saw a bystander intervene. Our leaders, Democrat and Republican, are standing up for immigrants and refugees. Boston's still got race issues to work on, but we're not going to let outsiders, or even the President, drag us to a new low."
This is the city's chance to prove it can not only own its past, but learn from it. Disavowing the legacy of racism is a burden not for the people of color in Boston, but for the whites who have long benefitted from it. "We hope that this moment means that people will begin to show up beyond these moments of national and global attention," Cannon adds. "In Boston, this looks like white people talking to their parents, children, other family, friends, and co-workers about terms like oppression, white supremacy, privilege and fragility. People must challenge and resist white supremacy in its many different manifestations every single day."
If Boston has wanted to show that its future doesn't look like its past, the time to start is now. By devastating white supremacists with a show of numbers, Boston can not only prove itself to be the liberal enclave it so fiercely claims to be, but will also show itself as an important site in the struggle for freedom and independence — as it was once before. Except this time, it will be supporting freedom and independence for all.