Women Make Up About 3% Of Movie Composers — But 'Captain Marvel' Just Hired One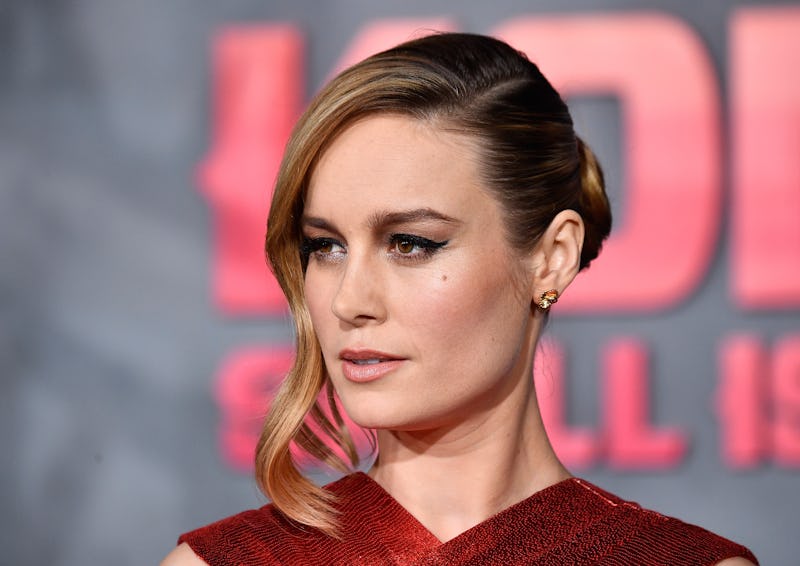 Frazer Harrison/Getty Images Entertainment/Getty Images
Lest you think there's no more work to be done for women in Hollywood, Captain Marvel just got a female composer, and it's literally an industry breakthrough. Variety reports that composer Pinar Toprak has signed on to score the upcoming project, and that with her selection, she becomes the first ever woman to land such a prestigious gig. That's right, in the year 2018, no woman has ever scored a major comic book movie before.
On the one hand, it's disheartening that, in this day and age, such a trail still remains to be blazed. But on the other hand, any step forward is a positive one, and if this particular glass ceiling still needs shattering, Toprak is more than up to the task. According to IMDb, the Turkish-American has over 40 composing credits to her name, on projects like the SyFy series Krypton, the video game Fortnite, and the film Justice League, for which she penned additional music. She also won the International Film Music Critics Awards in back-to-back years — first in 2011 for the comedy The Lightkeepers, and then again in 2012 for the documentary The Wind Gods.
But Toprak's experience and acclaim in a wide swath of categories does little to diminish her enthusiasm about this next project, due out in March 2019. The composer took to Instagram on Thursday to share her excitement with followers, writing: "It's an incredible honor to be a part of the Marvel Universe. So many thoughts racing through my head. And the main one is gratitude."
She went on to thank her agents and the film's directors for giving her this "opportunity of a lifetime," and her words are hardly an overstatement. There's a long history of female composers being overlooked, to a degree that actually surpasses the extent to which female directors are passed over, if you can believe it. A 2016 article in Variety cited dismal statistics for female composers: in the three years preceding the survey by San Diego State University, just "1 percent to 2 percent of composers working on the top 250 films at the box office were women." Yikes.
According to the Center for the Study of Women in Television and Film (CSWT&F), those numbers leave female composers with one of the worst plights in an industry already dominated by men. Not that it even invites comparison when the numbers are this low, but women scoring films have less representation than any of their other female peers working what's called "below-the-line" jobs in the film industry. The same study found that in the year 2014, women supervising sound editors were at 5 percent, cinematographers level with them at 5 percent, and directors at 7 percent. And while the needle is moving, it's moving slowly — for 2017, CSWT&F reports that the plight of female composers has improved only marginally, with representation increasing to 3 percent.
So that's the bad news. The good news is, that this film isn't just breaking ground in one category. Refreshingly, Captain Marvel is putting their money where their mouth is when it comes to women in superhero movies, poised to upend the stats by doing more than just signing a female composer and, of course, a female star. Refreshingly, the film also boasts a female co-director — Anna Boden, who will work alongside Ryan Fleck, and also wrote the screenplay — a female star, in the form of Oscar-winner Brie Larson, and now Toprak is well. And while a single film is hardly expected to bump the above statistics out of the single digits, it does something almost as reassuring — demonstrates Marvel's impressive commitment to rebalancing the scales.
The studio has made it clear of late that they're dedicated to elevating female voices both on and offscreen, and Captain Marvel is just the latest example. This year's Black Panther boasted a female cinematographer, Rachel Morrison, who also happened to be the first female cinematographer nominated for an Oscar in the Academy Awards' 90-year history. And Indiewire reports that a Black Widow spinoff may be in the works at Marvel Studios, which would present another opportunity for a female-centric story to be supported and enhanced by women behind the scenes.
That's how any and all projects should be viewed as at this point: opportunities to experience viewpoints that aren't white and male. Toprak's hiring to score Captain Marvel is a victory long overdue, so here's hoping Marvel continues its push toward equal representation, because there's so much work still to do.