The 'Stranger Things' Cast At The Golden Globes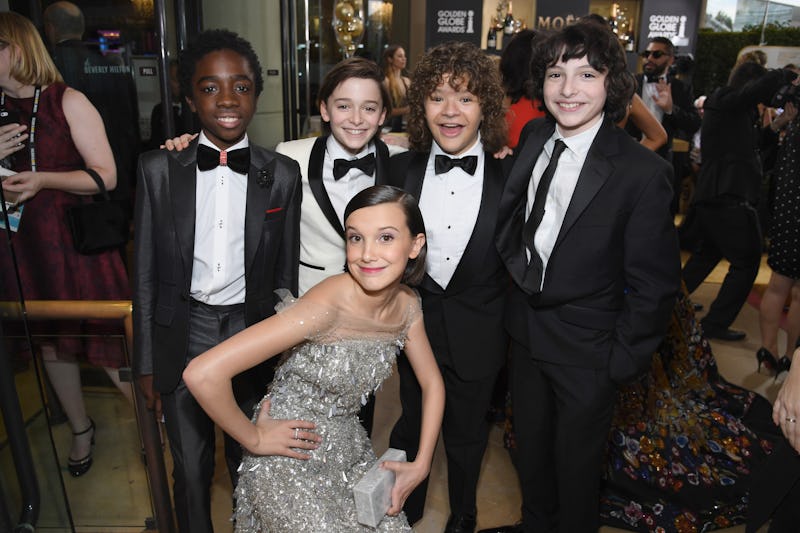 Charley Gallay/Getty Images Entertainment/Getty Images
It's hard to believe Stranger Things dropped six whole months ago, but it's even harder to deal with the fact that we have to wait at least another six months to feast our eyes on more '80s horror goodness. It's not all bad, though — the Stranger Things cast's 2017 Golden Globes red carpet appearance gave fans a taste of their awesomeness to tide them over.
Stranger Things released in July 2016 to rave reviews from critics and audiences. After being rejected by 15 to 20 studios, the wonderfully weird character-driven show was scooped up to join Netflix's original content lineup, and now it's garnered two Golden Globes noms — one for Best Television Series, Drama, and one for Winona Ryder, for Best Performance by an Actress in a TV Series, Drama.
The show's five kid stars — Gaten Matarazzo, Finn Wolfhard, Caleb McLaughlin, Noah Schnapp, and Millie Bobby Brown — have been incredibly adorable (and snazzy!) at previous awards shows, so it's no surprise that fans were treated to a Barb-esque parade of excellent fashion. And we already know Winona Ryder has a storied history of red carpet excellence.
Check out the cast of Stranger Things and their Golden Globes looks below.
Look at these guys! They're the most stylish D&D masters ever.
These boys are just too cute, but Millie Bobby Brown was definitely not about to be shown up by her costars.
Here's a photo of the entire cast together:
And finally, mother to them and all of us: Winona Ryder.
We knew to expect great things from Ryder, but her dazzling black floor-length exceeded every expectation we could possibly have had.
This crew is looking pretty good tonight — let's just hope there's no black tie allowed in the Upside Down.