The Cast Of 'The Hills' Outfits At The VMAs Looked Nothing Like Their '00s Style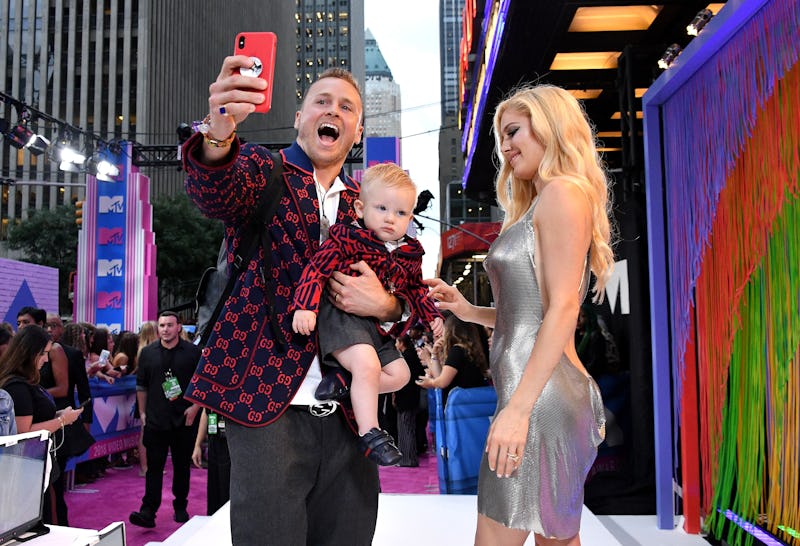 Dia Dipasupil/Getty Images Entertainment/Getty Images
OMFG. It's like 2008 all over again. Sort of. Most of the cast of The Hills came together on the 2018 MTV VMAs red carpet. It wasn't just a reunion without purpose, though! It was not a gathering simply to show how good they all still look since the show signed off for good eight years ago. It was heavily reported ahead of the broadcast that the crew would be making an announcement about some type of reunion or reboot. What would the VMAs and The Hills be without its signature power dose of drama, drama, drama, right?
Unfortunately for The Hills lovers, major cast members, namely Lauren Conrad, Kristin Cavallari, and Lauren Bosworth, were not in attendance. E! reports that Conrad has been too busy working on her Kohl's line, which recently reworked its LC Lauren Conrad denim assortment and even offers a millennial pink pair. Cavallari has also enjoyed post-Hills success as a jewelry designer and as an E! fashion correspondent. One might have thought Cavallari was actually on the carpet but alas! It was actually a very blonde Audrina Patridge. So it was easy to mistake one for the other.
So while we missed LC, Lo, and Cavallari, because how could we not, it was still loads of fun to see the former castmates in their snazzy and sexy VMAs attire. It was a semi-nostalgic collision of the aughts and the here and now.
Their attire was not straight from the '00s with low-slung jeans with wide 'n' flared legs, platform kicks, tracksuits, popped collars, or crop tops! It was much fancier at present. Mrs. Pratt, who made headlines for her extensive plastic surgery during The Hills heyday and for her relationship with semi-villain Spencer Pratt, was super sexy in a slinky, metallic silver mini.
Her ensemble was short and deceptively simple, while her familiar platinum locks fell around her face in her usual and preferred style. Her husband, with whom she is known as "Speidi," rocked a black and red blazer, which matched with that of their son Gunner. The mini style star is not yet a year old. But he had quite a sartorial showing. That said, Speidi remain a true MTV supercouple.
Here's another look at Montag's dress and her room-brightening smile.
The usually brunette Patridge rocked blonde locks and a silver and sparkly flapper frock with fringe and a single shoulder.
Did you completely and totally swim in a sea of nostalgia for the '00s, when LC and co. ruled the roost? That's an acceptable response to seeing so many of these familiar and much-missed faces.
While you allow the news of a potential The Hills reboot sink in, you can also marvel at how good the castmates look well over a decade after invading pop culture when reality TV was dominant AF.
Sure, we truly, madly, and deeply missed the aforementioned stars, as well as Whitney Port, it was night to see some of the people that defined both the MTV and reality TV landscape in the '00s.