Kevin Spacey Tapped Some Celeb Friends For His Opening Tonys Number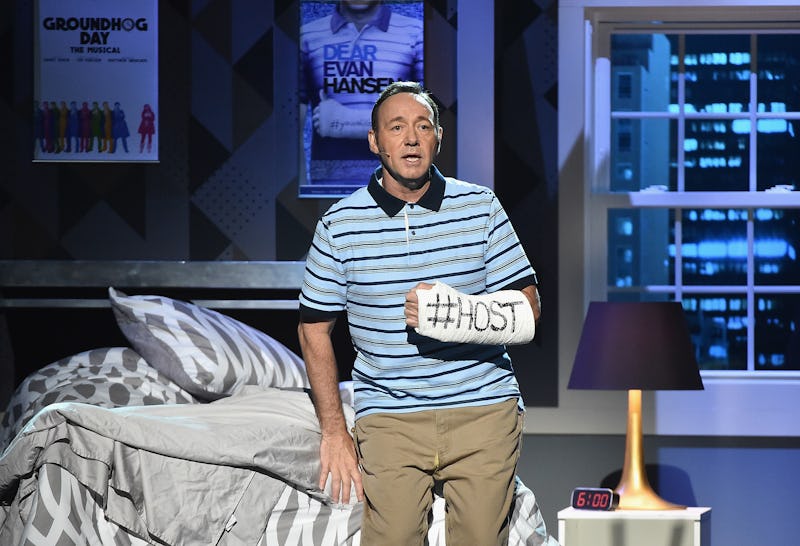 Theo Wargo/Getty Images Entertainment/Getty Images
The 2017 Tony Awards got off to a fittingly theatrical start with host Kevin Spacey's opening musical number, which took a tour of the best musicals and plays of the year. Meanwhile, Spacey worried — in song — that he might not be a good enough host for an event this big. But a cavalcade of celebrity guests appeared in Kevin Spacey's opening Tonys number to help him find his confidence. It was a little odd that a two-time Academy Award winner was worried about needing to win over an audience, but there are a lot of Hollywood names who would probably make you think "Broadway" before Kevin Spacey. And he called them out — from Hugh Jackman and Neil Patrick Harris to Sean Hayes and Kristin Chenoweth, the musically inclined stars who are not hosting the awards were were mentioned often.
But consummate late-night host Stephen Colbert popped out during a tribute to Groundhog Day to encourage Spacey to believe in himself, taking off his giant groundhog mask in a moment that echoed the Tony-nominated musical. But just one celebrity cameo wasn't enough for a number this big. And if you're going to tribute another five-plus shows after Groundhog Day and Dear Evan Hansen, including Come Far Away, and The Great Comet, you need not just a late night host, but a popular awards show host.
So, Whoopi Goldberg pops out of the closet... and yes, there were many jokes that took advantage of that turn of phrase throughout the opening. But even Goldberg's advice wasn't enough, so the opening number wrapped up with a satellite appearance from seasoned Oscar host Billy Crystal that kicked the number into high gear. Spacey ended the monologue dancing a serviceable tap dance in tails.
The 2017 opening number may not have been what Neil Patrick Harris or Hugh Jackman would have done, but with some help from his famous friends, Spacey got his first Tonys off to a high-energy start.