You Need To Read The Cherokee Nation's Response To Elizabeth Warren's DNA Test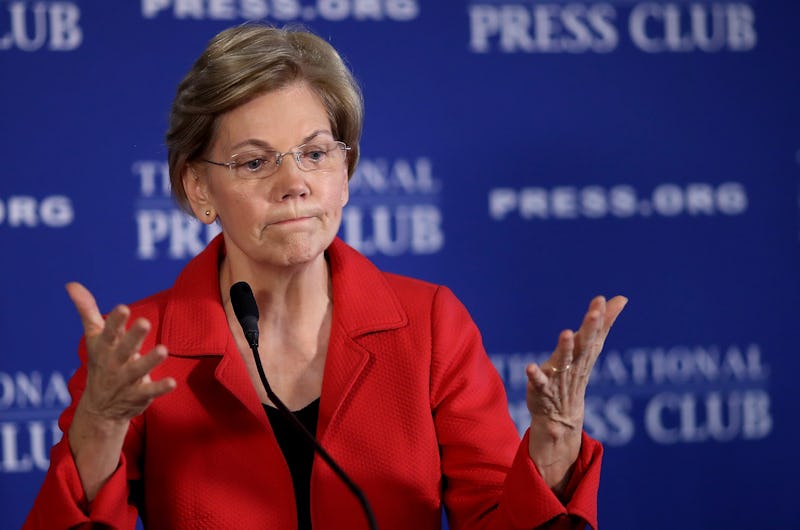 Win McNamee/Getty Images News/Getty Images
Massachusetts Sen. Elizabeth Warren pushed back against President Donald Trump's "Pocahontas" taunts with the DNA that he asked for, only for the president to first ignore the test and another key party in the discussion to disapprove. The Cherokee Nation responded to Elizabeth Warren's DNA test and called it "inappropriate" early Tuesday. Just hours later, the president used their words to attack Warren yet again.
Warren released the DNA test on Monday morning, showing that an expert found she likely had a Native American ancestor "in the range of six to 10 generations ago." Along with the test, she put up a campaign website that among other things said the "Pocahontas" taunts were a racist slur and told Trump he should donate $1 million to the National Indigenous Women's Resource Center.
The context did not ameliorate the situation for the Cherokee Nation. Cherokee Nation Secretary of State Chuck Hoskin Jr. responded in a statement:
Using a DNA test to lay claim to any connection to the Cherokee Nation or any tribal nation, even vaguely, is inappropriate and wrong. It makes a mockery out of DNA tests and its legitimate uses while also dishonoring legitimate tribal governments and their citizens, whose ancestors are well documented and whose heritage is proven. Senator Warren is undermining tribal interests with her continued claims of tribal heritage.
Hoskin noted in his statement that tribal citizenship cannot be determined by a DNA test, a point Warren conceded when she posted her results on Twitter Monday.
"I won't sit quietly for @realDonaldTrump's racism, so I took a test," Warren posted. "But DNA & family history has nothing to do with tribal affiliation or citizenship, which is determined only — only — by Tribal Nations. I respect the distinction, & don't list myself as Native in the Senate."
Trump didn't wait long to respond to Warren using the Cherokee Nation's statement as a new line of attack. "Pocahontas (the bad version), sometimes referred to as Elizabeth Warren, is getting slammed," Trump posted to Twitter on Tuesday morning. "She took a bogus DNA test and it showed that she may be 1/1024, far less than the average American. Now Cherokee Nation denies her, 'DNA test is useless.' Even they don't want her. Phony!"
The DNA test would seem to be the key problem that the Cherokee Nation has with Warren — not her claims of a Native American ancestor. During her run for the Senate in 2012, the Cherokee Nation Principal Chief Bill John Baker decided to criticize her opponent, then Tea Party Sen. Scott Brown.
Baker in 2012 said that Warren "never claimed to be a member of the Cherokee Nation"and just spoke of having ancestors. "I wish every congressman and senator in the U.S. had a kinship or felt a kinship to the Cherokee Nation," he went on to say.
Trump continued to attack Warren on Twitter later Tuesday. "Now that her claims of being of Indian heritage have turned out to be a scam and a lie, Elizabeth Warren should apologize for perpetrating this fraud against the American Public. Harvard called her 'a person of color' (amazing con), and would not have taken her otherwise!" Trump said, contradicting what a Boston Globe investigation found.
Warren didn't hesitate to respond on Twitter. "Millions of people watched you, @realDonaldTrump, as you fumbled and lied on your $1 million pledge. It then took a day for your handlers to tee up this recycled racist name-calling. You've lost a step, and in 21 days, you're going to lose Congress."
Warren signed off thanking those who had donated to the National Indigenous Women's Resource Center. That seems to be one detail that Native American activists do approve of.