The 'Chilling Adventures Of Sabrina' Trailer Is Here & Sweet 16s Have Never Looked Scarier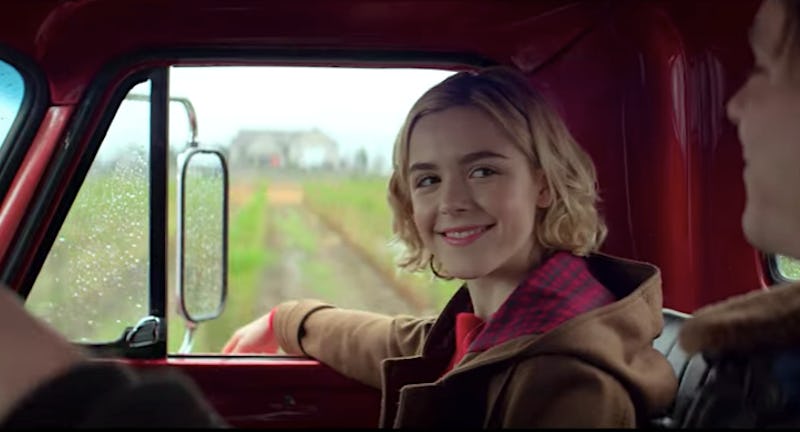 Netflix
It's safe to say that the bewitching season has finally arrived, thanks to the release of the first official, full-length trailer for Netflix's Chilling Adventures of Sabrina, which gives a good look at the complications that arise for our dear Sabrina Spellman in the aftermath of her Sweet 16. And here you thought just being a typical teen was complicated enough.
Created by Riverdale showrunner Roberto Aguirre-Sacasa, this reimagined coming of age story surrounding everyone's favorite teenage witch is definitely a much darker side of Sabrina's history than anything Melissa Joan Hart's version ever showcased. (No laugh tracks for this series, that's for sure.)
Forced to chose between her life as a witch and her life with her friends, Sabrina grapples with a constant struggle between living in the light and accepting darkness within her. So how will it all play out? Will she be able to find a happy medium for both parts of herself? Fans will have to watch the first season when it becomes available for streaming on Friday, Oct. 26 to find out one way or the other. But it's safe to say that turning 16 has never looked quite so terrifying.
Kiernan Shipka shines as Sabrina, who easily transitions from swooning over her boyfriend Harvey (Ross Lynch) to facing down high school bullies and even the actual devil himself — yes, really. Viewers are also given glimpses of Aunt Zelda (Miranda Otto), Aunt Hilda (Lucy Davis), her demonically possessed teacher Mary Wardell (Doctor Who's Michelle Gomez), her best friend Rosalind (Jaz Sinclair), and so many more.
The official synopsis for the Chilling Adventures of Sabrina reads as follows:
"Her name is Sabrina Spellman. Half witch. Half mortal. On her 16th birthday, Sabrina (Kiernan Shipka) has to make a choice between the witch world of her family and the human world of her friends. With her aunties (Miranda Otto, Lucy Davis), her cat Salem, and her boyfriend Harvey Kinkle (Ross Lynch), Sabrina will face horrors and new adventures in the mysterious town of Greendale."
Obviously, the trailer gives you a much better visual idea of what to expect from the upcoming season (some include typical high school stuff like romance, other things like demonic forces, not so much). But being the badass independent witch that she is, Sabrina refuses to give up half of her identity without a fight, even if it means risking everything and suffering the wrath of the witching world. "My name is Sabrina Spellman and I will not sign it way," Sabrina says in the trailer. We'll just have to wait and see if she can have her birthday cake and eat it too, so to speak.
So just in case you ever had any doubts, the Chilling Adventures of Sabrina will make for a perfect addition to your annual Halloween marathoning experience. Forget everything you thought you knew about Sabrina Spellman and get ready to see a much darker side to her than you ever thought possible. Something wicked this way comes and we can probably all agree that Oct. 26 simply can not get here fast enough.