Trump's Christmas Eve Involved A Sermon Urging Everyone To "Help All Refugees"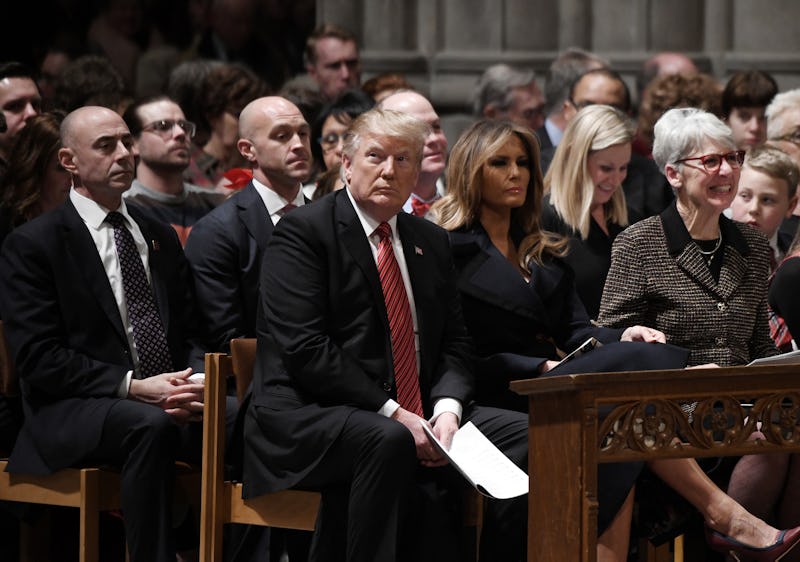 Pool/Getty Images News/Getty Images
President Trump's animus against asylum-seekers along the southern border is pretty much common knowledge at this point. But just days after the Supreme Court blocked his administration from banning asylum requests outside of ports of entry, the president sat for a church sermon with a completely different message. In fact, the Christmas Eve service Trump attended urged followers to help refugees in need.
"The text could not be more clear that the priorities of God are with us all," Bishop Marianne Budd of the Episcopal Diocese of Washington said in an NPR interview on Christmas Day. "As Christians, as followers of Jesus, as one of our great mantras of the church says, in the name of these refugees, we are to help all refugees."
Budd told NPR she only found out the Trumps — and Vice President Mike Pence and his wife — would be in attendance 15 minutes before the first service of the night began, and that she hadn't designed her message specifically for the president. "I didn't explicitly mention any of the immigrant crises that are facing us," she said. "I hope he heard what I wanted everyone to hear. I don't think I changed his mind on the issues about which he and I would disagree because most of us come into a sermon or any other encounter with our biases fully in place. But one never knows."
During Trump's time in office, the administration has attempted to curtail immigration on multiple fronts. Apart from the $5 billion border wall funding, a campaign promise Trump has adamantly demanded, the White House has gone after unlawful entry with a strict "zero tolerance" policy. And most recently, his administration has fought to narrow access to asylum requests.
Early last month, Trump signed a presidential proclamation ordering that migrants crossing the border unlawfully (i.e. not at an official port of entry) could not legally apply for asylum. Presumably meant as a deterrent to the migrant caravan then traveling through Mexico, the proclamation was immediately challenged by civil rights and immigration rights groups.
On Nov. 20, 9th Circuit District Judge Jon Tigar blocked the proclamation from going into effect, explaining that it explicitly violated the asylum provisions set up by Congress. A month later on Dec. 19, Tigar again held up his original injunction, calling the rule banning asylum in specific cases "invalid."
"The harms to those seeking asylum are also even clearer," Tigar wrote in his decision last week. "Correspondingly the public interest more plainly supports injunctive relief."
In yet another blow to the proclamation, on Friday, the Supreme Court let Tigar's decision stand in a 5-4 vote, with all of the liberal justices (Ginsburg, Kagan, Breyer, and Sotomayor) plus Chief Justice Roberts voting that the ban went beyond the president's scope of power.
Budd may be right that she didn't change the president's mind on the issue of refugee treatment — on Wednesday, just two days after her sermon, the administration filed to appeal Tigar's decision.