The 'Christmas Prince: The Royal Baby' Trailer Is Finally Here & Yes, There's A Curse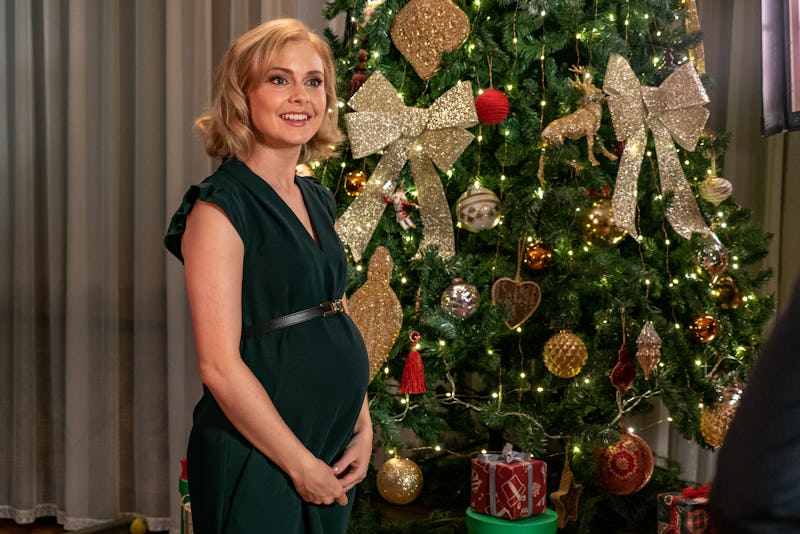 Cos Aelenei/Netflix
The arrival of the world's newest royal baby is almost here — and no, Meghan Markle isn't pregnant again. The Christmas Prince: The Royal Baby trailer has been delivered, and viewers are in for a wild sleigh ride. In the third installment of Netflix's wildly successful Christmas Prince film series, not only are Queen Amber (Rose McIver) and King Richard (Ben Lamb) preparing for the birth of their first child, that baby might be in danger. There's a potential curse threatening to tear the royal family apart, meaning things are about to get even more wacky up in Aldovia.
A Christmas Prince: The Royal Baby follows the world's favorite (fictional) royal couple, Amber and Richard, as they prepare to take some time off from their sovereign responsibilities in order to welcome their first child. But the last thing they must do is host King Tai (Kevin Shen) and Queen Ming (Momo Yeung) of Penglia (yes, another fictional royal kingdom) to renew a 600-year-old sacred truce between the two nations. It should be a smooth ceremony, but when the treaty goes missing, it virtually blows up in flames.
To make things even worse, the truce apparently includes some kind of curse, which will affect Amber and Richard's unborn child. "When the priceless treaty goes missing, peace is jeopardized and an ancient curse looms," the official plot summary, as obtained by Bustle, reads. "Amber will have to figure out who the thief is before the clock strikes midnight on Christmas Eve." Is her husband not available to help out?
Between Amber's fears about raising her child in a palace and the completely bonkers twist that is the ancient curse, the new installment promises the same humor, relatable moments, and pure wackiness that fans have come to love from the first two Christmas Prince films. But if you had told star McIver that A Christmas Prince would even recieve two sequels, she may not have believed you.
McIver told Bustle back in February 2018, after the first film went viral, that she could never have expected the films to resonate so deeply with viewers. "There are projects I've been a part of [with] all sorts of expectations around them and then nothing's happened and vice versa," McIver said to Bustle. "But A Christmas Prince was a lot of fun to be part of and I'm glad it seems to have found a great audience. People responded to it. I had a good laugh."
Although the new trailer promises some absolutely insane adventures, it doesn't let viewers have a first look at the actual baby, or even a hint at its gender, meaning fans will have to speculate about these uber-important details until the film hits our Netflix screens on December 5.