ColourPop x My Little Pony Is Coming & It Does Not Disappoint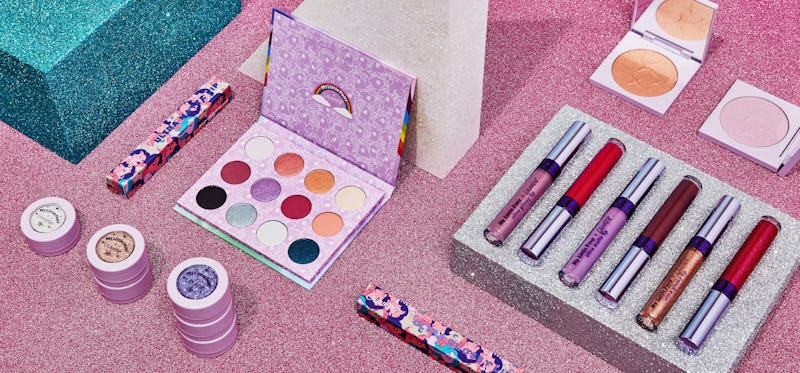 Courtesy ColourPop
If you thought fall was the time of the year to put away the color, think again. ColourPop and My Little Pony's beauty collection is coming, and it's color at it's finest. This collab is giving you a great reason to go bold this season, but in the most wearable way.
This season has been filled with My Little Pony makeup collabs, but never any like this. ColourPop created a 14-piece collection with everything you need to get a full face of fun. The line is filled with classic items like their Pressed Powder Highlight and Contours, a Pressed Powder Eyeshadow Palette, Super Shock Shadows, and Glossy and Ultra Matte Lips — all with a colorful twist. There's even some new items like a makeup bag and a tote that are inspired by the '90s characters.
Fall might be the time for deep lip colors and rosy eyeshadows, but this collection will add the pop of color you need. Honestly, there's never been a mystical creature collab that is this wearable. Part of that might be because it's inspired by the vintage show and not just the bright popping colors of the 21st century.
You don't have to wait much longer to get these items into your makeup bag, either. According to the press release, the ColourPop x My Little Pony collab will be available on Oct. 5, which is the day before the newest movie comes out.
The eyeshadow palette is one of the most exciting parts of the collab. The brand just recently started creating their pressed shadows kits, and so far every single one has sold out in the first round of launches. There's a good chance that the My Little Pony one will as well.
While there are fall shades like orange, deep red, and beiges in the palette, there's also a shimmery purple and pink as well. Basically, it's all the conventional colors you can possibly need while still having mystical shades as well. The single Super Shock Shadows play on the same color scheme, offering a purple, white, and bronze shade.
Just like every other great ColourPop collab — and there have been a lot — there are plenty of lippies to choose from. There are three Super Glossy Lips, Flutter Valley, Dream Castle, and Ponyland, as well as three Ultra Matte Lips, Moondancer, Lemon Drop, and Pin Wheel.
If you haven't already gotten the theme, there's a mix of wearable plums, purples, and even a golden shimmer hue. There's a shade to go with any eye look you're looking to create with the palette. Because, you know, that's how great collections work.
Don't think that the price will go up just because they've teamed up with major characters, either. Everything will stay affordable, with $16 for the palette, $5 shadows, and $6 lippies.
As if all of that wasn't already enough, they're adding some never before seen products to the line. Along with the mystically-inspired makeup items, the brand created a brush set and a makeup bag, too.
The brush set is filled with an angled face brush, fan brush, shader brush, tapered blending brush, and an angled eye brush. Each one has pretty pink ombré bristles. If you can believe it, the five-piece set is only $22.
There's no word on whether you'll be able to bundle the products or if you'll have to buy every single item separately. Bustle reached out to ColourPop for comment. Considering that ColourPop is know for their bundles, there's a good chance that you'll be able to scoop up multiple products for an even more affordable price.
Mark your calendars and get your wallets ready. This is one collection that you won't want to miss.