Separating Migrant Kids From Families Isn't Just Devastating — It Also Costs A Ton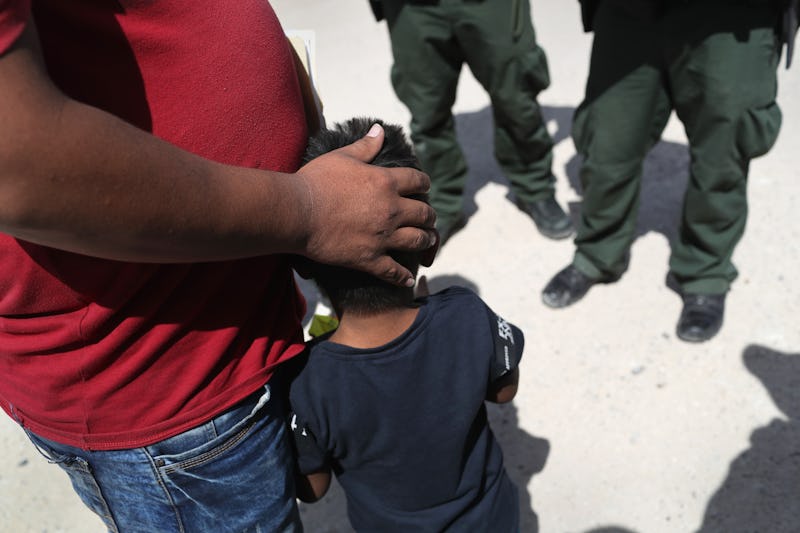 John Moore/Getty Images News/Getty Images
The Trump administration has been facing significant backlash since issuing a "zero-tolerance" immigration policy earlier this year that has resulted in families being separated at the southern border. The primary criticism of the policy has been that it is inhumane, but NBC News reported this week that it is also not cost-effective. According to a report published on Wednesday, the cost of separating migrant families is much higher than keeping them together.
The Associated Press reported last week that approximately 2,000 children had been separated from their parents at the U.S.-Mexico border over a six-week period. As a result, shelters run by the Department of Health and Human Services are at 95 percent capacity, leading the Trump administration to propose temporary "tent cities" to house migrant children.
According to the NBC News report, holding migrant children in these tent cities after they've been separated from their parents costs $775 per person per night. Keeping children with their parents in immigrant detention centers, meanwhile, reportedly costs $298 per resident per night — nearly three times less expensive than housing children separately. An additional expense would also be incurred by the operation of these tent cities; NBC News reported that it would cost more than $5 million to run a temporary 400-bed tent city for one month at full capacity.
An unnamed official from HHS reportedly told NBC News that the agency is "aggressively looking for potential sites" for additional tent cities to house the rapidly increasing numbers of migrant children who have been separated from their families. This official, along with former HHS officials, also told NBC News that the exceptionally high cost of maintaining tent cities can be attributed to the urgent need for medical workers, government contractors, air conditioning, and security.
Permanent structures that are routinely staffed, meanwhile, tend to cost less because they have a system in place for meeting such requirements. For example, it costs $256 per person per night to house migrant children in permanent HHS facilities.
According to HHS data reviewed by Bloomberg, the Trump administration plans to spend nearly $1 billion in grants in the 2018 fiscal year to detain and care for migrant children. Bloomberg suggested that the current estimate of $943 million could increase if the Trump administration continued to detain and apprehend more families crossing the border. In the 2017 fiscal year — up until September 2017 — the government spent approximately $958 million.
Earlier this year, the Trump administration implemented a "zero-tolerance" immigration policy that entails bringing criminal charges against any adult immigrant who crosses into the U.S. without the necessary documents. When adult immigrants face criminal charges, they are sent to a federal jail, and they are not allowed to keep their children with them. As a result, more and more families have been separated at the border, contributing to the swell of migrant children that then need to be housed by HHS.
The HHS is reportedly housing nearly 12,000 children at the moment, many of whom crossed the U.S.-Mexico border without a parent or legal guardian accompanying them. The zero-tolerance policy, which has been spearheaded by Attorney General Jeff Sessions, is therefore causing a dramatic increase in the number of migrant children that need to be housed by separating them from their families.
HHS data indicates that migrant children spend an average of 57 days in agency facilities before being placed in foster care or being released to a relative in the U.S. Before the zero-tolerance policy was implemented, migrant parents and children were housed together in ICE detention facilities for up to 20 days before being released with ankle bracelets as they waited for their court hearings.