This 'Crazy Ex' Song Hilariously Captures The Frustration Of Having Nosy Friends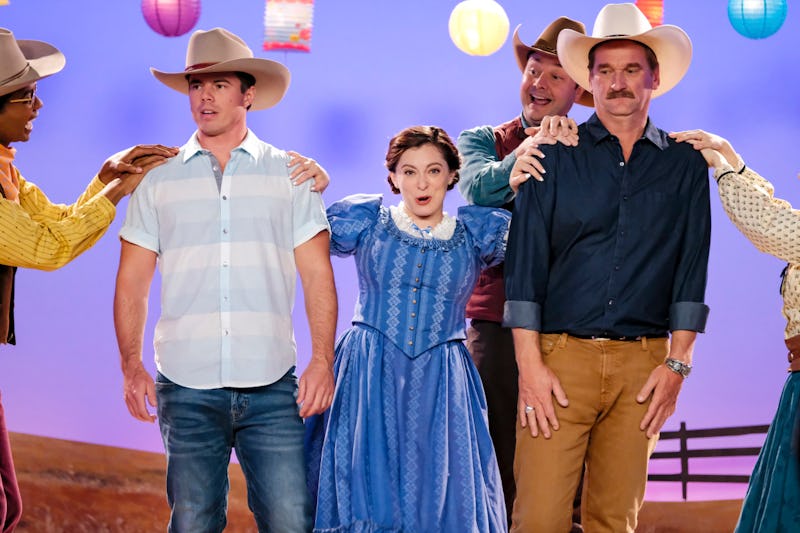 Eddy Chen/The CW
Crazy Ex-Girlfriend has already parodied famous musicals like Chicago, Les Misérables, and The Music Man, so it only makes sense that their fourth and final season includes a mishmash of two more. "The Group Mind Has Decided You're in Love" video, streaming exclusively below, riffs on Oklahoma and Seven Brides for Seven Brothers. But, as with all great Crazy Ex-Girlfriend songs, it does more than provide a fun skit: It shows Rebecca's meddling has rubbed off on all of her friends. And that's not necessarily a good thing.
The song is directed at Darryl and White Josh, who broke up after they couldn't decide whether or not to have kids. It was a nuanced and painful situation, but nevertheless, their friends, aka "the group mind," have come to tell them they're clearly in love and need to get back together, stat! From the over-the-top outfits to the exaggerated country accents and overeager grins, this has Rebecca Bunch written all over it. And it's clear that she's using this as a deflection; she says so repeatedly in the song. "Rebecca, don't you have bigger problems going on right now?" White Josh asks, annoyed. "Yes, and this is a welcome distraction!" she says with a smile plastered across her face.
However, it's a bit more surprising that she's roped her co-workers into it, like the over-eager Maya (Esther Povitsky) and pretzel shop employee AJ (Clark Moore), whom audiences just met literally two episodes ago. "Your love's the only reason I survived," AJ sings happily. "I'm sorry, what was your name again?" Darryl asks, obviously disturbed. And then there's Tim (Michael McMillian), who puts his arms around the broken-up couple and sings that they're the only two LGBTQ people that he knows, so it must be meant to be. "You need to get out more, Tim!" White Josh yells after him.
It's clear that Darryl and Josh aren't pleased with the song, but as the performers say multiple times, it's not even about them. Several other people come onto screen, including Josh, Heather, Valencia, and Paula, who's brought a boy toy with her. "I needed a dance partner, and I've had a really hard week, so please let me have this," she says.
They proceed to execute some bizarre choreography, ranging from ballet to hip-hop ("It's hard to follow," White Josh tells Darryl, as they tell their friends repeatedly to please stop). Enter Nathaniel, who tells everyone to leave the two men alone, but really just wants to be in the musical number.
And while it's sweet that their friends are so invested in their happiness, this is Rebecca-style interference. Even when Josh and Darryl beg their friends to let them live their lives, their pleading falls on deaf ears. After all, it's hard to be a good listener while you're doing the can-can and dosey-doe.
It remains to be seen whether Darryl and White Josh will actually ever get back together, but the mass mob needs to give them just a teensy bit more space to figure that out for themselves.