Rachel Bloom Just Previewed The 'Crazy Ex-Girlfriend' Season 4 Theme Song & It's SO Perfect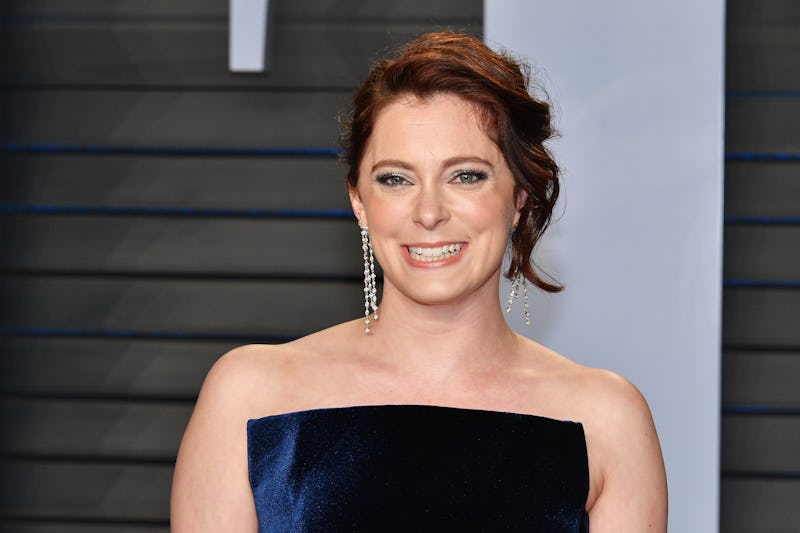 Dia Dipasupil/Getty Images Entertainment/Getty Images
It's no secret that Rachel Bloom's Crazy Ex-Girlfriend is going to be missed after its final season. Its theme songs have always expertly expressed what fans can expect from the upcoming seasons, and the Crazy Ex-Girlfriend Season 4 theme song is of no exception — perfectly emphasizing how complex it is to be a woman in the same breath.
For the past three seasons, the series has not only nailed what it's like to live with mental illness, but it has also crushed stereotypes about women needing validation in relationships, while proving that on-screen diversity is possible.
While speaking with the Comic-Con San Diego audience Thursday, July 19, co-creators Bloom and Aline Brosh McKenna shared some tidbits about Rebecca Bunch's upcoming swan song. Not only will Rebecca have some uphill battles to overcome, you know... with pleading guilty to attempted murder at the close of Season 3, and everything. But, the new season will also make room for a Chicago "Cell Block Tango" inspired performance, as well as a brand new theme song expressing the many, complicated, layers of Rebecca Bunch.
Fans should be pretty aware that each season of Crazy Ex-Girlfriend is always outfitted with its own, original theme song, performed by the one and only Bloom. So, while dishing about Season 4 for the Comic Con audience, Bloom let them in on the finale season's lyrics, according to a video posted to Twitter by Vulture editor Jordan Crucchiola.
According to the video, Bloom explained that the opening credits' visual will begin in a park with the camera focused on another girl named Rebecca, and not Bunch. The tune accompanying the optics has a bit of a '90s sitcom edge and is, as always, super quirky and cute. Bloom added that the new song is almost "like the jingle for Double Mint Gum," singing, "Meet Rebecca! She's the coolest girl in the world! Wait, wrong Rebecca."
"And then," Bloom added in the video, "the camera realizes we're looking at the wrong girl and we pan over to me in the part." After painting the picture, Bloom went back to singing, "It's this one over here!" Bloom then explained, "And then Rebecca, she waves, and we cut over to a clip show. And we see a clip of Rebecca being spunky."
Bloom sings, "She's spunky! She's sweet! A generous friend!" And then the song changes its tone as Rebecca starts to yell at her friends. "Oh, but there she looks kind of mean. Hmmm, ok! She's snarky! She's sarcastic," Bloom sang in the video. Then, she said that the credits will then find Rebecca "doing something" while wearing a sexy catsuit."And, uh, what? You know, we're not really seeing a common theme! Meet Rebecca! She's too hard to summarize! Wrong Rebecca, so let's go back to that other Rebecca!" And the song closes with the camera focused on the other, more perfect, woman named Rebecca.
Not able to follow along? Well, that's what life totally looks like for Rebecca Bunch, and many viewers who relate to having many, sometimes less than perfect, sides of themselves. And if the version expressed by Bloom doesn't end up on the cutting room floor in post-production, this theme song will possibly be the most relatable one yet to viewers.
Airing Friday, Oct. 12, the final season of Crazy Ex-Girlfriend will be tasked with summing up the saga that is Rebecca Bunch and her West Covina posse in just 18 episodes. Will Rebecca and Nathaniel finally makeup? Are Rebecca's closet pals Paula, Heather and Valencia going to be able to withstand her drama-filled life, or will they all finally decide to cut ties? Oh, and most importantly, will Rebecca live the rest of her precious days in a jail cell for a crime that she — fingers crossed — didn't commit? Fans will just have to watch and find out.