'The Crown's Vanessa Kirby Won't Let Anyone Else Define Her — Or Princess Margaret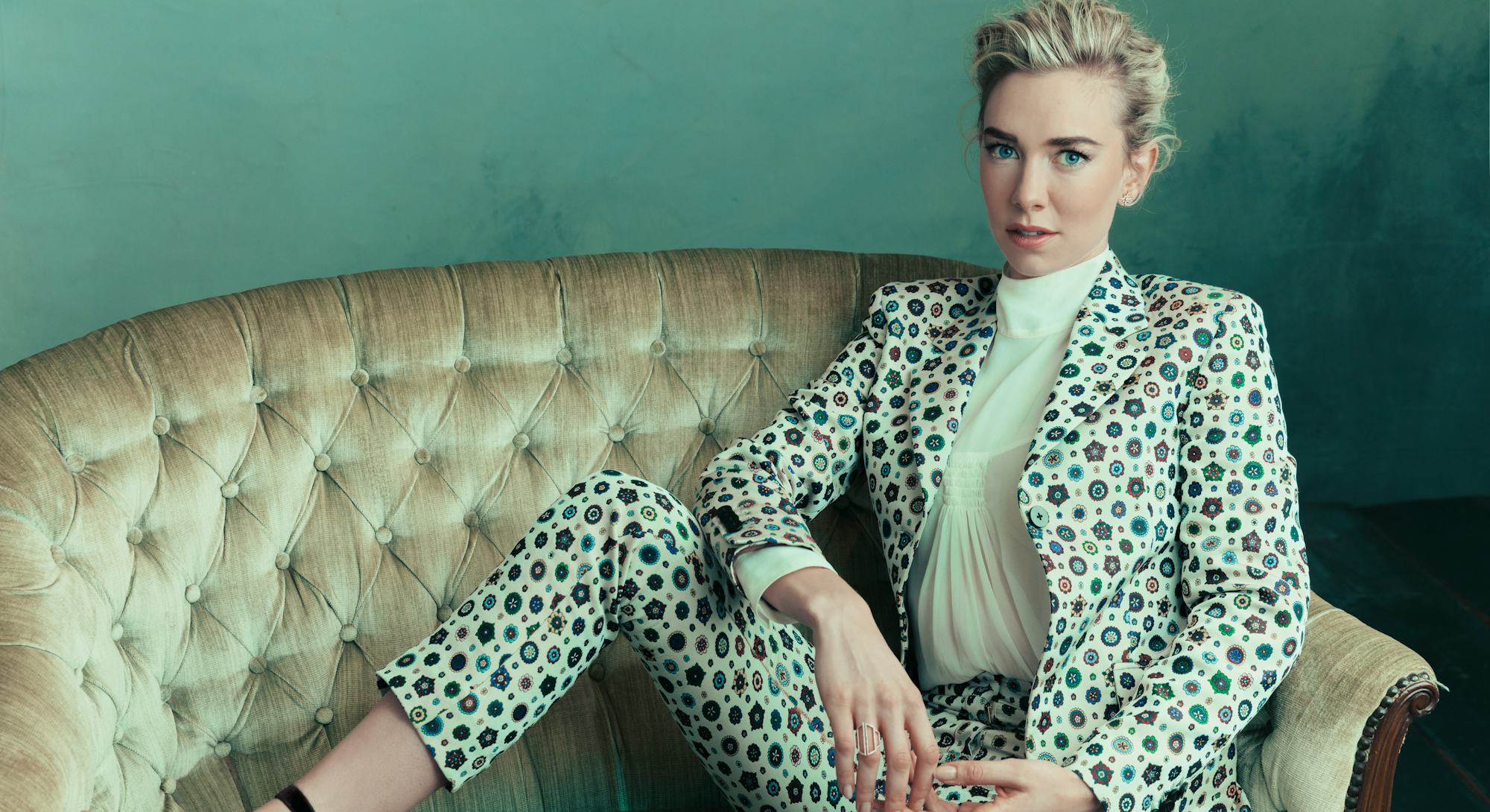 Courtesy Netflix
While growing up in London, 29-year-old Vanessa Kirby had little interest in reading any of the tabloid headlines and news coverage of the British royal family. But for her role as Princess Margaret on The Crown, Vanessa Kirby has relished the opportunity to learn more about the monarchy and Queen Elizabeth's fiery, free-spirited sister. Sitting across from me at Avec Nous in Beverly Hills in late October, Kirby lights up as she talks about the real Princess Margaret's rebellious behavior (she was known for putting cigarettes out on her dinner plate, for one) and laments that Margaret could have become a dancer or actor if she wasn't, you know, the queen's sister. It isn't until later on that I realize we haven't talked much about the details of Margaret's many romances, which dominated headlines at the time — but Kirby prefers it that way.
Both The Crown and Kirby recognize the fact that, in the press, Princess Margaret was often defined by her relationships. But both the series and the actor rightfully steer the conversation toward a more nuanced discussion of Princess Margaret, the woman. While the first season of The Crown centered heavily on Margaret's relationship with Group Captain Peter Townsend, the series is careful to define her outside of her romances, often focusing on how Margaret's personal life and aspirations affect the sisterly bond between her and her older sister Queen Elizabeth (Claire Foy).
"I always felt like [Margaret] was this bright spirit, this kind of bright burning flame," Kirby says, "who because of the conditions of her birth and her circumstances, she wasn't ever able to [live] with the freedom that she would have probably had, had she not been part of the royal family."
In real life, Princess Margaret's name was often synonymous with scandal, as her failed engagement to Townsend, her 1978 divorce from photographer Antony "Tony" Armstrong-Jones (later known as Lord Snowdon), and her other relationships often dominated the news. Even Princess Margaret's obituary in the New York Times mostly details her many romances with men and her rebellious attitude. According the obituary, Princess Margaret told The Reality of Monarchy author Andrew Duncan, ''When my sister and I were growing up, she was made out to be the goody-goody one. That was boring so the press tried to make out that I was wicked as hell.'' But the princess also devoted her life to her royal duties, supporting welfare causes, the arts, and children's charities, according to the royal family's website. Sadly, that side of the real Margaret, who died in 2002 at age 71, is rarely discussed. Or, at least no one seemed to until The Crown.
Armed with a flawless brunette wig over her blonde hair and plenty of historical research on the royal family, Kirby was well-equipped to return to the role of Princess Margaret in Season 2. But she also got inspiration from an unexpected incident in her own life. Earlier this year, rumors swirled that Kirby was dating her Mission: Impossible 6 co-star Tom Cruise, giving her a real taste of what it's like to have your personal life scrutinized by the tabloids.
"I hadn't even met Tom Cruise, and the papers reported that I was marrying him — and I've had a boyfriend for three years," Kirby says. "That's why I've kept my relationship for three years really quiet; I just don't think it's that interesting to people, and it's not something that I want to be defined by. It was a very interesting insight into this strange need to define somebody by their private life."
It was this unintended tabloid scrutiny of her own life that helped Kirby better relate to Princess Margaret in The Crown Season 2, which follows the princess as she moves past heartbreak and readjusts to single life. Before long, she's dived into an explosive relationship with Tony Armstrong-Jones (Matthew Goode) while continuing to assert her individuality in the royal family, becoming more jaded and frustrated with the royals' old-fashioned belief system. The Crown emphasizes this struggle, and, in the following exclusive featurette, Kirby and Goode discuss how Princess Margaret finds some independence and freedom as she's exposed to Tony's Bohemian world.
"[Margaret] wanted to modernize the royal family, and she wanted to change it from the inside," Kirby says. "She was somebody that was extremely grand, that was very much a princess, and yet also wanted to be with people and live a normal life." She never got a normal life of her own, if that is what she really wanted, but Margaret did make way for some of that change Kirby says she craved.
In 1955, Princess Margaret was not able to marry Townsend due to his status as a divorcée. Years later, in 1978, she became the first royal to get a divorce since King Henry VIII in 1540. It was a momentous achievement for her independence. Fast forward to 2017: Prince Harry announced his engagement to biracial American actor Meghan Markle on Nov. 27. He will be the first royal to marry a divorcée since former King Edward VIII abdicated the throne to marry Wallis Simpson in 1936. He is essentially modernizing the family just like Margaret wanted to do. "Harry is the rebel, or known for being the rebel," Kirby says. "I love that, because Margaret would totally identify with him."
Though The Crown's lead roles — including Princess Margaret — will be recast for Seasons 3 and 4, Kirby's two seasons playing Princess Margaret have inspired her to embrace life and support several causes close to her heart, just as Margaret herself did. Kirby currently works with the organization War Child, which provides assistance to children in areas experiencing war or political conflicts. She's traveling with them to the Central African Republic and plans on screening Margaret's episodes of The Crown for them, as well. In February, she's set to shoot a documentary with a filmmaker friend about the powerful female elders of indigenous tribes. "I think it's important to not just do one thing with your life, to try and expand your mind as much as possible to help other people," Kirby says. "Especially in this industry, there's a danger of becoming self-focused, and I really don't want to do that."
Most of all, Kirby wants to amplify and champion women's voices. The #MeToo movement had only just begun in October when we speak, but even then, Kirby feels moved by it all and hopes to help. "I am so inspired and I hope that I can be a voice to that change," she says. "It's really a cry or a call for women to stand up and protect each other, to tell the truth, and to empower themselves to be equals and beyond in the world."
Unfortunately, Princess Margaret didn't get the chance to be fully empowered or be publicly known for something else other than her relationships to men before her death in 2002. It's made Kirby more passionate about telling Margaret's story outside of her love life, and has inspired Kirby herself. "In one sense, she had such a voice, but she also wasn't able to really own what she wanted in her life," Kirby says. "I felt so sorry for her, and it's made me more passionate to live my life in the way that I would like to."
Essentially, there's way more to the actor and her life than those Tom Cruise rumors — and Vanessa Kirby's refusal to be solely defined by any relationship would do Princess Margaret proud.