The CW's 'Batwoman' Might Have An LGBTQ Lead & It'd Be An Even Bigger Deal Than You Think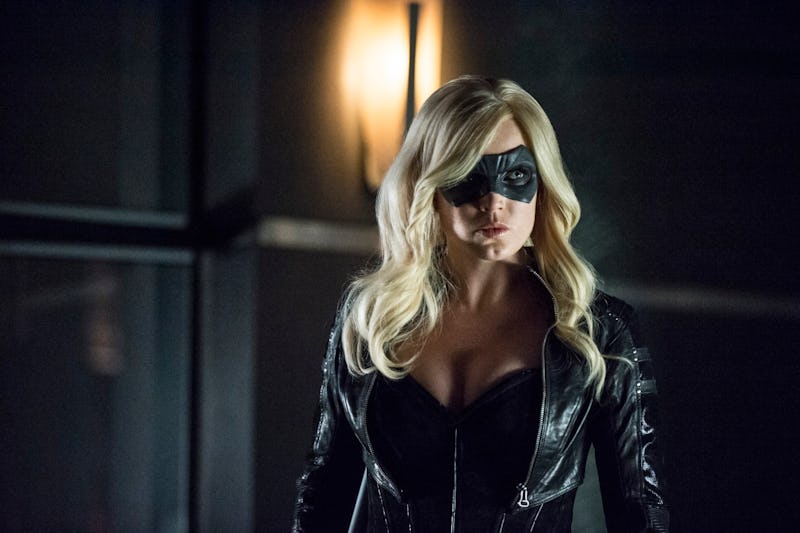 Cate Cameron/The CW
The CW is home to a collection of TV shows based on DC Comics known as the Arrowverse, consisting of Arrow, The Flash, Supergirl and Legends of Tomorrow. At CW's upfront in May, Arrow star Stephen Amell announced that Batwoman would join the other shows' superheroes for an upcoming Arrowverse crossover event. And today Entertainment Weekly reported that a new show about Batwoman is slated to join CW's Arrowverse in 2019. This Batwoman, Kate Kane, would be TV's first gay lead superhero character. And that's not even the best part, because according to TV Line, the show's creators are reportedly seeking out a gay or lesbian-identifying actor to play Batwoman.
TV Line also reported that The Vampire Diaries' Caroline Dries, who identifies as a lesbian, will write Batwoman's script. And, as with all of the other Arrowverse shows, DC Comics writer and TV producer Greg Berlanti will produce the upcoming project along with Dries. Bustle has reached out to Berlanti for comment about the report that the show is looking to cast an actor who identifies as queer for the role, but did not hear back at time of publication. The TV Line report also specified that the casting call is open to all ethnicities, so the character won't necessarily be white — if true, this sounds like an all-around win here.
In the DC Comics, Batwoman has a relationship with with a Gotham City cop named Renee Montoya, who later adopts her own superhero identity, a storyline which would no doubt make for some pretty great television. Anyone familiar with the CW's Arrowverse probably isn't too shocked that a queer superhero is finally helming their own show, as a lot of the other superhero shows from the network include LGBTQ characters. Curtis Holt on Arrow, for instance, The Flash's Captain Singh, Legends' Sarah Lance (who's bisexual), Supergirl's Alex Danvers, and Anissa on Black Lightning — even if that show is only hinted at being connected to the Arrowverse — are all main or recurring characters who happen to be LGBT. That means that Kate Kane will be the CW's sixth LGBT character, and there's bound to be more.
While the prospect of Batwoman's improvement for LGBTQ representation is exciting in its own right, the fact that the show plans to cast a lesbian actor to play the titular superhero makes it all the more exciting. Just earlier this month, Scarlett Johansson found herself embroiled in controversy after it was announced that she would play a transgender man in a movie called Rub & Tug. While having a cisgender woman play a transgender man is much different from a straight woman playing a lesbian woman in a TV show or movie, casting straight actors to play LGBTQ characters can sometimes risk straight-washing characters meant to embrace their non-heterosexual identities.
With a lesbian actress playing Kate and a lesbian writer (Dries) writing the script, Batwoman has a much greater chance at realistically representing the show's gay character(s). All too often movies about lesbian couples miss the mark, whether they attempt to make the homosexual couple fit into heterosexual standards and roles, or they portray unrealistic lesbian sex scenes. It's way too common for movies and shows about LGBTQ characters to exclude actual LGBTQ creators behind the projects. Based on these new reports, this will not be the case with Batwoman, and Twitter is already celebrating what is being touted as the most lesbian show ever.
The CW's inclusion of Batwoman — and all of its awesome LGBTQ superhero characters — is hopefully a signal that TV is moving in the right direction, at least in the Arrowverse. That shouldn't even come as a surprise though, considering that queer characters are abundant in comics, even DC Comics. Batwoman's Kate Kane has provided representation of a fascinating lesbian character since 2006 in comic books, and it's time for her to do that now on TV.