How The CW's Military Drama 'Valor' Tackles Relevant Feminist Issues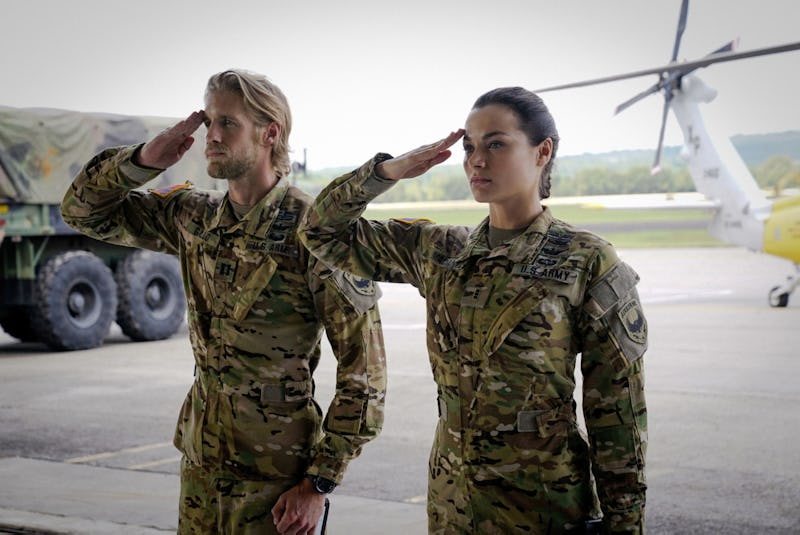 The CW
2017 is officially the year of military dramas. Almost every network has one premiering this fall, but the female-championing CW is angling to make its military drama Valor the must watch of the season. Why? Because it's the feminist military show you didn't know you needed in your life.
From writer/musician Kyle Jarrow, Valor (premiering Monday, Oct. 9 at 9 p.m.) follows Nora Madani (Christina Ochoa), one of the first females in the elite unit of helicopter pilots trained to perform clandestine international and domestic missions, ultimately uncovering layers of personal and government/military secrets while attempting to rescue a group of MIA soldiers. By telling a military story with a female character at the center of it all, Valor is able to put a new spin on an old genre.
"Absolutely I think it's feminist," Ochoa tells Bustle on location at a small airport base in Atlanta, raising her voice to be heard above the loud sounds of a plane taking off behind us. "Not just the fact that it's a female protagonist, but in the sense that she's not a trope, she's not a cliché, she's not just the tough chick. Every scene, Nora Madani [is] a woman in a man's world."
Standing next to a military truck wearing her regulation ready fatigues, Ochoa stands up straight with her hands clasped behind her back, looking every bit like the soldier she's portraying. She dives deep into all the layers of Nora — from her PTSD to her pain pill addiction, to an old war wound, to her complicated relationships with her boyfriend First Lieutenant Ian Porter (Charlie Barnett), and her captain Leland Gallo (Matt Barr). She praises showrunner Jarrow for creating a "more well-rounded" female character than the usual tropes seen on TV.
"It's a feminist statement; it's also necessary," Ochoa says of centering a military drama around a woman instead of a man. "We don't see as many shows within genres that are similar to this one, even if they're not military but action or whatever, with female protagonists written in such great ways."
Since there are so few shows out there about women in the military, the stars of Valor hope that seeing Nora rise through the ranks on their show can be an inspiration for women everywhere.
"The fact that we have this female character leading our world is going to be fascinating for audiences," Barnett says. "It's important for right now in our country, recognizing that women are badasses. None of the other [military dramas] are exploring that world."
W. Tre Davis, who plays captured soldier Jimmy Kam, adds, "If there is like a 14-year-old young woman that decides to be a pilot because of our show, then that's rad. I hope we can be inspiring for young women and young people in general."
Barnett credits the Valor writers with having the unique perspective needed to tell good feminist stories, noting that they "have four women writers, two are vets." And he even helped his costar Ochoa get into the right mindset for filming by giving her a book written by a female pilot chronicling her journey and struggle rising up through the ranks in the military.
"The military is a hard place. It's a complicated world, especially with women's rights," Barnett says. "Over the past few years we've seen it blow up. We have the opportunity, being the only [military show] that has a female lead, to explore it in the right way and make sure their voices are heard."
Taking a break from filming several flashback scenes, Barr couldn't contain his excitement about getting to tell this feminist story, as "we're only a few years in to having the first females in special ops aviation."
"I think it's incredibly empowering to see intelligent, capable, powerful, vulnerable and yet strong women do extraordinary things," he says. "[Nora] has this emotional capability to do the job and nurture a relationship. That is reality."
And Nora isn't the only female kicking ass and taking names on Valor. Melissa Roxburgh plays Thea, a high-level CIA agent working in tandem with the army on a rescue mission. She knows all too well about being a woman in a man's world, so she uses everything at her disposal to do her job and do it well.
"My character is a young woman leading this mission, which isn't something that would normally happen," she says. "It's highlighting a strength that women have, even though they aren't normally put into these positions. You don't get to see those stories most of the time, it's always focused on the men."
So if there's only room for one military drama on your DVR this year, set that series recording for Valor for a new and unique perspective on a well-worn genre.