The CW Leads The Pack In Female Representation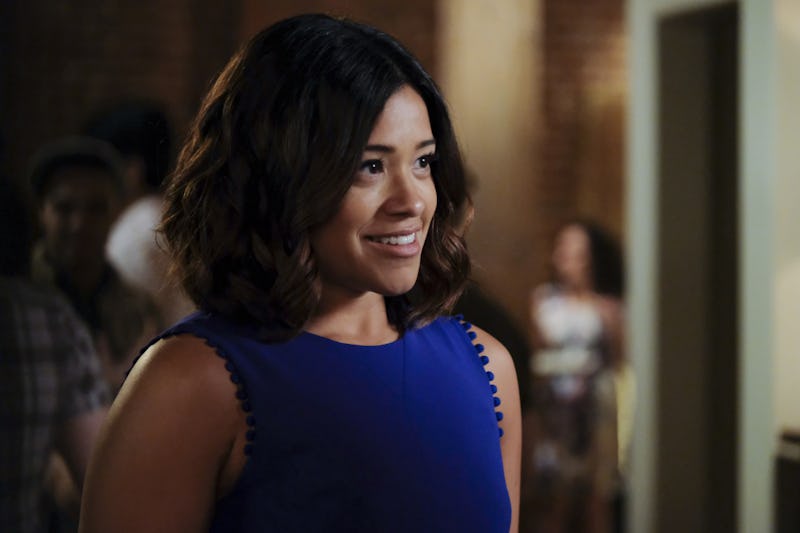 Photo: Robert Voets/The CW
According to Beyoncé, girls run the world. But based on a new report, women don't run most TV shows on major networks. Variety's latest report about the diversity of the 2017-2018 TV lineup makes this very clear. While the total number of female TV showrunners is once again very disappointing, The CW may give you something to believe in. The network, which is home to Jane The Virgin and Crazy Ex-Girlfriend, had the most female showrunners of any major network. More than half of The CW's showrunners are female — 67 percent, to be exact.
It's a number worth celebrating since the network with the second-most female showrunners is ABC, home to Shonda Rhimes and her T.G.I.T. lineup, at 33 percent; that's not even half the amount of The CW. In last place is CBS, whose president Les Moonves recently defended its lack of female-led shows at this year's upfronts by telling reporters, "Our shows have a lot of female appeal." But they don't include a lot of women. The amount of female showrunners in CBS' 2017-2018 lineup is 11 percent, with not one new show in its lineup having a female lead. When it comes to female leads for its 2017-2018 television season, The CW is at 67 percent.
It may be easy to get bogged down by the dismal numbers of the major networks, but let's not ignore how The CW is making inclusion part of its brand. In doing so, this network is helping set the bar for how TV should look.
At this year's upfronts, which celebrated The CW's 10th anniversary, Jane The Virgin star Gina Rodriguez reportedly praised the network for "transforming the way we look at our culture, the way we look at women in the industry," by filling its lineup with shows made by women and starring women like Supergirl, whose showrunner is Allison Adler. Not all of the female characters on The CW are superheroes, but they definitely feature a range of complex women.
Rodriguez's show, which is led by Jennie Snyder Urman, casts Jane as a single-mom and a widow, who is always learning right alongside her mom and abuela. Crazy Ex-Girlfriend, run by Aline Brosh McKenna, covers mental illness in an honest way that looks to take away stigma. Taking away stigma is also something the show did with an episode where Paula, played by Donna Lynne Champlin, has an abortion, and the conversation about it is so low-key, you might blink and miss it. These characters are raw, unapologetic, and real, which is rare.
That's the word Rodriguez reportedly used at the upfronts when speaking of The CW's commitment to closing the gender gap, calling it "awesome and surprisingly rare, considering we're half the world." Rodriguez is right, television has been slow to include women and non-white showrunners and stars. But, according to AdAge, the still-young CW has been deliberately improving its diversity since 2014 to reflect its target audience. For example, The Flash, which premiered that year, cast its traditionally white comic book characters with non-white actors. The series has since become one of the network's top-rated shows.
Last year, Variety looked at the diversity of the 2016-2017 TV lineup, and unsurprisingly found that the showrunners across the major networks were mostly white (90 percent) and male (80 percent). With only three new shows last season — Frequency, No Tomorrow, and Riverdale — The CW still managed to be more inclusive than the other networks. Again, The CW was an outlier with 50 percent of the showrunners being female, thanks to No Tomorrow, which is run by Maggie Friedman and Corinne Brinkerhoff. Plus, The CW had the highest percentage of non-white showrunners — 25 percent. However, that percentage accounted for just one showrunner, Riverdale's Roberto Aguirre-Sacasa, who is hispanic.
What's clear from Variety's report is that The CW isn't just focused on increasing female representation, but also increasing racial representation. In the network's 2017-2018 TV season, 33 percent of the showrunners are hispanic or non-white, including the husband-wife team of Salim Akil and Mara Brock Akil on the superhero drama Black Lightning. Only two other networks had non-white showrunners: NBC with 10 percent; and CBS with 11 percent. The percentage of non-white leads in The CW's 2017-2018 lineup is also 33 percent, which is the most for any major network. Fox, whose shows include Empire, Star, and Lethal Weapon, is the next closest with 30 percent, though the network has zero hispanic or non-white showrunners.
Sure, The CW may not be perfect. The network still has work to do regarding racially diverse showrunners, specifically female ones, but it seems like their team wants to get there. The Los Angeles Times reported that at this year's CW upfronts, network president Mark Pedowitz said, "The CW lineup is better and broader than it's ever been" with "casts that represent and reflect everyone in our audience."
If that's what The CW's main directive is, audiences are in luck. Now if only the other networks would follow their lead; television would finally look more like the world we see everyday.