The Dad Of 2 Parkland Shooting Survivors Was Fatally Shot In A Robbery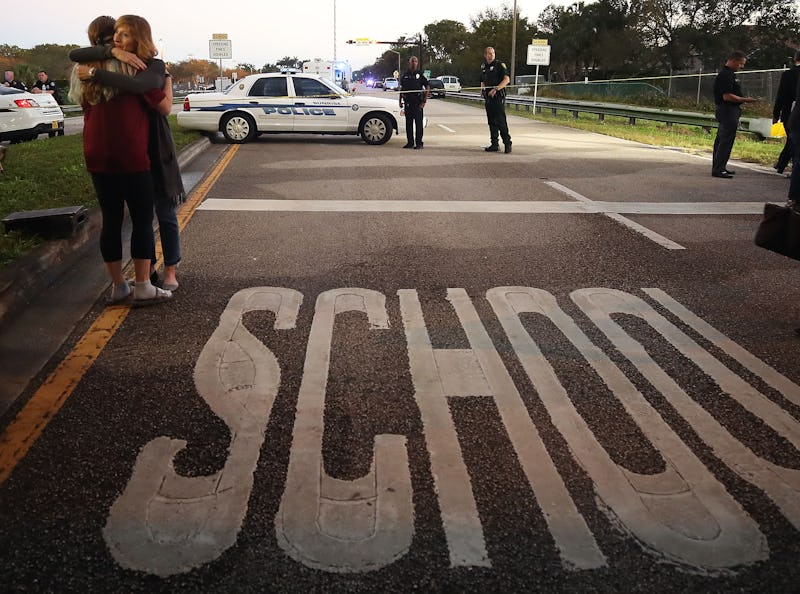 Mark Wilson/Getty Images News/Getty Images
For one family affected by February's shooting at Marjory Stoneman Douglas High School, tragedy struck again. The father of two Parkland shooting survivors was killed on Tuesday while working at a convenience store in North Lauderdale. Ayub Ali's family is left with a horrendous loss, while the community is faced with a reminder of how gun violence comes in all forms, both big and small.
The 61-year-old Ali was shot by a man robbing the business he owned, Aunt Molly's Food Store. According to the Broward County Sheriff's Office, the suspect "took money from the cash register and left" but then "returned shortly after and shot Ali." Paramedics brought the store owner to Fort Lauderdale's Broward Health Medical Center and there pronounced him dead.
"He was a very generous person and a nice person," Mirza Mustaque, a spokesperson for the Ali family, told CBS4. "He was a very religious person and very friendly. It is very sad. It is very sad. This things happen but this is so unfortunate." Mustaque mentioned that Ali was a Bangladeshi immigrant.
Ali was also the father of two students who survived the Parkland massacre in February. A family friend told NBC Miami that one of his daughters was in a classroom in the building where that shooting took place, Building 1200.
Ali lived with his wife, Farhana, in the city's Meadow Run community, according to Parkland Talk. They had four children, including the two who attended Marjory Stoneman Douglas High School as of February. These two survivors have not been named by the media.
The couple has three daughters, Kalerkantho Online. They also have a little 22-month-old boy, who "called out for his dad" at a Wednesday memorial gathering, NBC 6 reports.
"This is the biggest part that hurts me," family friend Alex Rios told NBC 6. "They have to be without their dad for the rest of their life."
Friends of Ali and his family placed flowers outside of his store on Wednesday and mourned his loss. The business reopened on Thursday. Ali bought the store around a decade ago, according to Kalerkantho Online. He'd been in the United States since 1994 and was vice president of the Florida State Jubo League, a Bangladeshi political group.
"It tears me up that this happened," Joaquin Nieves told CBS4. "I can't believe he was killed in a robbery in his own store." Nieves said that Ali "was a great guy," and added a plea: "Please, anyone who knows anything should speak up. This can't happen."
Mohammad Ahajj, who owns a business near Aunt Molly's Food Store, told CBS4 that Ali was a "very good and a religious person. He was nice to all his customers. I have known him for three years." Ahajj added, "Now operating a business here I do not feel safe."
A spokeswoman from the sheriff's office said that Ali's murder is being investigated. Anyone with potential information about the crime is asked to contact the office's homicide detective here.