The Dakota Access Pipeline Is Being Used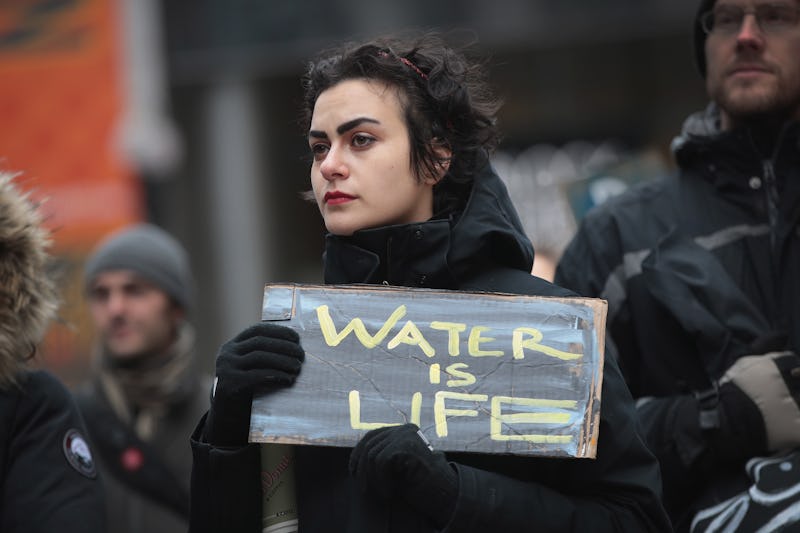 Scott Olson/Getty Images News/Getty Images
Despite months-long efforts from protesters to shut down the Dakota Access Pipeline, President Donald Trump signed an executive order just a few days into his presidency to reinstate construction on the Dakota and Keystone XL pipelines. And now, the Dakota Access Pipeline is in full service, moving hundreds of thousands of barrels of oil per day.
Back in December, it appeared that protesters had successfully halted the pipeline's construction when the U.S. Army Corps of Engineers denied an easement needed to complete the pipeline. Protesters, most notably including the Standing Rock Sioux tribe, fought against the pipeline because they claimed its route beneath Missouri River reservoir Lake Oahe would threaten the tribe's water source and run through sacred land. The builders of the pipeline, however, insisted it had made sure these problems wouldn't occur. There is also the argument that transporting the oil via truck or train instead would increase greenhouse gas emissions.
The Dakota Access Pipeline cost nearly $3.8 billion. According to The Washington Post, the pipeline runs 1,200 miles through North Dakota to Illinois, where it meets the Crude Oil Pipeline and extends to the Gulf Coast. The entire structure is known as the Bakken Pipeline system and is estimated to cost $4.8 billion. It is capable of carrying 570,000 barrels of oil per day and is currently transporting 520,000 per day.
The pipeline may be completed, but that doesn't necessarily mark the end of the fight. Four Sioux tribes are currently suing to shut down the line. A number of concerning incidents involving the line over the last few months back up protesters' cause for concern. On April 4, the Dakota Access pump station north of Crandon, South Dakota leaked 84 gallons of oil. And then there were the two leaks in North Dakota in March, according to The Washington Post, that spilled more than 100 gallons of oil from the Dakota Access line as well as a feeder line. Fortunately, no waterways were affected in the incidents.
Protests against the Dakota Access Pipeline are far from dying out, as activists will continue their mission to keep the water in the Dakotas clean. Standing Rock Sioux chairman Dave Archambault II told CNN, "Now that the Dakota Access Pipeline is fully operational, we find it more urgent than ever that the courts and administration address the risks posed to the drinking water of millions of American citizens."
Hopefully the effects of the pipeline will be minimal, or another environmental review can be set up to prevent the damage to land and people in the Dakotas.