There's Still Time For The Gymnasts Larry Nassar Abused To Sue Him For Damages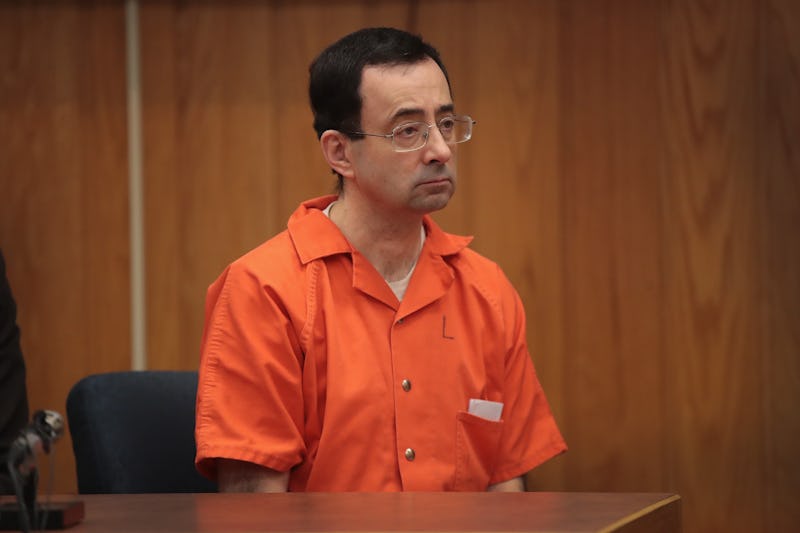 Scott Olson/Getty Images News/Getty Images
There's less than a month left for certain victims of former Michigan State University sports doctor Larry Nassar to file suit. Nassar's victims who were minors when assaulted have until Sept. 10 to file a civil suit related to events going back to 1997.
Usually, sexual assault victims can file a civil suit up to three years after the crime, according to MLive.com. But Michigan Lt. Gov. Brian Calley signed a pair of bills into law in June to give the retroactive right for these victims to sue, specifically tailored for Nassar's victims.
The news outlet reported that if a victim was assaulted after June 12, 2016, the Sept. 10 deadline does not apply to a lawsuit they may file.
A group of law firms made a website — www.nassarsurvivors.com — about the deadline, explaining the timeline for civil lawsuits for victims, and explaining how to access the victim compensation fund established by a settlement from Michigan State University.
"For the women who were assaulted when they were minors many years ago, these news laws open the statute of limitations for them. And so that's where the deadline is 90 days, ending Sept. 10," Megan Bonanni, an attorney and partner at Pitt McGehee Palmer & Rivers, one of the law firms involved in the website told MLive.com.
The settlement reached in May divided Nassar victims into two camps. The more than 300 initial victims from the first lawsuits against Michigan State University will receive damages from a $425 million fund. The second group of victims will be awarded damages from a $75 million fund. This second group of people are classified as "new," even if their assault took place years ago, because they came forward after the establishment of the compensation funds, according to MLive.com. If victims were assaulted by Nassar prior to June 12, 2016, and they file suit before the Sept. 10 deadline, they would be eligible to receive compensation from the $75 million fund.
"For us and for the women that we represent, it was just so critically important that we reach out to women who may not understand this deadline," Bonanni told the newspaper.
Back in January, Nassar was sentenced to 40 to 175 years in prison after he plead guilty to seven counts of criminal sexual conduct in Michigan, according to CNN. More than 150 women and girls told the court about the sexual assault and abuse they suffered at his hands.
Kyle Stephens was the first survivor to give her testimony in court, which went viral. "Little girls don't stay little forever," she told Nassar in court. "They grow into strong women that return to destroy your world."
Nassar's victims weren't just those connected to his work at Michigan State. He was a prominent doctor with USA Gymnastics for decades. In fact, his victims also included many well-known athletes like Olympic gold medalist and three-time world champion Simone Biles. All five athletes from the 2012 Olympic women's gymnastics squad have said they were abused by Nassar, as well as four of the five of the 2016 team.
Most recently, former U.S. Olympic and current UCLA gymnasts Kyla Ross and Madison Kocian spoke about their relationship with Nassar on CBS This Morning on Thursday. "[Nassar] was almost like a family member," Kocian told the hosts. "On international trips he would bring us food, or just kind of be that person that would always ask how you're doing, because the culture that was at the Karolyi Ranch was a culture of fear, a culture of silence, and that's what let him be able to abuse us."