The Wildly Inappropriate 'Deadpool 2' Trailer You've Been Waiting For Is Finally Here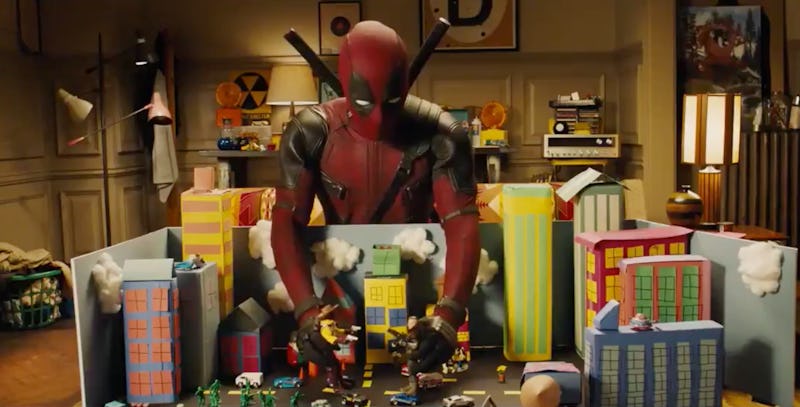 20th Century Fox UK
On Wednesday morning, the world was given a treat in the form of the Deadpool 2 trailer that was tweeted by Ryan Reynolds. Although featuring some strong language, the surprisingly tame trailer reintroduced several old characters, but largely focused on giving Deadpool's friend/enemy Cable the epic introduction he deserves — at least until Deadpool had to interrupt to correct some special effects. Deadpool 2 still has no official title, but one can probably guess that Cable's name will be fit into it somehow once Wade Wilson can think of a good enough pun. (Considering what Reynolds tagged his tweet with, might we hope for Deadpool 2: Premium Cable Package?).
Right at the top of the trailer, Cable (Josh Brolin) commands the screen. "I was born into war, bred into it" he says in his best gravely, quiet voice. The music is appropriately eerie, and it seems like he could be the arch villain in any self-serious superhero movie. But that just wouldn't be this Marvel franchise. Before Cable can give us his whole tragic backstory, Deadpool goes ahead and breaks the fourth wall, talking to the audience about what's going wrong in the commercial. Reynolds' Merc with a mouth is back, baby.
After Deadpool uses action figures of himself and Cable to recreate a battle, which, of course, takes a sexual turn, the trailer returns to a pretty traditional action movie preview: There are helicopters, guns firing off, explosions galore, cars zooming fast, and a taxi driver on the brink of tears — OK, so not too traditional. The trailer ends with Cable and Deadpool finally face-to-face, the bad guy tries to get in his cool insult, but our hero isn't having it.
Along the way we also catch glimpses of several other major players, both old and new. From the last movie there's Deadpool's girlfriend Vanessa (Morena Baccarin); his elderly roommate and friend, Blind Al (Leslie Uggams); and his allies, Negasonic Teenage Warhead (Brianna Hildebrand), who is a young mutant with an attitude, and her X-Men mentor Colossus (Stefan Kapicic).
The trailer also offers us our first peek at Domino, another super-powered mutant played by Zazie Beetz. According to Cinemablend, over the years in various comics Domino has been known to team up with both Deadpool and Cable.
How Domino and the returning characters will come into play remains to be seen. The official plot description for the movie on IMDB is written in Deadpool's voice and is characteristically off-topic and comical. The description reads:
"After surviving a near fatal knee boarding accident, a disfigured guidance counselor (Wade Wilson) struggles to fulfill his dream of becoming Poughkeepsie's most celebrated French Bulldog breeder while also learning to cope with an open relationship."
So make of that what you will. Though if the sequel does include some French Bulldogs, fans will very likely still be on board.
The sequel also seems to pick up where the last movie left off with Wade coming to terms with his appearance. Spoilers ahead.
In the 2016 blockbuster, the mercenary spent much of the movie avoiding his girlfriend after he was tortured and his skin was left badly damaged. He revealed his new face to Vanessa, however, at the end of the last movie and it seems like we'll be seeing a lot more of the unmasked Wade Wilson in the next installment in the franchise. If this next movie does indeed involve Deadpool and Vanessa entering into an open relationship, hopefully Wade will feel more confident about his looks, even if he doesn't look like Ryan Reynolds anymore.
The sequel hits theaters on May 18.