The Defense Department Has Spent A Ton Of Money At Trump-Brand Properties Since 2017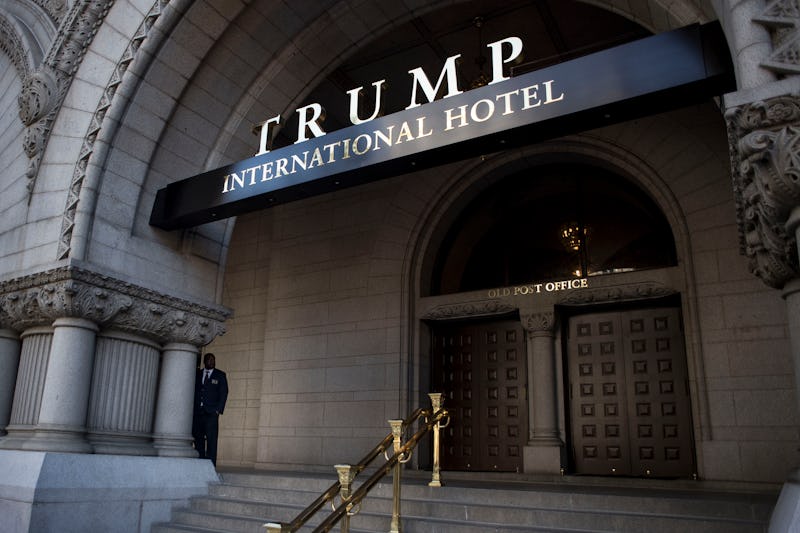 Gabriella Demczuk/Getty Images News/Getty Images
According to internal agency documents obtained by CNN, the Defense Department has spent a lot at Trump properties. Between the beginning of Trump's presidency and November 2018, it spent over $300,000 when you add it all up. Per the news network, these payments ranged at a number of locations, and under a number of expense categories. What's more, the news network reports that some of these expenses directly overlapped with POTUS' travel to those same locations.
In a statement to CNN, a spokesperson for the Trump Organization said:
The Trump Organization does not profit whatsoever from any government officials staying at our properties. The rates we charge for government personnel are on an 'at cost' basis. There is no profit made by the Trump Organization.
Bustle has reached out to the Pentagon and the White House for comment. Per CNN, these transactions have taken place at some of the following Trump-branded properties, including but not limited to: the Trump National Golf Club in Bedminster; the Trump International Hotel in DC; the Trump National Doral Golf Club in Miami; the Trump International Hotel in New York City; and a Trump property in Ireland.
Additionally, there was at least one situation where Defense Department personnel were spending at the Trump property in Bedminster while POTUS was there, himself.
Specifically, between May and November 2018, DoD officials charged over $79,000 onto travel credit cards for their accommodations at the Bedminster Club; during this time, Trump spent a cumulative 20 days at the Bedminster club, too, for a variety of fundraisers and dinners with supporters, per the news network.
This isn't the first time there's been controversy over Trump (and his children) apparently benefiting from their companies while they serve in the White House. A December article in The New York Times confirmed that Trump still benefited from his properties even after resigning from all active positions because he is the sole beneficiary of the Donald J. Trump Revocable Trust. The publication further noted that a number of foreign officials had stayed in Trump-branded hotels during their visits to DC since 2016. However, Trump has insisted he isn't profiting. In January, he told The New York Times, "I lost massive amounts of money doing this job."
Additionally, last June, The Washington Post reported that Ivanka and Jared Kushner had earned a combined $82 million in 2017 while they served as senior advisers to the president, some of that money coming from Trump-branded properties. Specifically, Ivanka earned $3.9 million from the Trump Hotel in DC, and $2 million in "severance" from the Trump Organization (which took place when she left the organization to work as an adviser to her father), along with other earnings.
In response to that report last June, a spokesman for Kushner's lawyer, Abbe Lowell, said to The Post:
Since joining the administration, Mr. Kushner and Ms. Trump have complied with the rules and restrictions as set out by the Office of Government Ethics. As to the current filing which OGE also reviews, their net worth remains largely the same, with changes reflecting more the way the form requires disclosure than any substantial difference in assets or liabilities.
Though his name might seem omnipresent, Trump owns fewer hotels than you might think. The Trump Hotels site lists 11 properties in total. This article by The Washington Post explains just how many times Trump has licensed his name to other companies and deals, which has earned his companies over $59 million over the years.