'The Good Place' Season 3 Will Probably, Definitely Include This Cliffhanger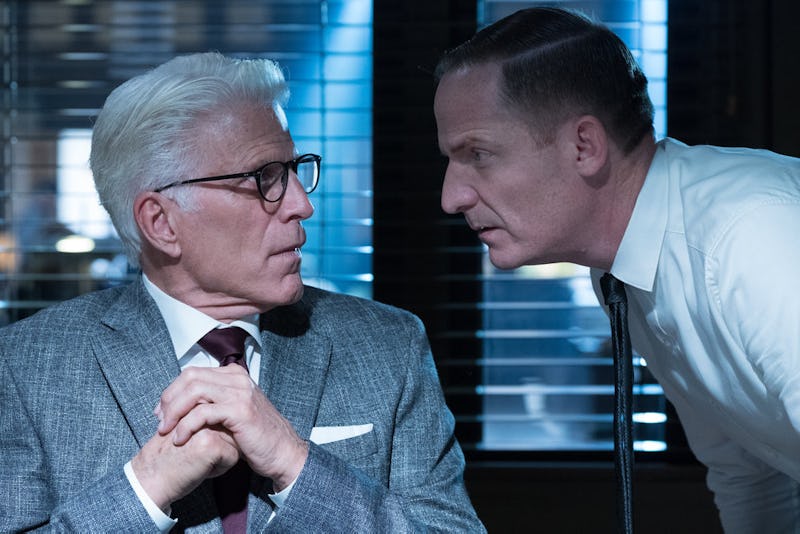 Colleen Hayes/NBC
Spoilers ahead for The Good Place Season 3, Episode 7. Things were going just a little too well for Eleanor and the other humans on The Good Place. Having accepted the realization that they're destined for The Bad Place, they formed the Soul Squad to help get their friends and family the happy afterlife they can't have themselves. But now that the demons have reached earth on The Good Place, they may throw a wrench in their plans.
At the end of the Nov. 8 episode, it's revealed that Shawn built an unauthorized portal to get him and the other demons to Earth — and it works. He previously tried to get in the way of Eleanor, Chidi, Tahani, and Jason's attempts to be good by sending Trevor to Earth, but since he ultimately failed that mission, Shawn is now taking things into his own hands. The only thing that the humans have going for them is that Shawn doesn't have all the resources on Earth as he does in the afterlife.
Just like Michael and Janet don't possess their powers in the human world, it's likely that Shawn and his group won't either. That means they'll have to track down and locate the humans using traditional earthly methods — which may take some time to figure out. They may be used to having everything they need right at their disposal, but Shawn can't turn anyone into a cocoon with the snap of his fingers on Earth.
It could actually make for a comical next episode: The demons trying to navigate everyday earthy hells like public transportation, annoying humans, and obscenely long lines. So far the synopsis for the following episode doesn't hint at any demon storylines, but NBC's press site may just be playing coy so as to avoid spoilers.
The official episode description for the Nov. 15 episode reads: "Michael and Janet take an important journey. Eleanor ponders whether she should share a secret." The secret part is probably Eleanor struggling with whether or not to tell Chidi that they were once in love. As for Michael and Janet, perhaps they catch wind of the demons and try to track them down in order to protect their beloved Soul Squad.
However, it may be a while before we see their confrontation. At the end of Thursday's episode, Eleanor and co. were heading to rural Canada to find someone who Michael believes can serve as a blueprint for the ideal life. It's unclear who it is or where in Canada he's located, but as there's no telling where the portal dropped Shawn et al, it could take them some time to figure out the humans are in Canada and actually get there.
Once the demons do find them, it's possible they'll focus most of their efforts on trying to pit the humans against one another like Trevor did. Shawn likely doesn't even know that Michael has told the humans about the Good Place and will therefore try to cover for his true demon identity like Trevor did when pretending to be human. Michael and Janet are therefore in more danger, since Shawn has a vendetta against them for lying about doing so many Good Place reboots and then turning their backs on the demons and helping the humans.
But just like Trevor was defeated, expect the humans to eventually escape whatever the demons have cooked up this time — that is, after the show makes it looks like all hope is lost in a winter finale cliffhanger. (The Good Place loves to do go out with a bang.) After the Nov. 15 episode, Futon Critic reports that The Good Place will take a brief break for Thanksgiving, returning Dec. 6 for new episodes. Hopefully then this whole nasty demon business can be resolved.