Why KKW Beauty & Kylie Cosmetics May Be More Connected Than You Think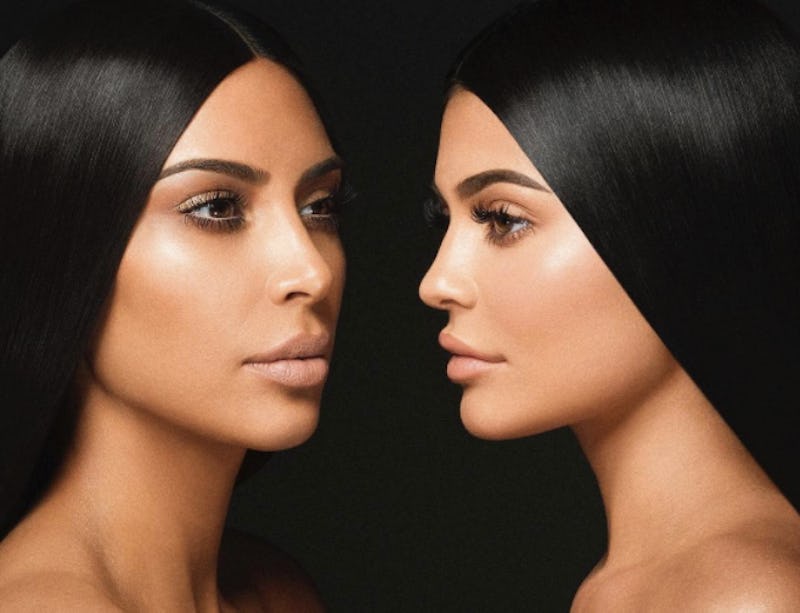 Kylie Cosmetics
When I ask Kim Kardashian West if she feels pressure for her new KKW Beauty cosmetics line to be as successful as Kylie Jenner's Kylie Cosmetics, the first thing she tells me is how proud she is of her sister. The second is that the two lines are totally different. She doesn't mention of competition, or even direct collaboration. Instead, Kardashian West tells me that watching Jenner build her company just emphasized the hard work that goes into creating a makeup empire. Hard work that Kardashian West has ultimately done for KKW Beauty on her own, with her own team and her own set of goals.
Of course, Kardashian West also tells me that having someone else in the family involved a similar business is helpful. She tells me this in a practical, happenstance kind of way — as if it's just a helpful coincidence that more than one member of her family is creating a massive, multi-million dollar makeup business. "We can kind of, you know, talk through things if we need to," Kardashian West says.
For the most part, though, the reality star and business mogul says any inspiration from her sister hasn't really been in the form of specific advice at all. "As far as like advice, it hasn't really been advice that she's given, it's just been more watching her in action and being so close to her and seeing the hard work that goes into it," Kardashian West explains.
Kardashian West emphasized that creating her own line, something that has been "such a long time coming," has been an independent process. "It is a lot of figuring it out on my own and with the team," she tells me.
"I had my other line with my sisters a while ago and it's just — it really is different when it's just you," Kardashian West tells me. She says that having so much more say in the decisions of a brand (everything from packaging to formulas) is a "great, prideful feeling," but certainly a lot of work. "You just have to go full force," Kardashian West says of the process.
While going full force is certainly something that can be said for any Kardashian/Jenner-adjacent project, Kardashian West emphasizes that this project is hers and her teams. KKW Beauty is not Kylie Cosmetics, and vice versa. This is most notably evident by the iteration of products themselves.
Kylie Cosmetics mainly focuses on lips, lips, and more lips with some eye and cheek products thrown in. The 2016 release of the Kylie Cosmetics Lip Kit (the first product of the line) contributed to Jenner's position as being the second highest-earning Kardashian-Jenner in 2016. According to Forbes, Jenner made $18 million that year. Kim Kardashian West made $51 million.
KKW Beauty's first product will be a contour kit, something that Kylie Cosmetics quite notably hasn't done. It's slated to "net $14.4 million," according to industry experts, as reported by Women's Wear Daily. And, as Kardashian West tells me, this is only the beginning of complexion-focused products for KKW Beauty.
"I am doing lots of skin. I have a concealer kit coming out," Kardashian West says. She says she might do something with lips and eyeshadows down the line, but for now she'll leave that to Jenner and stick to skin for KKW.
Kim Kardashian West creating a contour kit isn't exactly shocking. In fact, it makes so much sense that one might wonder why it didn't happen sooner. Didn't KKW say she's more into "nontouring" now, after all? Whether she's contouring as much as she used to or not, it's a good fit, and one that works within the context of her personal brand in the same way that lip kits fit into Kylie's.
Of course it's probably not a coincidence that KKW Beauty's products seem perfectly fill all the gaps in Kylie Cosmetics, or that there are subtle similarities in things like the all-caps font of both brands. If the past decade has taught us anything, it's that the Kardashian-Jenners have built an empire on knowing their strengths and using them to build upon each others', too. They're business geniuses, whether that makes you feel comfortable to admit or not. And if their success doesn't fit into someone else's idea of entrepreneurship because of how they look, then I think that's probably OK with them, too. Because they've built an empire on capitalizing on the very things that people try to peg as weaknesses.
When people criticized Kim for her butt, she put it on the cover of a magazine and "broke the internet." When media attacked Kylie for getting her lips done, she created a makeup company built around lip liners, lipsticks, and lip glosses. And now, after people have been saying for a decade that Kim Kardashian is too "fake," at least partially because of her contouring, she's created a contour kit. And it'll sell. It all will.
Whether KKW Beauty is as successful as Kylie Cosmetics doesn't really matter. It will never be as impactful as the fact that the Kardashians and Jenners are creating and building businesses in an incredibly strategic way. They're doing it in a way that's as thoughtful as it is authentic to their own individual brands, and in a way that inevitably makes people uncomfortable because they don't fit the mold or stereotype of what it looks like to be successful business people. But in everything they do, they all genuinely seem happy for the other family members to succeed.
Whether you view them as a brand, a family, or both, it's impossible not to respect the one idea that seems to bind them all together — that a success for one of them is a success for all of them.
Images: Courtesy Kylie Cosmetics (1); KKW Beauty (1)