'Doctor Who' May Not Have A Christmas Special This For The Most Bah Humbug Reason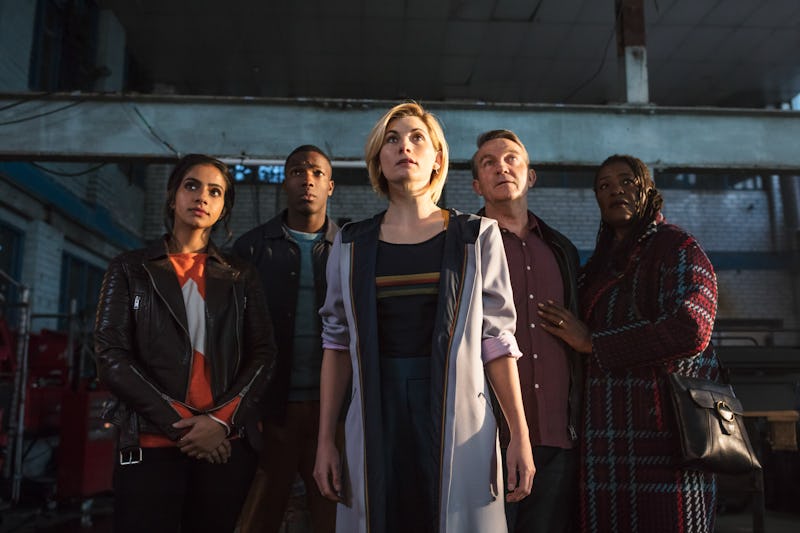 Sophie Mutevelian/BBC America
Sorry, Doctor Who fans, but consider Christmas to be officially canceled this year. According to a report made by SlashFilm.com, showrunner Chris Chibnall has supposedly scrapped any plans to make a holiday-centric episode this season. That means there's a distinct possibility that a Doctor Who Christmas special may not happen in 2018. This would mark the first time in 13 years that the show would go without a Yuletide-themed episode, which is a pretty big deal, especially for all of the diehard fans out there who have come to look forward to these iconic Christmas specials since the show's revival back in 2005.
It's hard to imagine celebrating the holidays without a Doctor Who episode, which usually finds the Doctor saving the universe (as per usual), but with a holly-jolly twist of some kind. So what's happened to bring about such a significant change? While the cancellation has yet to be confirmed by the network or Chibnall himself, The Mirror reported that Doctor Who writers have quite simply "run out" of Christmas-related stories to incorporate into the narrative. And while that's definitely an understandable reason — coming up with 13 different scenarios is an impressive feat, after all — it's still disheartening to think that such a staple in the Doctor Who community has to be done away with altogether.
Thinking back on it now, though, Chibnall may have hinted that this was coming back during this year's San Diego Comic-Con. Chibnall confirmed that there would be an extra "11th episode" following Season 11's expected 10-episode order, though he was careful not to use the word "Christmas" during the discussion. According to Deadline, he simply said: "I would definitely think there's another episode after the end of the series."
However, before you attempt to track down the nearest TARDIS so you can go back to a time when Doctor Who Christmas specials were still a thing, there may be a silver lining to all of this. According to The Mirror, this eleventh episode could reportedly come in the form of a Doctor Who New Year's special instead, which would air within the winter season as per usual. (Though again, these are simply rumors that are currently floating around and have yet to be confirmed.)
Of course, this wouldn't be the first time a Doctor Who special would fall on New Year's. David Tennant's departure as the Doctor occurred during a two-part special that aired on both Christmas and New Year's Day. And we can all probably agree that a New Year's special is certainly better than no special at all. It's just unfortunate that the timing of this cancellation also happens to fall on the same year that we've been given a female Doctor. It would've been nice to see what kind of Christmas cheer Jodie Whittaker would've brought to the beloved special. (In fact, it was during last year's holiday episode that Whittaker was first initially introduced.)
Let's just hope this isn't the start of a longstanding tradition and that Whovians can expect a much merrier Christmas in the seasons to come.