Watch The 'Widows' Cast Gush About The Dog Who Stole Every Scene She Was In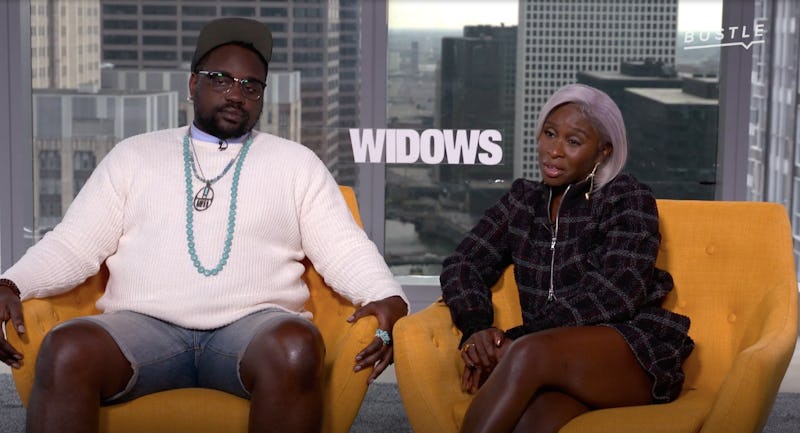 Widows is a very intense, very high-stakes movie. After their husbands are killed while attempting a heist, four women come together to attempt to get the job done themselves and get a crime boss off their backs. Well, four women and a small, fluffy white dog. The dog in Widows, out Nov. 16, is a scene-stealer, and the human cast members were happy to share their screen time with her.
The dog's real name is Olivia, and she plays the pet of Viola Davis' character, Veronica. After her husband dies, Veronica is left leaning on her dog for support. She also brings the dog everywhere with her, meaning the dog provides comfort and a bit of comic relief by showing up in Veronica's arms when she's doing things like discussing very serious heist plans with her cohorts.
While Davis was not keen to work with a dog at first, soon they were best friends. "Gosh, did I love that dog. I mean, I went in going, 'I gotta do a scene with a dog', Davis tells Bustle during the movie's Chicago press junket, feigning annoyance. "I don't have a dog, dogs tear things up. A day later, I'm kissing the dog, I'm holding the dog, I'm just crying with the dog. No words can describe how I loved it."
Davis wasn't the only one who wasn't looking forward to working with a canine cast member at first. Brian Tyree Henry, who plays one of men chasing the women down, was on the same page. "I've been put in situations where I work with kids and pets, and I don't like it, because kids and pets are empaths. They can sense exactly who you are before they even see you," the actor says. "And I'm always like, 'Oh, what they 'bout to tell everybody about me?'"
Olivia grew on him, too, though. "Olivia was actually fantastic," he says. "The dog was just as important to the story as the humans are, because at the end of the day, that is still Veronica's dog, and pretty much the only thing she has left."
Cynthia Erivo, who plays one of the other widows, Belle, says Olivia wasn't just essential to the story, but a big hit on set: "She's like the most sweet, sweet thing ever, so between takes we'd just end up cooing over this beautiful, very, very, very white dog. Like, the cleanest dog you've ever seen in your entire life, but so sweet."
And it sounds like Olivia had a pretty A-list experience while shooting the film. Apparently, she had fur extensions. "I heard that this dog had extensions," Henry says. "I was like, that's lavish." Davis confirms this: "I think she actually had a hair weave in at one point."
Mild Widows spoiler ahead: You can hear more from the cast and from director Steve McQueen about Olivia in the first video above, but in case you're curious about the dog's on-screen fate, she survives, even though she does get threatened by Henry's character. On behalf of the cast and audiences everywhere: Thank goodness.
Additional reporting by Rachel Simon.