Viola Davis' New 'Widows' Trailer Will Give You Chills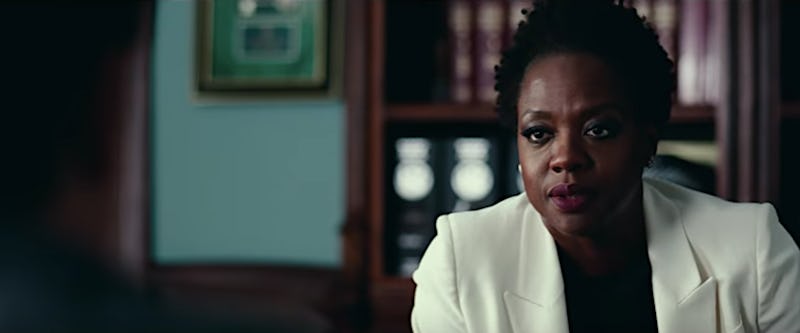 20th Century Fox
Losing the person you love most in the world can be devastating, but what if that person left you an important (and highly illegal) job to do? That's the question Viola Davis and three other women face in the new Widows trailer, which is so star-studded with badass actors that it's almost criminal. It also proves that Davis is capable of stealing a lot more than just our hearts. In fact, when push comes to shove, she can be a total badass. But then again, that shouldn't be all that surprising, should it?
Spear-headed by 12 Years a Slave director Steve McQueen, Widows is here to topple the patriarchy in new and exciting ways, proving that a life of crime can be just as much of a woman's world than it can be a man's. In the new trailer for the movie, Veronica (Davis) is taking charge after her husband and his heist team die while carrying out a robbery. New footage reveals that she recruits her fellow remaining widows (made up of Michelle Rodriguez, Cynthia Erivo, and Elizabeth Debicki) to finish the job in their stead. And while these ladies definitely face a few obstacles along the way, they are determined to take their lives into their own hands. "No one thinks we have the balls to pull this off," Davis' character tells her comrades in the clip. But fans know better and pretty soon, so wont their late husbands' enemies.
The official synopsis for the film, which is set to hit theaters on Friday, Nov. 16, 2018, reads as follows:
"Widows is the story of four women with nothing in common except a debt left behind by their dead husbands' criminal activities. Set in contemporary Chicago, amid a time of turmoil, tensions build when Veronica (Oscar winner Viola Davis), Linda (Michelle Rodriguez), Alice (Elizabeth Debicki) and Belle (Cynthia Erivo) take their fate into their own hands and conspire to forge a future on their own terms."
But just in case the intriguing plot and those A-list names aren't enough to draw you into this high-stakes world, other members of the cast include the likes of Liam Neeson, Colin Farrell, Jon Bernthal, Brian Tyree Henry, Daniel Kaluuya, Manuel Garcia-Rulfo, and Robert Duvall. Not that you really need any more incentive, though. After all, many of these numerous male actors may be great, but they aren't the ones running this show — the women are. And that's kinda the whole point.
In the past, crime-thrillers have usually been considered to be a male-dominated genre, but with movies like Ocean's 8 and Widows coming onto the scene, this notion is starting to become a thing of the past. Davis may have made us fall in love with her softer side in films like The Help and Doubt, but much like her character Annalise Keating in How To Get Away With Murder, Veronica is here to kick some ass, take names, and undermine everything you thought you knew about the criminal underworld.
In other words, be afraid. Be very afraid.