Watch Miley Cyrus, Katy Perry & More Female Artists Pay Tribute To Dolly Parton At The Grammys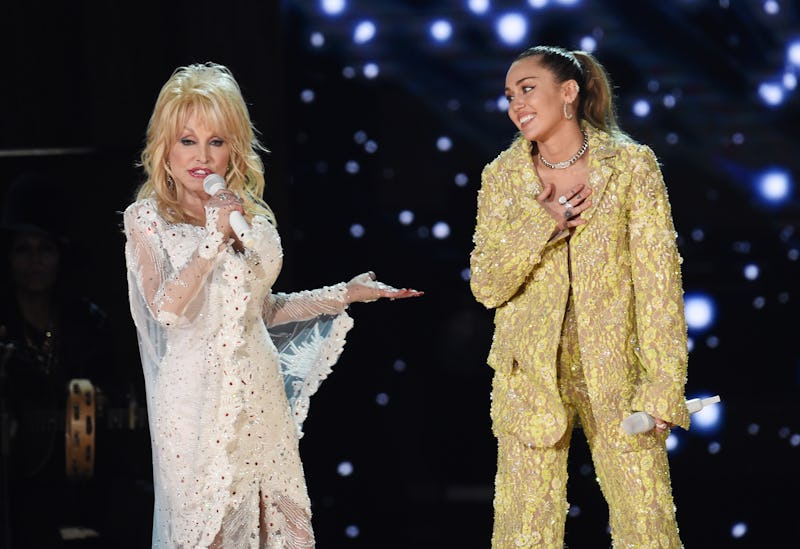 Kevin Winter/Getty Images Entertainment/Getty Images
Jolene might try to steal your man, but Dolly Parton just stole the Grammys. The Dolly Parton tribute at the 2019 Grammys was a love fest for the country music icon featuring Katy Perry, Kacey Musgraves, Maren Morris, and her goddaughter Miley Cyrus. Twitter couldn't get enough of this medley of Dolly hits that proved she's still got it at 73.
The performance started with Kacey Musgraves and Katy Perry singing Parton's "Here You Come Again" before the icon walked out there looking like the superstar she is. Don't be fooled, Parton was the star of this medley, which included a duet with Cyrus on "Jolene" and a beautiful cover of "After The Gold Rush" with Cyrus and Morris, who filled in for Parton's original musical partners Emmylou Harris and Linda Ronstadt. And let's not forget that epic closing number of "9 to 5," which showed why everyone should bow down to this country queen.
And don't worry, her Grammy partners also knew this. Perry seemingly let Parton know she wasn't worthy when they were performing together, and Cyrus paid tribute on Twitter after the performance. "I will always LOVE YOU @dollyparton," she wrote. "Your beauty is beyond compare!" And on the red carpet Morris admitted it was hard for her to keep herself in check when she met Parton at rehearsal. "I met her, and I was trying to not quote Steel Magnolias at her obnoxiously," Morris told Ryan Seacrest on the red carpet, shouting out Parton's classic 1989 film.
Fans also couldn't control themselves after watching Parton slay this performance by showing that she is nowhere near finished gracing us with her talent. Writer Bonnie Stiernberg tweeted, "I love that Dolly Parton shows up to her own tribute and just smokes everyone."
While @anafota4 tweeted, "Dolly Parton stepped into her own tribute and was like 'thank you I'll take it from here'."
Zach Stafford, the editor-in-chief of The Advocate, totally agreed. "Dolly Parton carrying her own tribute is the 2019 energy I want," Stafford tweeted. Perhaps, it's the new BDE: Big Dolly Energy.
It's kind of like the energy CNN's entertainment and media reporter Frank Pallotta was copping after Parton's Parton-led tribute. "I usually give people the benefit of the doubt and try to hear as many opinions as possible," Pallotta wrote, "but if you don't think that Dolly Parton is a nation treasure then you can go straight to Hell."
Luckily, at least the boy band BTS should be alright, since they were seen thoroughly enjoying Parton's "Jolene" from the Grammys audience. One Twitter user @janeeTMB their bopping reminded them of a memorable Jay-Z meme that may become a meme of its own. "The way the KPop group was vibing off 'Jolene' though!" they wrote.
Parton truly deserved this Grammys tribute, and for many fans, this epic arrangement showed why she deserves an even bigger stage next year. "Pls make this @DollyParton extravaganza the next super bowl halftime show!" Today's Hoda Kotb tweeted. Honestly, NFL take note.