The Actor Who Plays Ed Kemper In 'Mindhunter' Looks SO Different IRL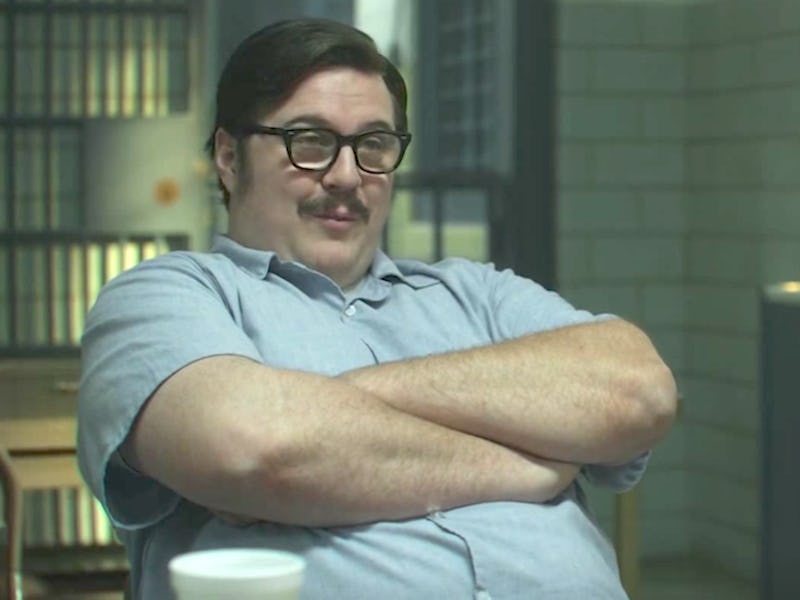 Netflix
For everyone who watched Netflix's Mindhunter, the serial killer from the show's second episode likely stuck out to you. The episode introduced Edmund Kemper, the serial killer based on a real-life criminal known as "Big Ed" or the "co-ed killer." What makes this all even more terrifying is that the speech Kemper gave in the episode was basically word-for-word what the real Ed Kemper said in interviews. However, the actor behind that performance, Cameron Britton, looks so different from his Mindhunter role in real life. Like, really, really different. Thankfully.
You see, the actor resembles a young Seth Rogan when he's not busy portraying creepy AF serial-killers. This speaks volumes about both Britton's acting chops and Mindhunter's hair and makeup department. In fact, he looks so drastically different from the character he played in Netflix's true-crime drama that you probably wouldn't even recognize him in another role you might know him from — Chet in Grace Helbig's movie, Camp Takota.
Britton also starred in the sci-fi crime show, Stitchers, which just ended after three seasons. It's a bit closer to his role in Mindhunter, but, still, much less menacing. In Stitchers, the actor looks much more like himself, which, as you can see from the photo below, is more cuddly bear than serial-killer.
In a 2015 interview with Talk Nerdy With Us, Britton revealed that he's not really used to playing a serial killer — but, then again, is anyone? "Because of my size and hairiness and general attitude, I play a lot of engineers, crewman workers, techies, roadies or things like that," he said.
In Mindhunter, Britton doesn't fix the audio on a rockstar's amp, no; he does much worse things, like talk about the "fantastic passion" he feels when killing someone. And, yes, that was a real quote from Ed Kemper in an interview from 1984, according to Vulture. In the show, the character utters other horrendous things that the real Kemper said in interviews, like, "I knew a week before she died I was going to kill her," and "I'm just an extremely accomplished murderer." If there was one part of Mindhunter to keep you up at night, Kemper's interview would likely be it.
Once you watch the two videos of real-life Kemper and Britton's portrayal of him, the show immediately becomes way more realistic and all the more haunting. You might need to immediately follow it up with a viewing of Britton's other role in Camp Takota to remind yourself that it's all just a show. Even if it's a show based on a real gruesome history.
The real-life Kemper, who was convicted of eight counts of first-degree murder, is one of the most famous serial killers, and his vile crimes have been well-recorded over time. He got his nickname, the "Co-Ed killer," because he preyed upon college students. In an interview from 1984, Kemper explained that he picked up victims in his car, which had a university permit on it because his mother worked on the campus. He famously defiled and dismembered his victims, which his grandparents, whom he killed at 15.
After murdering his mother and her friend when he was 24, he called the police to confess what he'd done and, after his arrest, confessed to his other crimes. So, yeah, everyone who watched Mindhunter immediately upon its mid-October release is probably still trying to forget the show's interviews with the serial killer.
It's helpful to remember that the real person from the show is actually a nice, normal guy who even posts cute pictures of himself holding a baby on Instagram. After all, one of the best parts of watching true-crime shows and movies is being able to research the actors who play the bad guys and remind yourself that it's all hair, makeup, and creepy speech patterns.