The EEEEEATSCON Food Festival Is Back & It Looks More Delicious Than Ever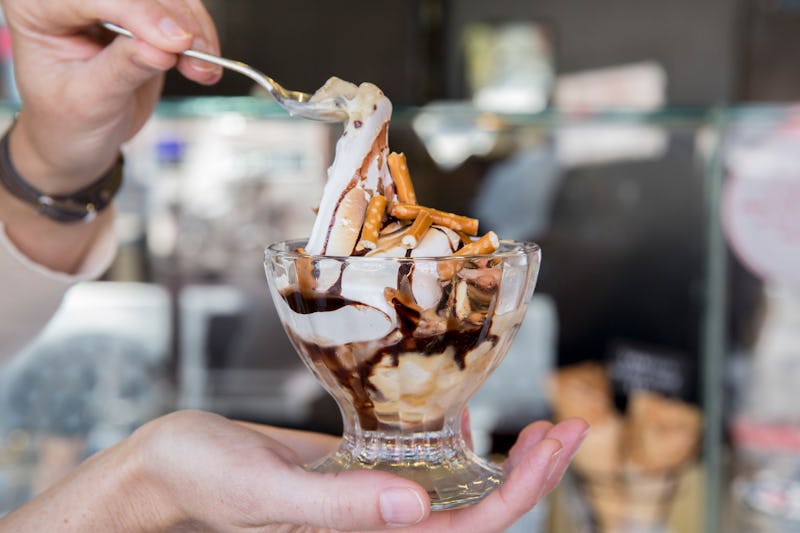 @philipguerette/The Infatuation
Constantly drooling over your Instagram feed? More often than not, the puddle on your phone is thanks to The Infatuation and its infamous, scrumptious hashtag #EEEEEATS. Well, get ready to invest in a mop, because you won't be able to stop drooling anytime soon. The Infatuation is hosting EEEEEATSCON for the second year. The food festival you have been craving will return to the Barker Hangar in Santa Monica, Calif., on May 19. Get ready to dig in.
If you fancy yourself a foodie, then you are no stranger to the cheese bridges and flooding egg yolks that fill The Infatuation's Instagram. Ever need a trusted recommendation for something soaked in cheese? Need to locate the trendiest haunt in town churning out the best plates? Turn to The Infatuation for well advised direction. And now, you can also turn to its food festival with all the eateries on your wish list under a single hangar in California.
Last year, the one-day experience sold out to a hungry crowd consisting of thousands. Because of the popularity, EEEEEATSCON's second year will see an expansion in food vendors so that the appetite of all guests are accommodated. While there will be more than just food to bite into, you will definitely want to wear your eating pants.
For the one-day event, doors will open at 12 p.m. and shutter at 7 p.m. That is seven solid hours of marathoning plate after plate of staple dishes from local restaurants and imported favorites. Vendors include Los Angeles' Thai darling Night + Market, Mr. Holmes Bakehouse, Roberta's, Wexler's Deli, Lunasia, Liholiho Yacht Club, Loqui, Porto's Bakery and Cafe, NoMad Truck, Shake Shack, Sweetgreen, Fuku, The Rose, and Ravionly. Bring your phone fully charged and with enough storage space for upwards of one thousand pictures.
There is more than just food to chew on. "We know that people want an event that focuses on community, where like-minded individuals can come together around a shared passion for food, dining, drinks, and learning," The Infatuation CEO and co-founder Chris Stang said in a press release. "That's why we're so excited to have more restaurants, more speakers, more music, and more people be a part of EEEEEATSCON LA in May." The event may curate the food hall of our very hungry dreams in a hangar, but the music and speaker lineup is just as tasty.
Joining the speaking panel of prominent industry professionals this year — to feed our brain and illuminate our creativity — will be James Beard Award winner Missy Robbins from Brooklyn's Lillia, Robert Egger of L.A. Kitchen, Arlin Crane of Homeboy Industries, Betty Porto of Porto's Bakery and Cafe, and Saru Jayaraman of ROC United. Featured musical guests will be Gavin Turek, The Spencer Lee Band, DJ Mr. Sonny James, the Centennial High School Marching Band, and DJ Orange Calderon.
Tickets are on sale now, and won't require working any double shifts to afford. General admissions starts at $30. A parking pass will cost $10 or $20 if purchased the day of the event. With the purchase of your ticket you are admitted to all musical events and panel discussions. The food vendors will be charging for their food at various prices.
While there is a wonderland of some of the country's best food, this isn't your typical kind of food festival. It's not just As Seen on Instagram come to life. With the addition of music and discussions led by some of the food industry's most notable pioneers, this is a community event. Get ready to feed your heart, soul, and Instagram account.