The DOJ Just Reopened The Emmett Till Murder Case — More Than 10 Years After It Closed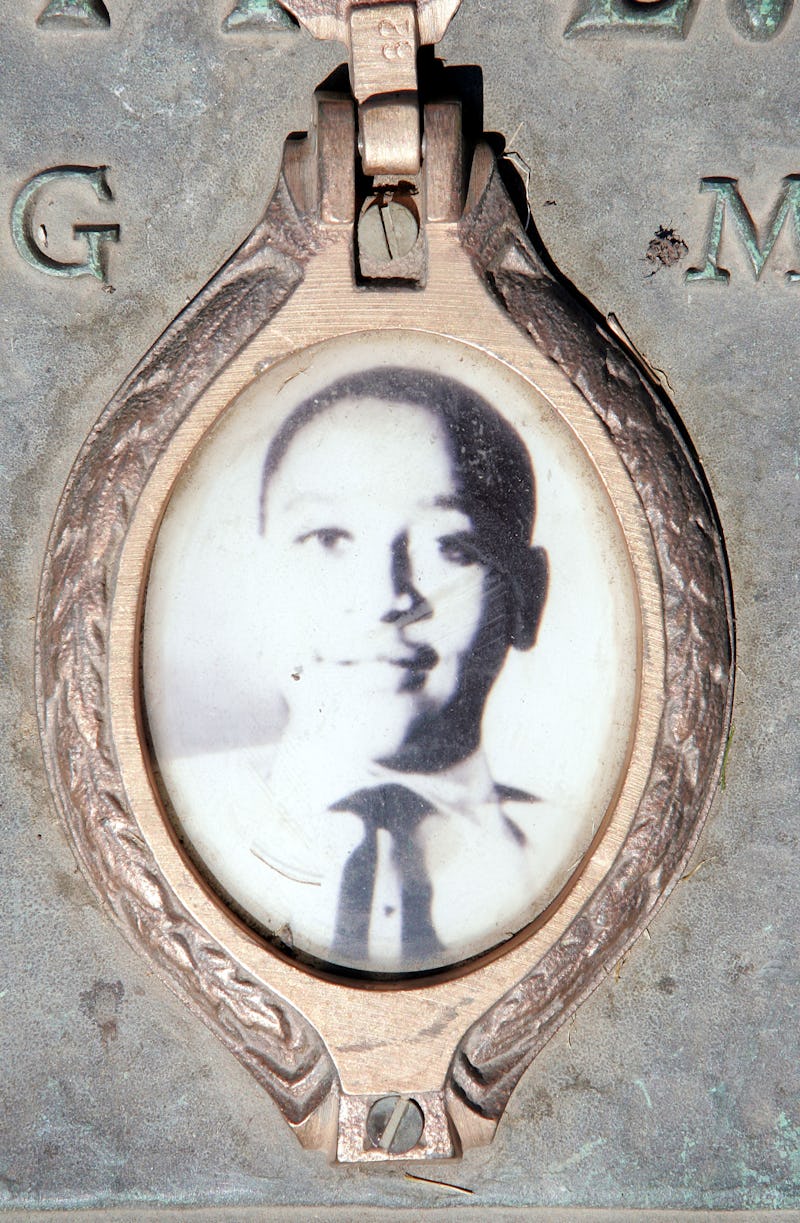 Scott Olson/Getty Images News/Getty Images
An investigation into the murder of a young African American boy, whose gruesome death became a catalyst for the Civil Rights movement, has been reopened by more than 10 years after the case was initially declared closed. News that the Justice Department has reopened the Emmett Till murder case has sparked cautious optimism from lawmakers who long called for justice for Till — and criticism from the research scholar who broke a major development in the case last year.
"While the Trump Administration and Jeff Sessions have quietly rolled back Civil Rights Protections I can only be hopeful that they follow through in a thorough and deliberative process to reinvestigate Emmett Till's horrific murder," Rep. Bobby L. Rush, who has urged the DOJ to reopen investigations into Till's death since early 2017, tells Bustle.
But others aren't optimistic. "This is an utterly cynical, completely hypocritical political show by the Trump-Sessions Justice Department," Timothy Tyson, a Duke University senior research scholar and the author of the book The Blood Of Emmett Till, told reporters at a press conference Thursday, which was broadcast on Local Memphis.
"They're in trouble for their treatment of minority children [and] they're looking for political cover for the fact that they're relentless opponents of the voting rights of all Americans," he added. "I find a deep irony and an appalling hypocrisy that Jefferson Beauregard Sessions and Donald Trump would pretend to care about African American children, about a black boy murdered in 1955."
The DOJ notified Congress about its decision to reopen the investigation into Till's murder in a March report. The department noted that it had received "new information" regarding the case, the Associated Press reported.
According to the news outlet, that Justice Department report did not provide additional details regarding either the new information it had received or the status of its investigation into Till's death. But the move to reopen the 63-year-old murder case comes roughly a year after Tyson revealed in his book, The Blood of Emmett Till, that a key figure in the Till murder case had admitted to lying in her testimony regarding events leading up to Till's murder.
Till, a 14-year-old African American boy, was visiting his uncle in Mississippi in 1955 when two white men kidnapped him, then beat and shot him before using barbed wire to hang a large cotton gin fan from his neck and throwing his body in the nearby Tallahatchie River. Prior to his murder, Till had been falsely accused of making sexual advances toward Carolyn Bryant, the wife of one of his killers. Both men were acquitted of Till's death by an all-white jury despite eyewitnesses' testimony.
Later, the two men confessed to the murder in an interview with Look magazine in 1956 but could reportedly not be re-tried due to double jeopardy laws, according to CNN. In 2017, Tyson revealed that Bryant, now known as Carolyn Bryant Donham, had confessed to him about lying about the fact that Till had made physical and verbal advances toward her.
"That part's not true," Tyson quoted her as saying. According to Tyson, Donham was unable to recall what exactly had happened when Till visited the store she and her husband ran in the days proceeding his murder. "Nothing that boy did could ever justify what happened to him," she told Tyson.
Tyson told reporters Thursday that he'd been contacted by the FBI about the case in the spring of 2017 and had shared all of his research materials with investigators then. "I just think it's a show," Tyson said of the Justice Department's decision to reopen the case. "They're in a bad political moment. They've had this information, by the way, for more than a year. They could have made this announcement last year [but] they've saved it for a time when they're in a crisis about their racial politics, which are disgusting and which violate the moral beliefs of most Americans."
Both of the men who confessed to murdering Till have since died, spurring questions as to whether the Justice Department's renewed investigation into Till's death could even result in criminal charges against anyone.
But for those who have long viewed both Till's murder and the subsequent acquittal of his killers as a symbol of the South's deeply entrenched racism, the reopening of the case is more than justified, it's vital.
"At a basic human level and in the interest of justice and historical integrity, society cannot allow such an egregious lie to go unpunished, especially when this lie led to the gruesome and horrific murder of a child," Rep. Rush wrote about Donham's confession in a February 2017 letter urging Sessions to revaluate Till's death, roughly a month after Tyson's book was published.
Rush said Thursday he was "glad" to see Sessions following through on his request. "This case is not only critically important for the role it played in sparking the Civil Rights movement, but so that Emmett and his family receive the justice that is owed to them," Rush said in a statement. "It is vital that everyone — both victims and perpetrators — knows that heinous crimes of this nature will never go unpunished."