Fans Will Love The 'Everything, Everything' End Credits Song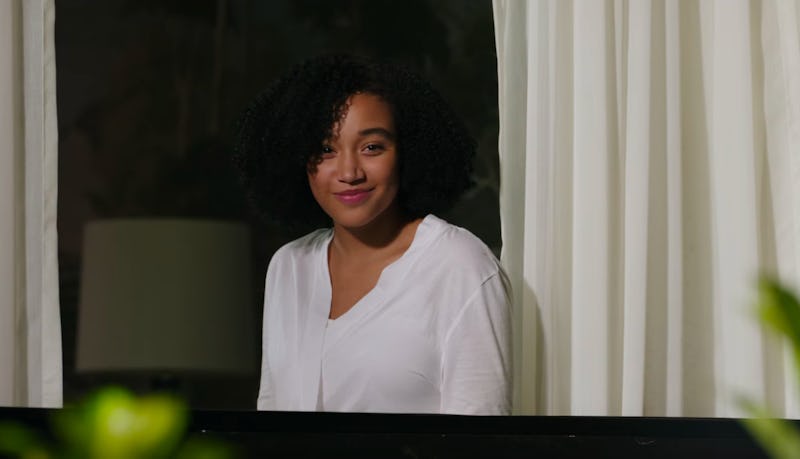 Warner Bros. Pictures
Everything, Everything has everything you could ever want from a teen romance. A first love thwarted by conflict, a smart, funny leading lady, and a super cute, long haired leading man. It also has a killer pop soundtrack, perfect to set the tone. I don't think it's too much of a spoiler alert to say that the movie will leave you feeling happy, and that's partly because of the Everything, Everything end credits song, "How Did We" by Skylar Stecker, which will have you dancing in your seat.
It's no surprise that "How Did We" was recorded specifically for Everything, Everything. (It's basically the movie's theme song.) In case you don't know, the film is about Maddy, a young woman who has lived her entire life indoors due to a severe illness that affects her immune system. When a mysterious boy moves in next door, however, she finally gets a taste of the world. And "How Did We" is pretty much exactly what one might imagine the movie to be like in song form, with lyrics like "'Cause you open my eyes, oh yeah/You brought me to life, oh yeah." And the upbeat track that makes you want to be on a beach vacation only adds to the effect.
It also doesn't hurt that the songstress, Stecker, is herself a teenager just beginning her career. And who better to sing the theme of a teen movie about a young woman just beginning to experience the outside world? Stecker, who some fans might recognize from her guest appearances on The Disney Channel's Austin & Ally, is just 15 years old. The singer was recently named Radio Disney's NBT (Next Big Thing), and "How Did We" is one of her first major singles. Stecker isn't the only young artist featured on the Everything, Everything soundtrack, though; Alessia Cara's collaboration with Zedd, "Stay," is also featured, as is a cover of "Let My Baby Stay" recorded by star Amandla Stenberg. This tracklist is packed with young talent, as is the movie itself.