Female Anger Takes Center Stage In This Jaw-Dropping New Thriller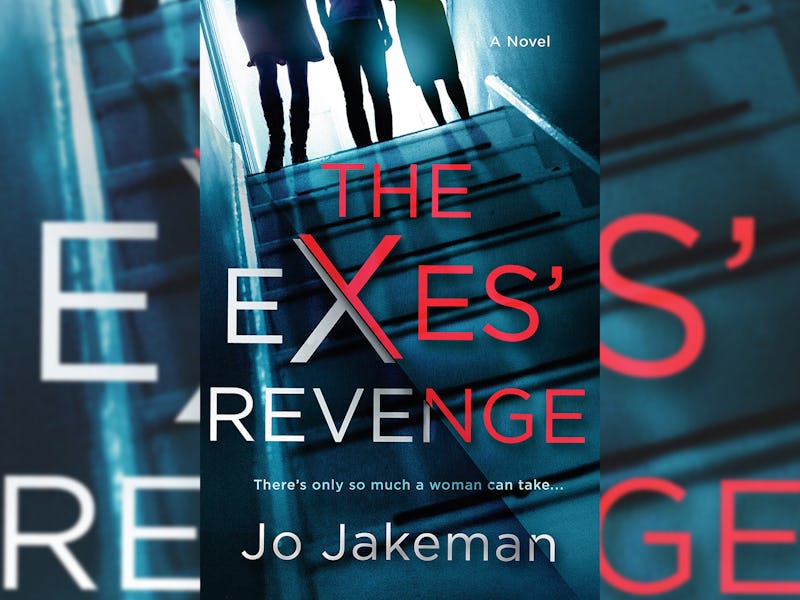 The scariest stories aren't always the ones about fantastical beasts hiding under the bed, faceless murderers creeping in the darkness, or unnamed serial killers waiting for an opportunity to strike another random victim. Sometimes, the most frightening tales are about the terror that lurks inside the home, within the family, and in romantic relationships. After all, what could be more horrifying than realizing that monsters aren't only real, but they exist within the fabric of your own life? It's this notion that makes Jo Jakeman's debut novel so chilling. A dark domestic thriller about an abusive man and three of the women he's wronged, The Exes' Revenge is a powerful story about female rage.
Going through a divorce is never easy, but for Imogen, it's been a particularly brutal process. Her soon-to-be ex, Phillip, has always been controlling, manipulative, and abusive, but the breakup of their marriage — and Philip's new relationship with a woman named Naomi — has only seemed to amplified these traits. "I was kidding myself if I thought I could ever be free of Phillip," Imogen remarks after an alarming visit to the couple's swanky new home in which she begins to wonder if Naomi has fallen victim to her husband's violent ways. "Almost two years since he laid a finger on me, and yet, after five minutes with his girlfriend, it was as if the bruises were still fresh. I could feel his fingers digging into my upper arm, see his sneer as he called me useless."
But despite all of the emotional toll the separation has put her through, Imogen has something — or rather someone — that gives her strength and inspires her to keep fighting for freedom from Philip: their six-year-old son, Alistair. So when Philip drops a bomb on Imogen — move out of the familial home, the house Alistair grew up in, by the end of the month, or be sued for sole custody — she refuses to accept the circumstances. After years of being intimidated into silence and forced into complacency, the threat of losing Alistair pushes Imogen to her breaking point. In a moment of terror, she does something she never thought possible: she stands up to Phillip and, without thinking, commits a startling act that finally gives her all of the control. The only question is, how will she be able to keep it and ensure her own safety and the safety of her son? Perhaps with some help, she can.
The Exes' Revenge by Jo Jakeman, $17, Amazon
Rather unexpectedly, both Naomi and Phillip's first wife, Ruby, become entangled in Imogen's plan, because all though these three women couldn't be any different, they have one thing in common: untold experiences of psychological and physical abuse at the hands of same man. Can these unlikely allies vanquish the person responsible for so much pain and anguish, or are Phillip and his monstrous ways too powerful for them to face?
A darkly comical and surprisingly empowering thriller, The Exes' Revenge is a terrifying tale with a true villain at it's center. Phillip Rochester may not be a serial killer or an axe murderer, but he is a very real, very believable kind of monster far too many women are familiar with: a serial abuser. A master at the art of gaslighting with the power to manipulate everyone around him, he's the scariest kind of evildoer: one who lives in your home, sleeps in your bed, infiltrates your heart. To make matters worse, he is also a member of the police force, which in this novel exists as a prime example of an old boys' club, one that would do anything to protect the reputation of one of their own, even at the expense of real victims.
While there are certain elements of The Exes' Revenge that require readers to suspend their disbelief, this emotionally-charged thriller makes a powerful case for women's anger and their ability to exact not only revenge but justice that you can believe in. Tense, suspenseful, and wholly surprising, this searing debut feels ultra timely in an era where women not unlike Imogen, Naomi, and Ruby are using their voices to stand up to their abusers who don't look that different than Phillip.