'The Favourite' Hair & Makeup Designer On Living Without Hairspray & Inventing The "Badger" Look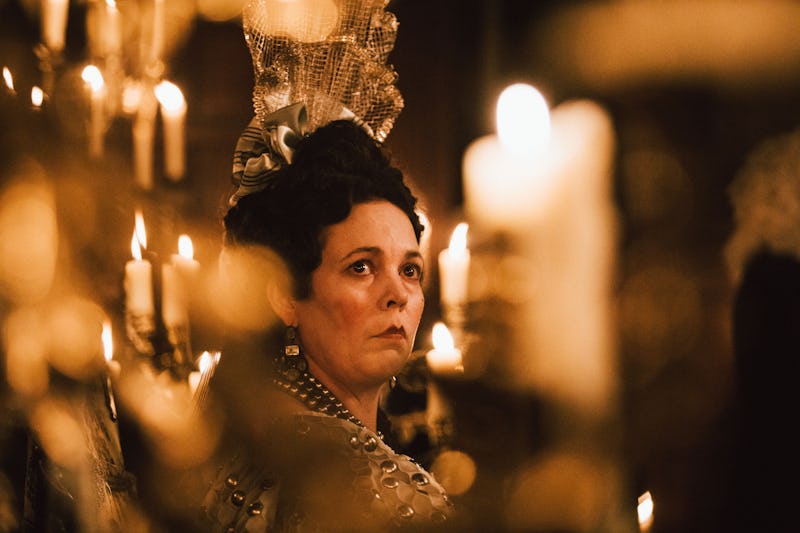 Atsushi Nishijima/Twentieth Century Fox
Most directors that hair and makeup designer Nadia Stacey has worked with over the years are more than happy to leave her be to create looks for their characters. "Normally they go, 'I don't know that much about makeup and you do, so you take the reins and I'll let you know if I don't like it. I trust you,'" she says, speaking over the phone in late November. But when it came to designing the hair and makeup for The Favourite, the occasionally anachronistic Oscar-nominated period piece, the circumstances were different. Filmmaker Yorgos Lanthimos (The Lobster, The Killing of a Sacred Deer) had a vision that he wanted Stacey and other department heads to execute, and doing so wasn't always easy. But saying yes to that challenge brought Stacey one of her "most incredibly creative" professional experiences yet — even if it was frustrating at times.
"When I look back to when we were in prep, getting everything ready, I know that there were so many times I drove home thinking, 'I have no idea how I'm going to do this,'" Stacey, whose credits also include Eddie the Eagle and the series Krypton, says. Lanthimos would know what fit his concept only when he saw it, she remembers, so crafting the look of characters like Queen Anne (Olivia Colman), Lady Sarah (Rachel Weisz), Abigail (Emma Stone), and Harley (Nicholas Hoult) involved a lot of trial and error. (What does "you look like a badger" makeup look like? Stacey didn't know until she brought a design to Lanthimos that he approved.) Not only that, but the director banned hairspray from the set in the name of achieving realism. "I thought, I don't know how we get a hair structure like that to stay up, and I don't know how we get it to not look fuzzy and all out of place,'" the designer says, "But that's exactly what he wanted." Lanthimos also isn't a fan of artists popping in between takes to do makeup checks, so Stacey had to "learn to sort of sneak around him" to do touchups.
Despite those moments of panic — or, more likely, because of them — Stacey rose to the occasion. She received a Critics Choice Award nomination for her work, and won the British Independent Film Award and the BAFTA. She now calls working with Lanthimos "an incredible process, because you have to dig deep to really find it, even when you don't know you've got it in you to do it."
And she's not the only collaborator who sometimes found it difficult to read or know whether she was pleasing the director. Colman, who also appeared in Lanthimos' 2015 film, told Rolling Stone last year, "I left The Lobster not knowing that he'd particularly liked what I did or not. And then I slowly worked out that if he smiles — just a little one, he very rarely smiles — that's as good as a round of applause."
But what Stacey was never conflicted about was the opportunity to design hair and makeup that was not meant to be beautiful above everything else. In addition to her cosmetic experience, she calls herself a "huge film fan," who chooses projects based on scripts, not just the people involved or the setting. "If there's a chance to really add to a character," she says, those are the projects that excite her most, and The Favourite has no interest in presenting polished versions of its monarch and courtiers.
Sometimes, Stacey says, she'll try to "push" for realism in a film, but "actually, what [the filmmakers] really want is for a Hollywood actress to look like a Hollywood actress, even though she should look like a scullery maid." She and her colleagues were free of that mandate in this movie, which turns on the sometimes ugly machinations of individuals who are all out for number one. "We need to show them as they were and how it would have been," Stacey says... and that meant not masking sweat and dirt. Letting go of the pursuit of perfection, the designer says she "found [herself] getting braver and braver."
The actors, meanwhile, adjusted well to the reversal of gender roles that the early 18th century backdrop entailed. "It's probably the only time where men are so much more made up, and the women weren't," Stacey says. "The women looked really stripped back, and kind of plain in comparison." That called for the male actors on the movie, for the most part, spending more time in hair and makeup than the women were. "It suited the script," she says. The three female leads are locked in a ruthless power struggle for much of the film, while the men of the court drink and carouse and grapple for some hold on it themselves, completely oblivious to the central triangle. "It kind of added to that dynamic that suddenly [the men] were all sort of preened and dressed up and beautified, and the women just weren't," she continues.
Colman, Stone, and Weisz were completely "on board" with the minimal makeup look from the beginning, Stacey says. They didn't have to be convinced that it was necessary, and, in fact, the designer believes it may have helped them to feel freer to find their performances. All three women are nominated for Academy Awards; Colman, who also wore extensive prosthetics designed by Stacey to represent the gout that plagues Anne, won the Golden Globe for Best Actress in a Motion Picture, Musical or Comedy.
"Every time they're angry or sweaty, we should see that," Stacey explains. And Stone told Bustle in a seperate interview that stripping away ego and artifice also helped establish trust among her and her fellow actors. "We all just became comfortable with being embarrassed in front of each other," she added.
Meanwhile, Hoult got very into his haughty character's stylishness and vanity. Stacey told Deadline that she came to the actor with an idea, using period-correct placement of beauty marks, each one having a different social meaning. "It's all in the details," she tells me, when I ask why she goes to the trouble, when the average moviegoer will have no idea what they're looking at. "And I know that for 100 people who don't notice it, there might be one person who noticed it." She underlines again that it's about helping performers create a character. Even their director didn't know what she and Hoult were up to, but they found adding these layers to Harley's look "really good fun." "To have a connection with your actor like that as well, is great," she adds.
One of the most rewarding parts of the job, Stacey says, is when you can see actors "run with something that you brought to the table." So though The Favourite and Lanthimos hardly made it easy for her and her team, Stacey was never going to allow restrictions get her down. "I've always made the choice that I could do anything," she says. "It doesn't matter. I could work on any genre of film, I could work with any director. I just tried to go for it wherever possible."