The FBI Spent A Year Investigating Larry Nassar. 40 Women Say He Abused Them In That Time.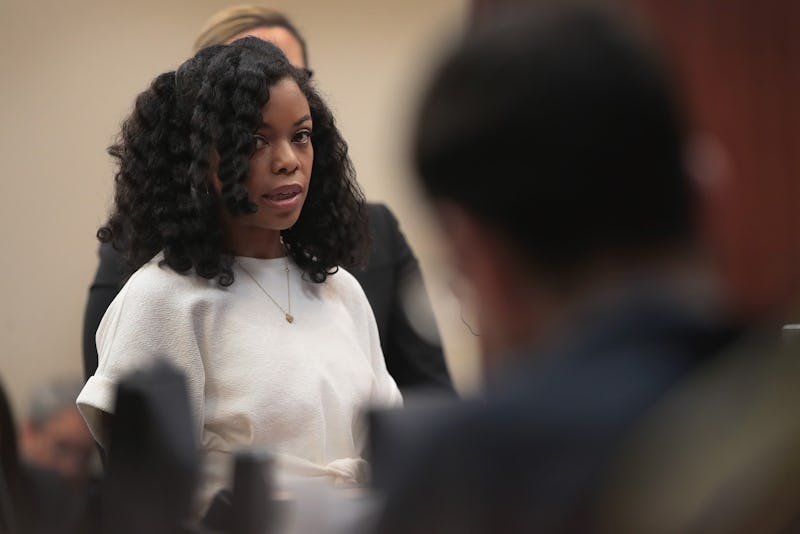 Scott Olson/Getty Images News/Getty Images
In the aftermath of former Team USA Gymnastics doctor Larry Nassar's sentencing, the spotlight has been turned to the institutions that allegedly enabled him to sexually abuse hundreds of women. On Saturday, The New York Times reported that while the FBI investigated abuse allegations against Nassar for a year, he allegedly molested dozens more victims during that time.
According to the Times, an FBI investigation into allegations Nassar had sexually abused three elite gymnasts languished for more than a year, during which time the doctor allegedly molested at least 40 other girls and young women. In fact, in the end it wasn't the FBI's investigation that put an end to Nassar's alleged abuse, but rather an investigative report by the Indianapolis Star. In the 14 months between when the FBI opened their investigation in July 2015 and the Indianapolis Star published their report in September of 2016, Nassar allegedly molested some of his youngest victims, according to the Times.
While the Times notes part of the problem could have been attributed to jurisdiction issues both at the state and federal level and within the different FBI bureaus, the agency appeared slow in pursuing their investigation. The Wall Street Journal has previously reported it took nearly 10 months for the FBI's investigation to really get off the ground. And Maggie Nichols, the gymnast initially known as "Athlete A," told the Times it took FBI agents 11 months to contact her despite the fact it was information she'd given that helped spur the inquiry in the first place.
Still, questions persist as to how Nassar was able to continue seeing — and in some cases allegedly molesting — patients while the FBI investigation was underway. "I'm so angry that, after realizing that we were abused, they let him continue to molest other gymnasts when they told me there was an investigation going on," two-time Olympic gymnast and six-time Olympic medalist Aly Raisman told ESPN, in reference to USA Gymnastics. "They told me to be quiet. I thought that they were doing the right thing, and I didn't want to tip off the investigation. I trusted them and I shouldn't have."
Officials at USA Gymnastics have said they were under the impression FBI agents didn't want them to discuss the case at all, not even with patients Nassar saw outside of his work with USA Gymnastics. So while USA Gymnastics cut ties with Nassar around the same time they tipped off the FBI in 2015, the doctor continued to work and see patients in Michigan.
One such patient was 15-year-old Emma Ann Miller. A lawyer for Miller told the Times the teen had seen Nassar for treatment sessions roughly a dozen times between 2015 and 2016.
W. Jay Abbott, the then-head of the Indianapolis FBI bureau (Abbot has since retired), which was the first to receive information about Nassar from USA Gymnastics, told the Times it would've been "tricky" to alert other patients to the allegations.
"There is a duty to warn those who might be harmed in the future," Abbott said. "But everyone is still trying to ascertain whether a crime has been committed. And everybody has rights here." Abbott said the case could have been further complicated by debate over whether Nassar's so-called "treatments" were in fact legitimate medical procedures.
While Nassar will likely spend the rest of his life behind bars, many of his victims and their supporters have argued he's not the only person who needs to be held accountable. More than 260 women and girls have come forward to accuse Nassar of sexually assaulting them, including former Olympic gymnasts Raisman, Simone Biles, Gabby Douglas, McKayla Maroney, and Jordyn Wieber.
And like Raisman, a number of them have also criticized both the U.S. Olympic Committee and USA Gymnastics of turning a blind eye and being slow to react, thus enabling Nassar's abuse. Now, the Times' report could also place the FBI under scrutiny.