Senators Get To Read The FBI's Kavanaugh Report Soon — But There's A Catch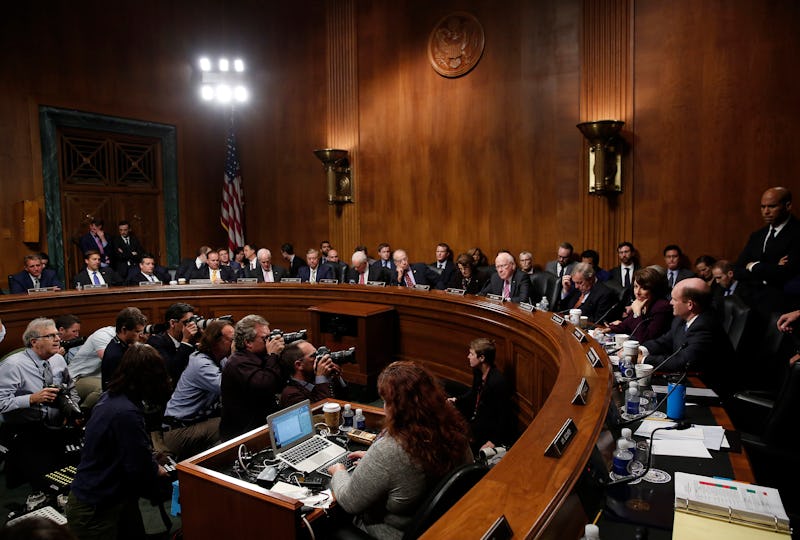 Win McNamee/Getty Images News/Getty Images
The FBI opened a supplemental background check on SCOTUS nominee Brett Kavanaugh last week following Dr. Christine Blasey Ford's Senate testimony on allegations that he sexually assaulted her in high school. Kavanaugh denies the allegations, but the FBI's report could swing vital senatorial votes on his confirmation. Senators say the FBI's Kavanaugh report will be released soon, but there are some bizarre rules attached to them.
"Get this — one copy! For the United States Senate," Senate Democratic Whip Dick Durbin, a member of the Senate Judiciary Committee, told The Hill.
Yep, the entire Senate — 100 individuals and nine staffers — will have to share one copy of the FBI's report.
"That's what we were told," said Durbin. "And we were also that we would be given one hour for the Dems, one hour for the Republicans. Alternating." Additionally, according to the Hill, senators will review the report in "secure compartmented information facility" within the Capitol Visitor Center.
Due to the personal nature of FBI background checks, such reports are protected under specific procedures for the sake of the subject's privacy. According to Fox News, regulations require the single report to be kept in a Senate Judiciary Committee safe before being reviewed by the White House, the Committee, and finally the Senate.
Ron Klain, a chief counsel for Judiciary Committee Democrats during the Anita Hill hearings of 1991, told USA Today that confidentiality procedures are acceptable only if they do not prevent senators from reviewing the report before Kavanaugh's confirmation vote.
"Standard procedures often need to be modified for nonstandard situations," Klain told USA Today. "In extraordinary situations — like the Thomas-Hill hearings — procedures have been adopted to protect confidentiality while also facilitating access for all senators."
Senator Bob Corker told The Hill he has attempted to persuade McConnell and Senate Judiciary Committee Chairman Chuck Grassley to provide multiple copies of the report to senators.
Reviewing the FBI report will give senators more information to base their vote off of when the time comes. However, getting their hands on the single copy won't be a simply process.
McConnell has continued to stand by his announcement that a vote on Kavanaugh's confirmation will be held this week. NBC News reports that he praised Kavanaugh's "sterling academic credentials" and "widely acknowledged legal brilliance" when speaking on the Senate floor Wednesday. On Twitter, he called the entire confirmation process an "embarrassing spectacle."
The FBI investigation into Ford's allegations began just last Friday, following Ford's testimony where she recounted her alleged sexual assault and said she is "100 percent" certain it was a young Kavanaugh who attempted to rape her at a small house party in 1982. Kavanaugh denied all claims: "I never sexually assaulted anyone," he said at Thursday's hearing.
According to the New York Times, the FBI has interviewed at least four people: Kavanaugh's high school friends Mark Judge and P.J. Smyth; Ford's high school friend Leland Keyser; and the second woman to accuse Kavanaugh of sexual assault, Deborah Ramirez. Again, Kavanaugh denied Ramirez's allegation. In his opening statement Thursday, he said he's never sexually assaulted anyone. "Not in high school, not in college, not ever," he stated. "Sexual assault is horrific."The FBI reportedly hasn't interviewed either Ford or Kavanaugh.
Republican senators will get to read the FBI report first at 8 a.m. EST on Thursday morning, according to the Washington Post. From there, it will go back and forth between parties.