Blondie's "Fun" Video Has A Feminist Message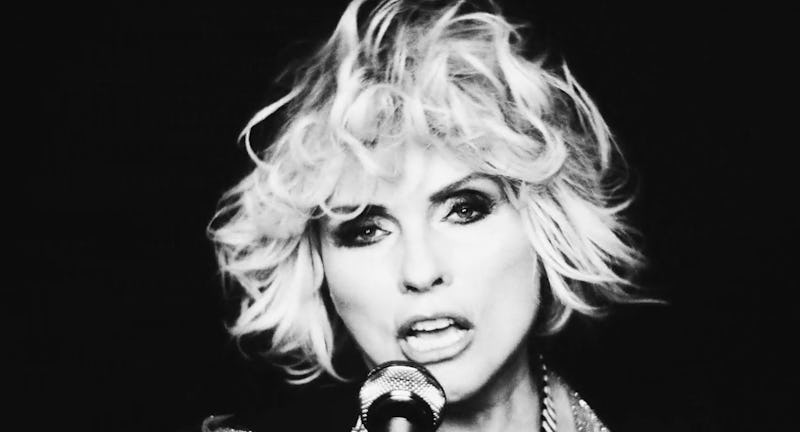 There's a softness in the air that suggests that winter's on its way out, and things can't get any better. Hold that thought: Blondie's music video for "Fun" dropped on Wednesday, and it's perfectly relevant for now. It's worth stressing that this video didn't need to be any good. The song's more than strong enough to carry a lackluster video of bored models swaying under neon lights. It's pure, classic Blondie; it sounds like an extra track from the band's 1978 Plastic Letters while simultaneously sounding incredibly modern. It's cold and sparkling and pulses to a rhythm from a different dimension. But, kind of unbelievably, the video is almost as good as the song itself in its focus — not just on an eerily young-looking Debbie Harry — but on a female astronaut. The video's subject doesn't feel accidental.
Becoming an astronaut isn't all about perfect vision and blood pressure. As NASA states, a "Bachelor's degree from an accredited institution in engineering, biological science, physical science, or mathematics" is required. That's right. Interpreted loosely, the "Fun" video is about getting more women interested in STEM subjects.
According to a report published by the Economics and Statistics Administration division of the United States Department of Commerce in 2011, women hold less than 25 percent of the jobs in STEM fields. This isn't great, obviously. It means a perspective from roughly half of the US population is lacking, and a lack of diversity in a team can lead to a lack of diversity in ideas.
So thank goodness for Blondie for flying the flag for women scientists in the most fun way possible. The video focuses on a female astronaut, but she's very much cut from Blondie's cloth. We know this because the word "Blondie" is projected onto her helmet, because she applies lipstick to go with her space suit, and because she's rocketed off into a psychedelic world of flashing colors. So how does this relate to STEM?
As Stanford University psychology professor James Gross told National Geographic in 2014, he was concerned that women like his math-enthused daughter are put off from working in STEM — not just because of the obvious gender bias reasons, but simply because it's "increasingly lonely as a girl who's interested in math and science." It may be hard to reconcile the two sides of yourself in a heavily male-dominated environment, the side that nerds out about math and the side that is stereotypically feminine, i.e. the side of you that freaks out over the MAC Lipstick counter.
Blondie's video does a great job of piecing together these two sides. When she sings "You're my fun when I'm down/You pick me up again," we start off assuming this is your typical love song, that she's crooning it at some guy. But the astronaut visuals suggest that maybe the thing that gives the astronaut heroine a lift when she's down is her passion for her career and a passion for science and space. This is refreshing: the visuals mean that, instead of it being interpreted as being a song about the fun of love, you can interpret it as saying, hey, maybe science could be the fun women need.
So if there's a woman in your life who's got a burgeoning passion for the STEM subjects, send her this video. You never know. You might inspire the next Marie Curie, the next Mae C. Jemison, the next Katherine G. Johnson.