'Spider-Man: Homecoming' Has A 'Ferris Bueller' Cameo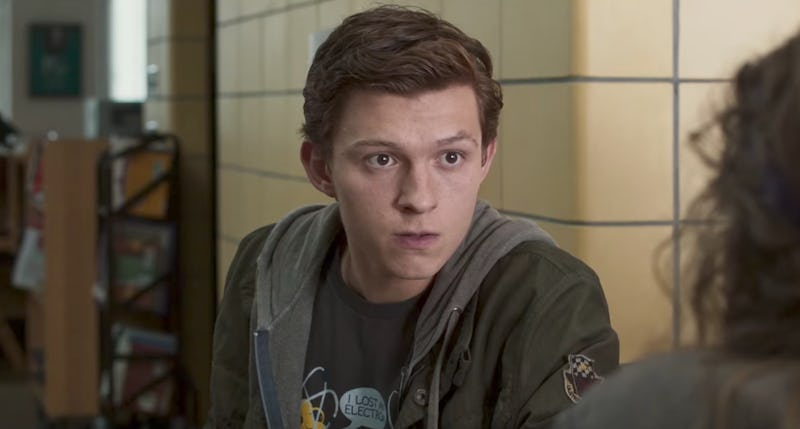 Sony Pictures Releasing
Ferris Bueller and Peter Parker have a lot in common, namely that they both hate high school and love to skip it. And both Ferris Bueller's Day Off and Spider-Man: Homecoming are coming-of-age stories about high school misfits. It makes sense, then, that there's a Ferris Bueller reference in Homecoming you might have missed. The Ferris Bueller reference in Homecoming is an homage to the epic race scene at the end of the John Hughes classic. Only, instead of rushing through neighborhood backyards to get home before his parents catch him skipping school, Spider-Man is swinging through homes chasing bad guys.
The sequence, which even features a clip from Ferris Bueller, is fantastic, with Spidey mirroring Bueller's charm as he jumps over fences and says hi to pretty girls. Filmmakers hope the sequence will be a hit with audiences, some of whom might not be used to seeing a Hughes reference in a superhero movie. "They go through this great Ferris Bueller-inspired chase through this neighborhood," teased producer Eric Carroll in an interview with Screen Rant. "We think it's going to be one of the signature sequences of the film."
As reported by Movie Pilot, this isn't the first time this Ferris Bueller sequence has been used in a Spider-Man story. Ultimate Spider-Man featured a similar sequence, which has Spider-Man rushing to get home before his Aunt May. And the Ferris Bueller references don't end there. A short new trailer for the film also uses the music from that very sequence in Ferris Bueller. The official Spider-Man Twitter account shared the video, writing, "Parker? Parker? Anyone...?" (A direct reference to the classic "Bueller? Bueller?")
These references are not by accident. Director Jon Watts has referenced Hughes in multiple interviews, using his classic films as setting the bar for the kind of coming of age movie he wanted to make. "I love John Hughes movies. They are my reference points," Watts said in an interview with MovieWeb. "For me, there's a deeper genre appreciation for what a coming of age story can be about. To apply that to a superhero world, for me, that was very exciting," Watts explained. Homecoming screenwriters Jonathan Goldstein and John Francis Daley have also admitted to using Hughes as a source of inspiration for their work. "It's sort of a John Hughes-ian take at Peter in high school," Daley described the film to Entertainment Tonight. "We're going to spend a lot more time on them in high school and deal with him being a real kid."
As for actor Tom Holland, he took inspiration from another '80s hero: Marty McFly (Back to the Future). "I think Michael J. Fox just brought such a positive energy and so much life and soul into his character, and I wanted that to be apparent in Spider-Man," Holland told Indiewire. Whether Spidey is more Ferris Bueller or Marty McFly, those are pretty big shoes to fill. I guess it's a good thing Spider-Man doesn't wear shoes, huh?