Celebs Remember Trayvon Martin Before The Oscars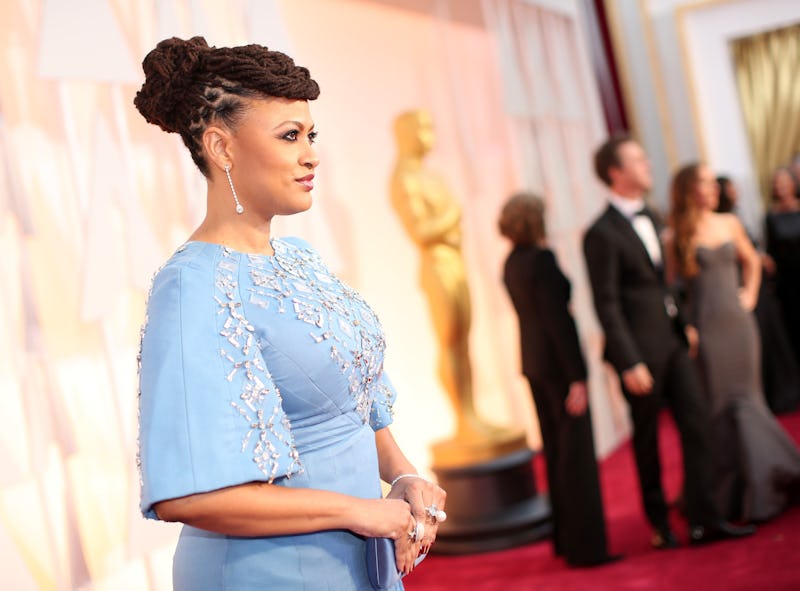 Christopher Polk/Getty Images
On February 26, 2012, a black teenager named Trayvon Martin was killed by a man named George Zimmerman, who claimed he had shot the teen in self-defense and was ultimately acquitted of the murder. Since then, the #BlackLivesMatter movement has drawn national attention to the frequent shooting of black men due to police brutality and extrajudicial actions. The 2017 Oscars happened the same night as the anniversary of Martin's death, and 13th director Ava DuVernay was not going to let that go unacknowledged. The director tweeted that she was taking a moment to remember Martin on her way to the Oscars, and she wasn't the only one.
Kerry Washington, Tracee Ellis Ross, and Gabrielle Union joined DuVernay in wearing grey hoodies on social media in honor of Martin. (Zimmerman mentioned in his call to report a suspicious character that Martin was wearing "dark hoodie, like a grey hoodie.") The hoodie has since become a political symbol, as shown by real-life events like "hoodie marches" and pop culture moments like the importance of Netflix's Luke Cage being a bulletproof black man in a hoodie. "Taking a moment to remember #TrayvonMartin," DuVernay wrote on her Twitter. "Our hoodies are still up and the movement is still strong."
Although the importance of the day wasn't mentioned during the 2017 Oscars, even more celebrities marked the occasion on social media. Sophia Bush wrote, "Five years ... #HoodiesUp #RIP #TrayvonMartin" alongside an artistic rendering of Martin, and Taraji P. Henson posted a similar message before her appearance on the Oscars red carpet. It's clear that Martin continues to be a memorable figure, and the injustice of his death has not been forgotten even by those who didn't know him personally.
Even on a night when all of Hollywood is gathering together to celebrate art, a ceremony as prestigious as the Oscars can't take away from the anniversary of an event that continues to be a source of horror to many and one of many, many reasons to do better and be better to make America safe for all of its citizens rather than just a few.
So enjoy the Oscars. The celebrities certainly did. But never, ever forget Trayvon Martin, and the very necessary conversation and movement that his horrific death sparked.