The Final 'House Of Cards' Season 6 Trailer Proves That Claire Is Out For Blood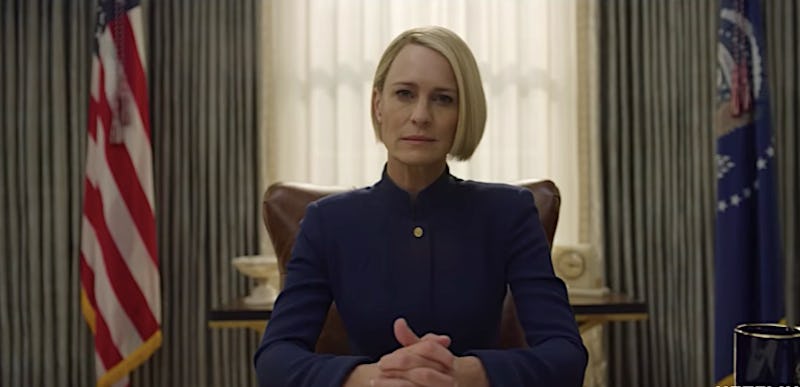 Netflix
Frank Underwood may be dead and buried, but in the final House of Cards Season 6 trailer, the new President Underwood still has plenty of enemies to grapple with in the land of the living. It seems Claire's time in the Oval Office isn't going as smoothly as she might've liked. In the promo, many members of the press criticize her every move with one reporter suggesting that she could very well be "the worst thing that has ever happened to this country."
However, it's not just an attack by the media that this Commander in Chief has to worry about. There's also her former ally Doug Stamper whose allegiance appears to be severely wavering. So much so that when asked by Russian President Viktor Petrov who he most fears in the world, Doug responds simply by saying, "Her." (Talk about someone having a complete change of heart.) And then, of course, there's newcomer siblings Annette and Bill Shepherd, played by Diane Lane and Greg Kinnear, respectively, who don't seem to share the same vision as Claire in regards to what's best for the American people. But if you think Claire is about to let herself be bullied by any of these people, then clearly you haven't been paying very close attention to who she really is.
"The first female president of the United States is not going to keep her mouth shut," Claire promises in the trailer. So good luck to anyone who tries to cross her.
That's not to say that Frank's presence won't be still heavily felt throughout the season, though. In fact, the promo makes it clear that his memory will cast a long shadow and it'll take some serious scheming and manipulation for Claire to remain securely in the highest position in the country. But if anyone can rise to the challenge, it's definitely her.
Claire rose to power at the end of Season 5 with the final moments showing her behind the Oval Office desk, looking directly into the camera and saying "My turn." Her trajectory to the presidency has been a long time coming, though it was thought that her double-crossed husband would play a pivotal role in any potential revenge plot. However, that all changed after Kevin Spacey was let go by Netflix after multiple allegations of sexual misconduct and harassment came out about him (all of which Spacey has denied).
This left Claire to be the only remaining Underwood running the show for the series' sixth and final season, and based on all the footage we've seen so far, Robin Wright's performance as the strong, formidable President Claire Underwood won't disappoint in any way, shape, or form. But will she be able to keep all her past skeletons buried in the closet or will her sins come back to haunt her? Viewers will just have to tune in to find out one way or the other.
The final season of House of Cards will be available for streaming on Netflix starting on Friday, Nov. 2.