'TVD's' Final Klaroline Moment Explained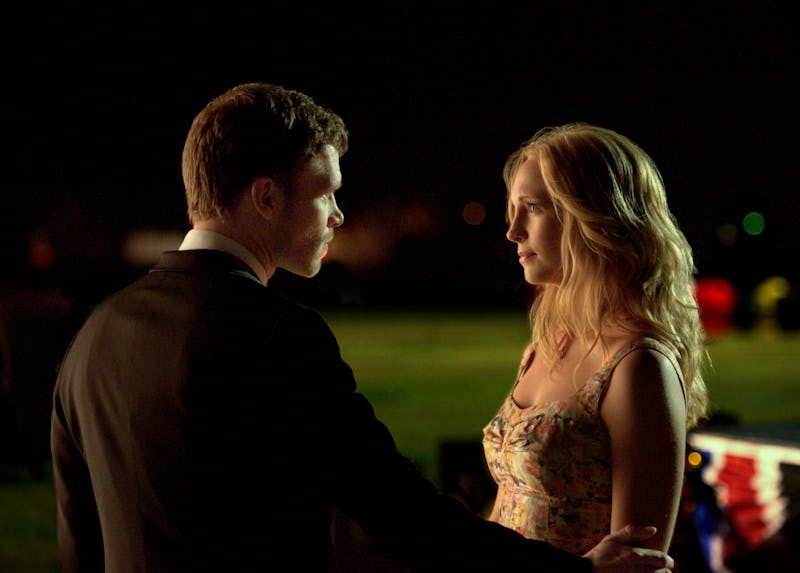 The CW
Warning: this story contains major spoilers from The Vampire Diaries series finale, "I Was Feeling Epic." It may have taken years of patient (and mostly impatient) waiting, but The Vampire Diaries' series finale finally gave a satisfying conclusion — or new beginning? — to the series' longest-left-unresolved relationship: Klaroline. When Caroline (Candice King) first caught the eye of Original vampire brother Klaus (Joseph Morgan) back in the Season 3 episode, "Our Town," a new fan-favorite relationship was born, and it became one of the most passionate subgroups of the series' fanbase. For years, the two shared intense chemistry whenever they were in a scene together, but any potential relationship they could have had was cut short when Klaus moved away from Mystic Falls and got his own spinoff series The Originals.
Klaus eventually returned to TVD in the 100th episode to finally seal the deal and hook up with Caroline, but since then, they've only shared words over the phone with a tease of something that would never be explored onscreen. Until now. Maybe ... ?
The TVD series finale, "I Was Feeling Epic," revealed in the final minutes that Klaus somehow got word of Caroline opening the Salvatore Boarding School for the Young and Gifted after her husband Stefan (Paul Wesley) died, and sent a $3 million donation along with a letter that read, "Dear Caroline, I have often imagined the paths your life might take, but your chosen future is more noble than I ever fathomed. Please accept this contribution to your virtuous cause. I do look forward to thanking you in person, someday. However long it takes. Yours, Klaus."
The show's creator Julie Plec told me before I watched the series finale that "yes, of course, I have laid a groundwork in the finale itself for future expansion of the universe." And co-creator Kevin Williamson explains to me after I watched the emotional episode that Plec was indeed talking about that Klaroline moment.
"Caroline, we just wanted to suggest that there was another whole chapter to that story," Williamson says. "For me, I always wanted to go down that road. I always was so sad – one of the unfortunate things about having a spinoff show is that you lose the opportunity to have a storyline that you might have wanted to explore in the other [show]. I always felt like Caroline and Klaus never had the relationship storyline that they could have had. It got cut short."
Whether or not that story gets told onscreen in another series has yet to be seen, and don't expect to hear news of a new TVD spinoff anytime soon.
"I just thought we could throw in a nugget of there was another story there for her," Williamson says. "And that Klaus and Caroline finally, something did happen between them. You just have to imagine what that might be. It's just so that we all know that storyline did fulfill itself."
He pauses to continue, "Whether it was good or bad or they ended up together, who knows? There are so many possibilities and maybes. The world continues."
After eight seasons and 171 episodes, The Vampire Diaries has officially come to an end, but the promise of a Klaroline relationship will live on forever. How fitting.