'TVD' Series Finale Sets Up Another Spinoff Series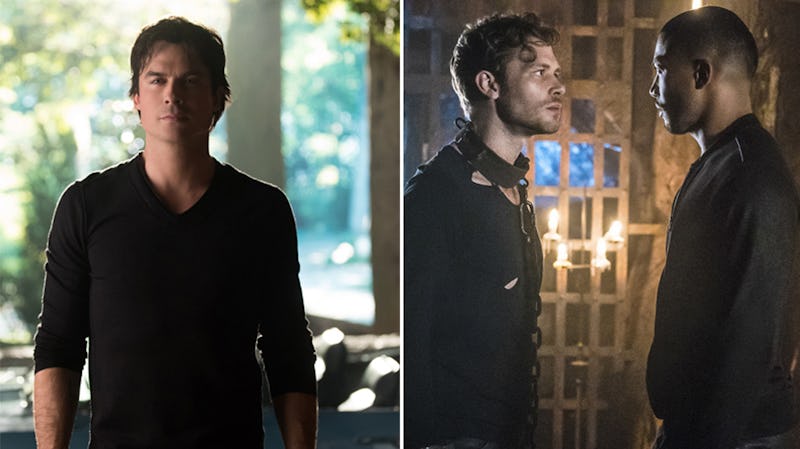 The CW
If The Vampire Diaries ending for good this Friday is too bitter a pill to swallow, at least The Originals still has another season (at least) left to air. And with The Originals Season 4 comes one last TVD crossover. Back in the fall, it was announced that the eighth episode of The Originals' upcoming season will feature this year's first (and only) crossover between the two CW vampire series as Alaric Saltzman (Matt Davis) makes his way to the Original family to deliver a priceless artifact to Elijah (Daniel Gillies) ... along with a very important development for the future of the TVD and The Originals' shared universe.
"Matt Davis is going to appear," Julie Plec tells me over the phone as she gears up for the TVD series finale. "Alaric Saltzman will be dropping into New Orleans and he'll be bringing with him a piece of information from Mystic Falls that will impact the future of a character on The Originals and possible additional opportunities for a new series down the road."
Hold up. Did she just say "new series?!" As one series ends, could another be not too far off in the future?
"It's so funny, literally every single person is asking me that question," she says with a laugh when I press her further. "I figured everybody would be like, 'For god's sakes, put it to bed!' Yes, of course, I have laid a groundwork in the [TVD series] finale itself for future expansion of the universe."
But don't get your hopes up too high, fellow fang fans. While this news is definitely exciting, it's not a done deal just yet.
"That being said, it's just groundwork," Plec says. "It's nuggets of thoughts rattling around in my brain, there's nothing official to announce or anything like that."
Before the accomplished showrunner can even think about launching yet another TVD spinoff series, she has to first get through the TVD Season 8/series finale, airing this Friday at 9 p.m. on The CW following an hour-long retrospective special. And then there's a whole season of The Originals that has to air, premiering next week, Friday, March 17 at 8 p.m. on The CW. Then comes the question of whether or not the network will renew The Originals for Season 5. And then comes the question of if the TVD/The Originals team and The CW will even want to continue to expand the universe into another series.
But seeing as how there's already a ready and willing audience for it, why not?