Here's Your First Glimpse At Donald Glover In The 'Star Wars' Spinoff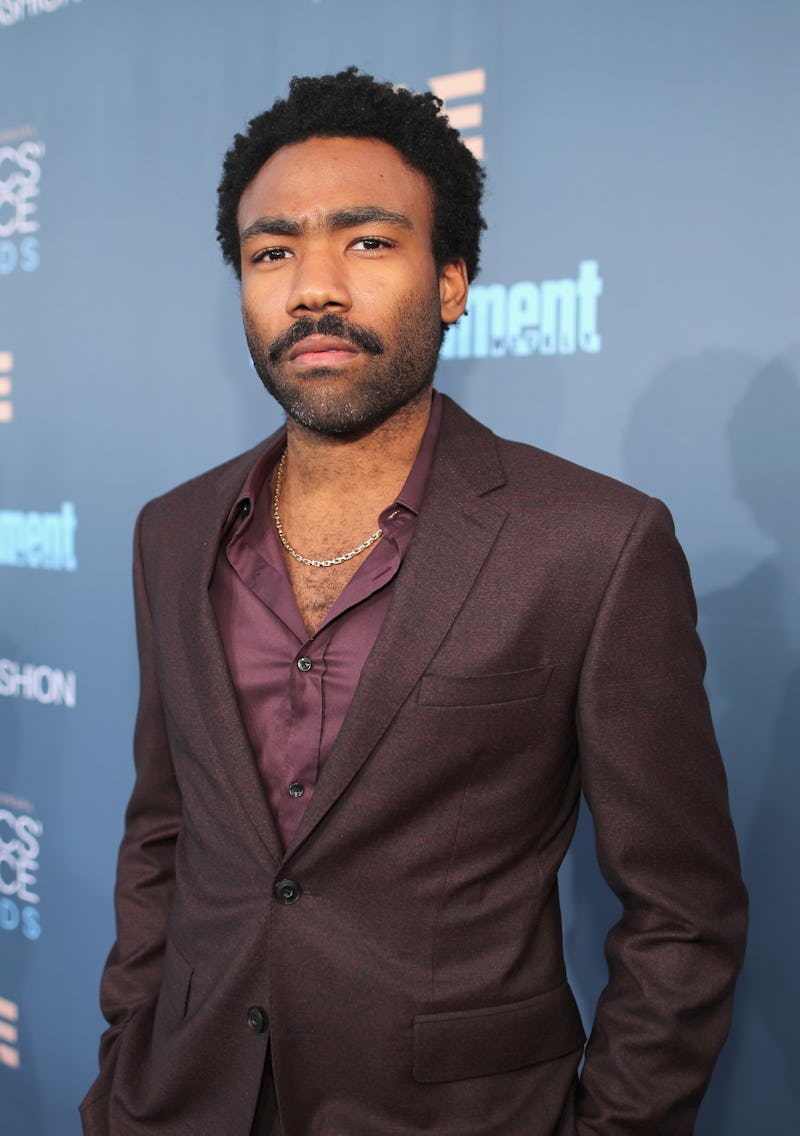 Christopher Polk/Getty Images Entertainment/Getty Images
In a galaxy not so far away, director Ron Howard seemed to reveal the first photo of Donald Glover as young Lando Calrissian, but he did so in a pretty sneaky way — potentially even accidentally. See, Howard is the new director of the standalone Han Solo movie after the film's original directors Phil Lord and Chris Miller were let go from the Star Wars spinoff. On Tuesday, he took to Instagram to let fans know that everything was back on track, posting a photo of himself on set. "Lining up a shot today from my director's monitor," he wrote. On Wednesday, he also shared a set image to Twitter. Zoom in, and you'll notice someone who looks a whole lot like Glover is featured on that monitor in both photos.
Knowing how secretive this film has been, it's hard to believe this was actually a mistake. These are only the second and third photos to turn up from the set of the Han Solo film. The first was a cast photo tweeted out from the official Star Wars Twitter account that included Glover, but not in costume — which makes Howard's photos a pretty big deal.
In these shots, Glover is wearing a yellow jacket and appears to be in a very familiar-looking cockpit. In one shot, he's even piloting the ship through hyperspace, something Howard was happy to reveal on Twitter. "Hyperspace is real," he wrote. "My first experience. Wow."
It's led some to believe this is also a first glimpse at the iconic Millennium Falcon. It's pretty likely, since one of the few things we do know about this film is that it will tell the story of how Han Solo ended up taking the Millennium Falcon from Lando in that card game way back when.
Howard has been sharing a lot of behind the scenes photos from the London set of his new movie. At first they were pretty tame: a shot of his muddy work boots, a glimpse of the studio entrance, a look inside a very colorful closet that appeared to give a peek at Lando's wardrobe. But, in the last few days, he's gotten much bolder.
Along with these Lando teasers, he also posted a photo of a young Chewbacca (The Force Awakens' Joonas Suotamo), checking out the monitor while in costume. Once again, zooming in reveals the secret of this photo, namely what Chewy is looking at. Turns out, it's an emotional scene between Chewbacca and another Wookiee, hinting that Han Solo's partner is getting a backstory of his own.
While it's unclear what kind of embrace that is, Entertainment Weekly writer Anthony Breznican noticed something familiar about it. "The Wookiee moment on that screen looks a little like a callback to Han and Leia's goodbye in Empire," he tweeted. "Complete with Stormtrooper in back."
Whether these photos were accidental shares or not, they're certainly endearing Howard to Star Wars fans who hope he'll be posting a whole lot more from the set before the film hits theaters in 2018. Like, say, a photo of the new Han Solo, Alden Ehrenreich, himself.