Fans Can Thank Timothee Chalamet For The First Behind-The-Scenes Look At 'Little Women'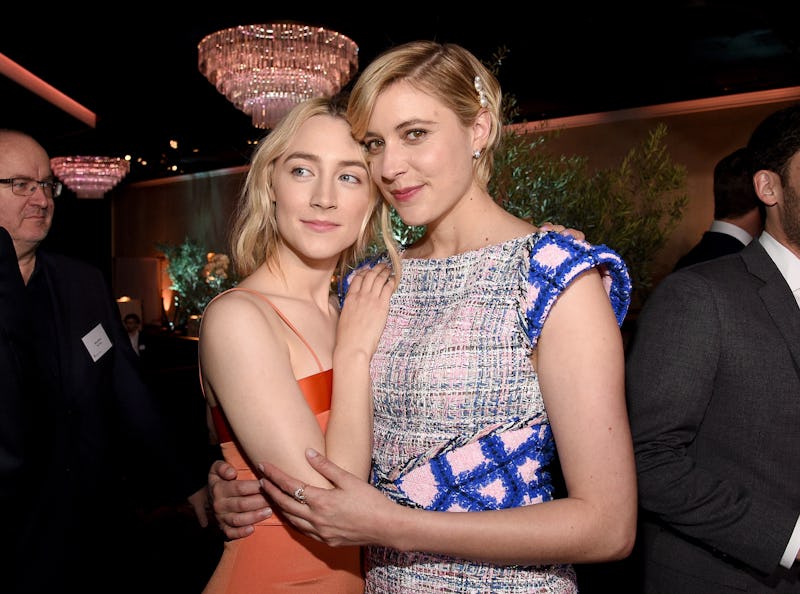 Kevork Djansezian/Getty Images Entertainment/Getty Images
Growing up, there's really no way to escape a little novel called Little Women. The classic was written by Louisa May Alcott back in 1868. Since then, it's become an elementary school staple, and it's inspired many different screen adaptions, the most recent of which is currently in production. Not a lot is known about the new Little Women from director Greta Gerwig, but, thanks to Timothée Chalamet, fans can now see the first Little Women photo from behind-the-scenes of the newest adaptation. And, though blurry, the snapshot previews a reunion that fans of Lady Bird and Little Women will be excited for.
On Oct. 20, Chalamet posted a blurry picture to his Instagram that shows actor Saoirse Ronan and Gerwig in a loving embrace. The caption says, "littlewomen. (Rehearsal pic couple weeks ago :)." The trio, of course, worked together on the award-winning Lady Bird, which earned Gerwig her first Best Director Oscar nomination and starred Ronan and Chalamet. But, in addition to being an adorable Lady Bird reunion, the photo is also the first picture from the 2019 film, which started making noise back in June when it was announced. In addition to starring Ronan and Chalamet, Gerwig's Little Women will feature an all-star cast including Laura Dern as the matriarch of the March family (affectionately called Marmee), Meryl Streep as their great-aunt March, and Emma Watson, Ronan, Eliza Scanlen, and Florence Pugh as the four March sisters. Chalamet will play Laurie, the neighbor who becomes the love interest for a couple of the March Sisters.
Of course, every new adaptation puts a spin on the original source material, and Gerwig's new film will be no different. According to The Cut, this version, written by Gerwig as well, "will focus more on the sisters' young-adult lives after they leave the family home." Speaking with the Los Angeles Times, Robin Swicord, the co-producer of this film and writer for the 1994 adaptation, reiterated this notion. "It's really taking a look at what it is for a young woman to enter the adult world," he said. This new Little Women will also go back and forth in time between their older and younger selves. Swicord went on to say,
"It's very adult and interesting and thoughtful … and, of course, given the material, it's always going to be romantic... Greta has a wonderfully associative, well-furnished mind. Her take on the novel more than convinced us that we could bring something new to the screen."
According to Chalamet's photo and a recent interview with Variety, shooting is already taking place in October, and the movie is set for a release date on Christmas 2019. "What a great character," Chalamet said of Laurie. "I mean what a great — I would do anything Greta wanted me to be a part of... It's crazy day by day, in the rehearsals and shooting it there, and I get more imbued in the legend of it all."
For fans of Little Women, this film and the news surrounding it, just keeps getting better and better, and with filming currently taking place, it's more real than ever. With Gerwig's skills and her amazing cast, the new adaptation is almost definitely going to go very far, in the hearts' of fans and critics alike.