OMG, This Rumored 'Little Women' Cast Mixes Hollywood Legends With Everyone's Favorite Newcomer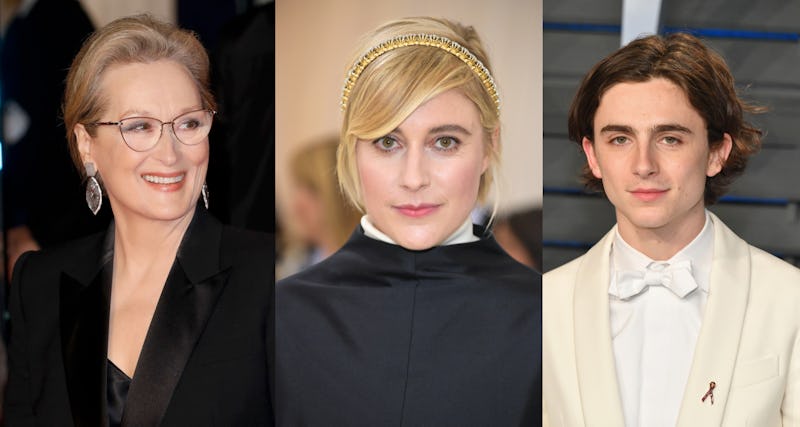 Tristan Fewings/Getty Images Entertainment/Getty Images; Neilson Barnard/Getty Images Entertainment/Getty Images; Dia Dipasupil/Getty Images Entertainment/Getty Images
After garnering huge accolades with her directorial debut of Lady Bird, Greta Gerwig is reportedly in talks to direct Little Women and fans can't seem to get enough of the news and its A-list casting. Gerwig, who snagged a Golden Globe award for Best Motion Picture Musical or Comedy for her work with Lady Bird, was initially tapped to rewrite a draft of the film, according to Variety. The outlet reveals that after Lady Bird's huge success, Sony has been hard at work, now trying to get her on board to direct the remake.
In addition to eyeing an award winning director, The Little Women film also appears to be reeling in some major talent with Meryl Streep, Emma Stone, Saoirse Ronan, and Timothee Chalamet all being sought out for lead roles. Their exact roles have not been confirmed, but a tweet from The Hollywood Reporter did assign them. The tweet claims that Chalamet would likely play Laurie, the dreamy boy next door, with Saoirse Ronan as Jo, and Emma Stone taking on the role of the older sister, Meg. However, nothing is set in stone yet. What is clear is that, should Gerwig direct, the new Little Women would reunite her with Ronan and Chalamet, both of whom starred in her cinematic debut, Lady Bird.
Should the film come to fruition, it will become the fifth adaptation of Louisa May Alcott's classic novel which follows the March sisters in post-Civil War America. Variety indicates that the 1994 version of the film, which starred Winona Ryder, Kirsten Dunst, Susan Sarandon and Christian Bale is the book's most popular adaption, but if this new version should happen, it just might take the crown.
Needless to say, fans of the director and iconic cast quickly began flooding Twitter upon hearing the news. And for many, it looks like this Little Women adaptation can't come soon enough.
1. Fans Were Shook
A reactor had to hold on to their hair amid the news.
2. They Were #Dead
The potential casting has this fan dying to see the film.
3. They Need It
It's a film that this person never knew they needed until now.
4. They Deserve It
This person thinks that this cast is the best ever.
5. It's Perfect
One commenter points out just how perfect Chalamet would be for the part.
6. It's The Avengers Of Female Family Drama
Another thinks that the casting is of heroic proportions.
7. It's The Role Timothée Chalamet Was Born To Play
Someone apparently thinks that Chalamet casting is a pretty ideal, especially considering his resemblance to Christian Bale, who played the role of Laurie in the 1994 version (pictured above).
8. Yes, Please
There can never be too many adaptions of the film, according to this social media user.
9. Seal The Deal
Another Twitter user is so excited about the casting that they want it just want it to become official, already.
In addition to her Golden Globe win, Gerwig also received two Academy Award nominations, for Best Director and Best Original Screenplay for Lady Bird, making her only the fifth woman in history to be nominated for Best Director at the Oscars, according to The Hollywood Reporter. And, though she didn't take home the award, she clearly has a long career ahead of her, and if she keeps working with casts like Little Women, then there's no doubt she'll be taking home an Oscar soon.
Gerwig's participation in Little Women in conjunction with a cast of this magnitude could certainly result in a huge awards win for the filmmaker, perhaps changing the game for female directors on the whole given unceasing marginalization of women in the industry. The Director's Guild of America recently released a report indicating that women only accounted for 16% of directors in the film industry in 2017. Gerwig and the mostly female-led ensemble isn't just something that everyone wants, more importantly, it is something that is much needed.