The 'Psych' Gang Reunites In First Movie Photo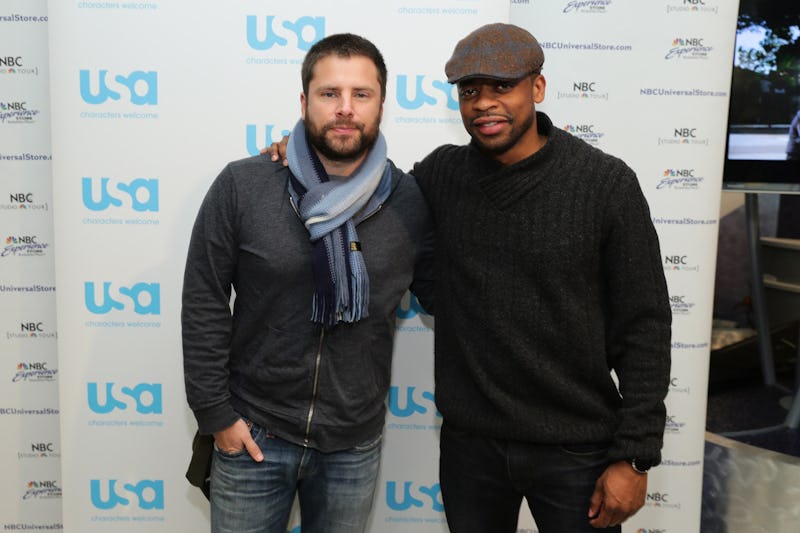 Neilson Barnard/Getty Images Entertainment/Getty Images
Break out your pineapples, because Entertainment Weekly has unveiled the first photo from Psych's holiday movie. The gang is almost all there as Shawn, Gus, Juliet, Henry, Chief Vick, and Woody reunite in what looks to be a tense scene. Notably absent is Lassiter, but there's a good reason for that. Due to actor Timothy Omundson's recent stroke, Lassie may not be in the Psych movie. The character definitely won't appear in as large a capacity as writers James Roday and Steve Franks originally intended.
Lassiter has always been an integral part of the Psych team, first as an antagonist and later as part of the group. Thankfully, Omundson's recovery is going well. So well, Roday and Franks are hopeful they'll be able to feature him in the film in some capacity. Franks told EW,
"There is most definitely a way that he appears in the movie. We haven't gotten to that point [in the editing process, yet]. I can't say for 100 percent sure that he will, but I can say like 99.99 percent that we did everything we can to get Tim in the movie."
Roday added that, "I think we found the best way possible to keep Lassiter very much a part of what we do, set him up to succeed in the future, and still give all of our Psych-Os an opportunity to see that ridiculously handsome mug of his." With any luck, the Psych team and Omundson can coordinate their schedules to make some sort of Lassie cameo happen, but even if the actor can't be in the film, he and his fan favorite character's presence is sure to be felt throughout the story.
Despite the first photo missing Lassiter and his trademark snappy suits, it's still wonderful to see Shawn, Gus, and their friends back in action. While most of the characters look more or less the same, Henry has undergone a serious style transformation. It looks like Shawn's dad has traded in his Hawaiian shirts for a hipster-cool style that Shawn no doubt teases him about constantly.
The photo is maddeningly vague in terms of offering up solid plot information, but the shocked looks on everyone's face, aside from Chief Vick's, seems to suggest they're meeting with someone. Could this be the moment they encounter Zachary Levi's The Thin White Duke for the time? The movie's big bad is looking to totally wipe out team Psych, which means any confrontation with the character is sure to be fraught.
No matter what's going on, seeing Gus and Shawn again will be a holiday treat. This first look at Psych: The Movie is just the beginning for Psych-Os — Gus and Shawn are officially back, and it feels so good.