Why Amanda Stenberg Is Too Perfect For This 'The Hate U Give' Role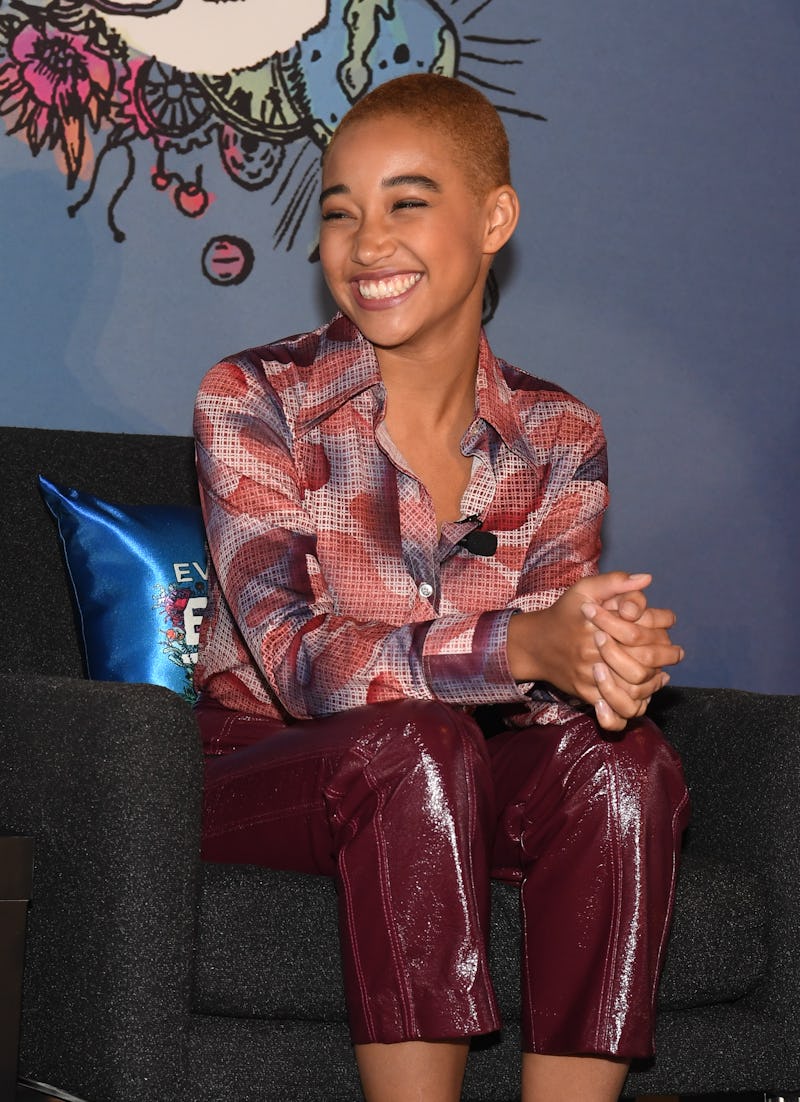 Paras Griffin/Getty Images Entertainment/Getty Images
New York Times Best-Selling author Angie Thomas has quite a few wins to celebrate for her 2017 novel The Hate U Give. Between having a film adaptation in the works, to the amazing casting news — with Insecure star Issa Rae and Avenger's Anthony Mackey rounding out the cast — the young adult phenom seemed to already be on its way to box office greatness. But the first production photo of The Hate U Give cast further proves that the upcoming film is a total dream come true.
An ode to Tupac Shakur's "T.H.U.G.," The Hate U Give follows the life of a 16-year-old young woman who lives in a low-income neighborhood, but attends a school in a suburban neighborhood, who finds her passion for activism after witnessing the death of a friend at the hands of police violence. The Hate U Give has experienced its share of backlash with the casting of Amandla Stenberg as Starr Carter. The decision to cast a light-skinned lead left a lot of fans feeling slighted, as if the adaptation was another victim to Hollywood's colorism issue. In the novel, Starr is said to have a "caramel" complexion, and Stenberg is a lighter-skinned, biracial actor.
On one end, Hollywood's historic preference of lighter skinned actors over darker skinned actors is a conversation that needs to be kept alive.
But alternatively, that same critique perpetuates the argument that Stenberg isn't "black enough" to play the role of the inner-city teen — as if the Everything, Everything actor's skin color somehow makes her incapable of truly understanding systematic oppression, police brutality, code-switching, the Black Lives Matter movement, and other themes surrounding the black American plight in the novel. But one look at the film's leading family, and both debates, though valid, are overshadowed by the amount of love displayed.
Graced in all of their beautiful shades of brown, actors Regina Hall and Russell Hornsby, who play Starr's parents Lisa and Maverick; and Lamar Johnson who plays Starr's older half-brother, Seven, surround Stenberg in a group hug. And Thomas, who felt the grunt of the YA novel's fan's complaints, was totally overjoyed by the Carter's family photo, and couldn't help but get a little "teary-eyed" at the sight. She tweeted:
It's safe to say that Thomas is also more than pleased to have Stenberg helm the film adaptation as well. In a Sept. 12 tweet, the author shared a supportive note about her leading lady, expressing her satisfaction for the direction of the casting.
Sure, having an A-list celebrity like Stenberg to star in your first Hollywood production is celebratory. But taking it a step further, Stenberg's brilliant complexity in her personal life match that of the novel's intricate themes is an absolute gift. Since taking a stance on cultural appropriation in her 2015 video entitled "Don't Cash Crop On My Cornrows," Stenberg has been praised for unapologetically projecting her blackness in the face of white supremacy. She's known for lending her voice to disenfranchised groups, and, just as it is for her character Starr, activism is a huge part of the young actor's life.
This isn't Stenberg's first rodeo with being at the center of casting controversies, however, and it won't be her last. She's had to battle with The Hunger Games fans calling her the n-word at the age of 12, and unfortunately, because of the ugly scars that white supremacy has left on society, will also have to battle with warranted arguments about the experiences her light-skinned privilege affords her in the future.
And just like Starr felt stuck between her privileged school life and less than perfect living situation in the novel, Stenberg will also be forced to live in two worlds — both understanding the plight of the black experience, and recognizing her privilege as a biracial, light skinned black woman. Because of her identity, Stenberg isn't a stranger to all of the many layers of the black experience — including intersections of sexuality and gender identity — and that, frankly, makes perfect for this role.